Check this Help Article to learn which suppliers and marketplaces are supported on AutoDS
AutoDS currently supporting eBay, Shopify, and Facebook Marketplace (and we're adding more as you read this 💪🏻)
You can always check out this link for an updated list of our suppliers.
Here are the marketplaces and suppliers supported on AutoDS:
AutoDS supports the following suppliers/ source sites:
Etsy
Lowes
eBay (for Shopify sellers only)
Amazon US, Amazon UK, Amazon DE, Amazon FR, Amazon IT, Amazon AU, Amazon CA, Amazon SP
Aliexpress (Supported warehouses: China, United States, United Kingdom, France, Spain, Germany, Russia, Australia, Belgium, Poland, Italy)
Walmart
Overstock
Homedepot
Wayfair
Costco
Costway
Banggood (Supported warehouses: China, United States, United Kingdom, Czech Republic, Australia)
ChinaBrands
Target
Cjdropshipping
Samsclub
Vidaxl
Miniinthebox
Lightinthebox
Alibaba
Pureformulas
Redbubble
Wish
DHgate
Kmart
Shein (China warehouse)
For eBay, the suppliers may vary depending on the region you are selling.
You can learn how to add these suppliers to your account in this Help Article - click here.
We're always working on adding more suppliers :)
Supported selling channels:
Facebook Marketplace/Shop (semi-automation)
Note that some suppliers will work only for some marketplaces. You will see the supported regions after selecting your supplier: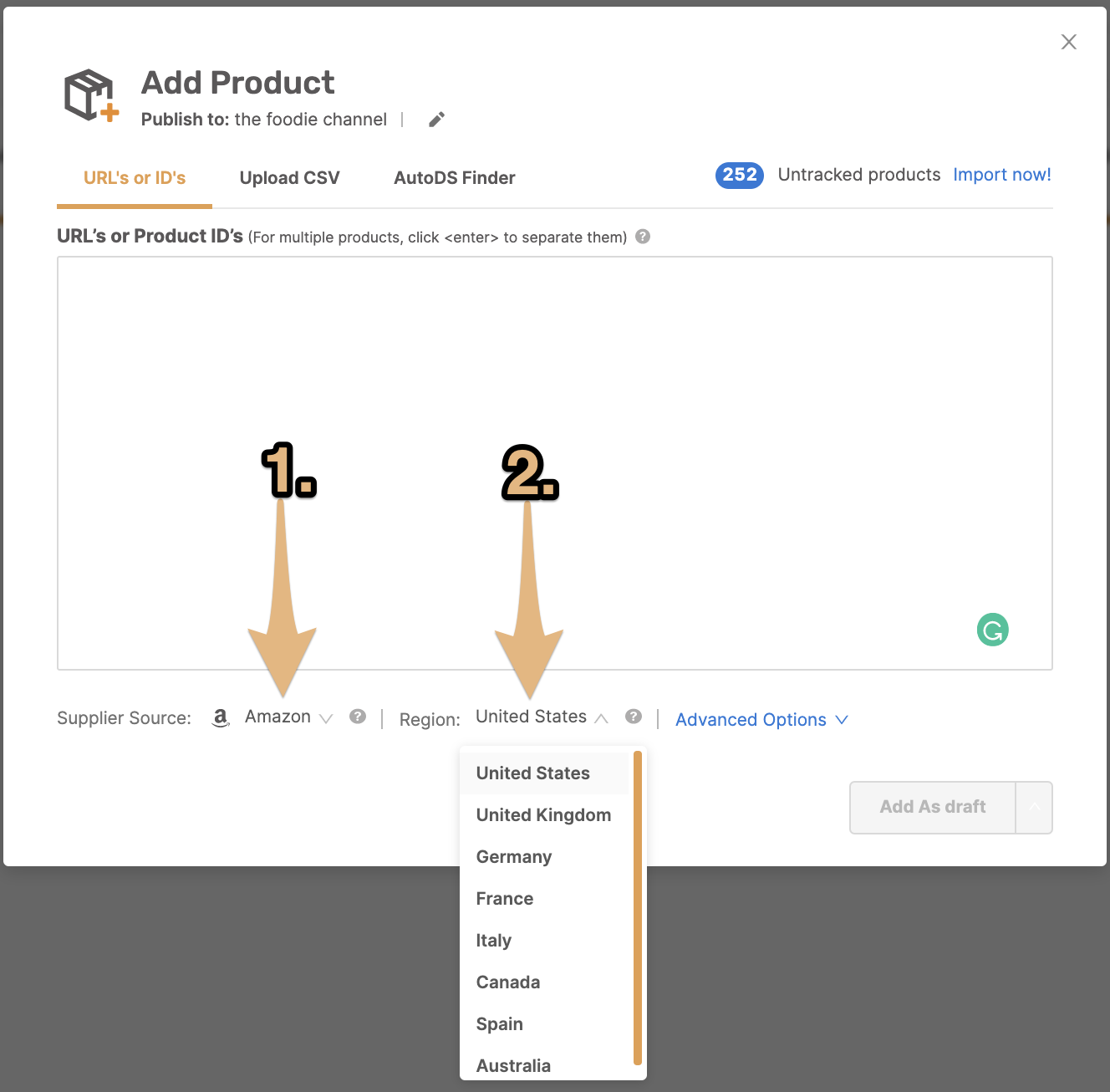 it in the system when you add them as they will have the ending showing the marketplace it supports.
If there's a supplier or a marketplace you wish us to consider, you can add it to our Upvoty page. Our product team will consider it and might add it in the future.
---
If you have further questions about this topic, please do not hesitate to address us at the support chat - we will be more than happy to assist you.