What is AutoDS warehouse, how to have a branding logo on orders, how to find products with faster shipping, and more in this article.
What is 'AutoDS suppliers'?
As part of the AutoDS marketplace feature, where you can easily find selling products from various well-known suppliers, we added the option of working with private suppliers, including products we sourced to our AutoDS warehouse.
What is the difference between AutoDS private suppliers and AutoDS warehouse?
AutoDS warehouse is our fulfillment center in China which contains thousands of selling products that we sourced (and keep on sourcing each week), so you can use them for your dropshipping business.
On top of the products we've imported to our warehouse, you will also find products from private suppliers who use the AutoDS platform to spread rumors about their products.
Tip 🌟
The main benefit of working with AutoDS warehouse is faster shipping than Aliexpress and better service.
Besides that, working with AutoDS suppliers will give you access to a new world of unique and high-quality products, special discounts for AutoDS dropshippers, branding your logo on packages, easy payment, fast shipping, and more!
I want to brand my logo on orders; how can I do it?
That's awesome; this option is free and available only for products and orders from AutoDS suppliers. Click here to learn more.
How can I find AutoDS suppliers' products and import them to my store?
It's really easy! Click here to learn how.
What is a restricted marketplace?
All private suppliers have the option to exclude any marketplace they want.
For example, if you see Wayfair as a restricted marketplace, it means that the supplier does not allow to publish his listings and sell them on Wayfair.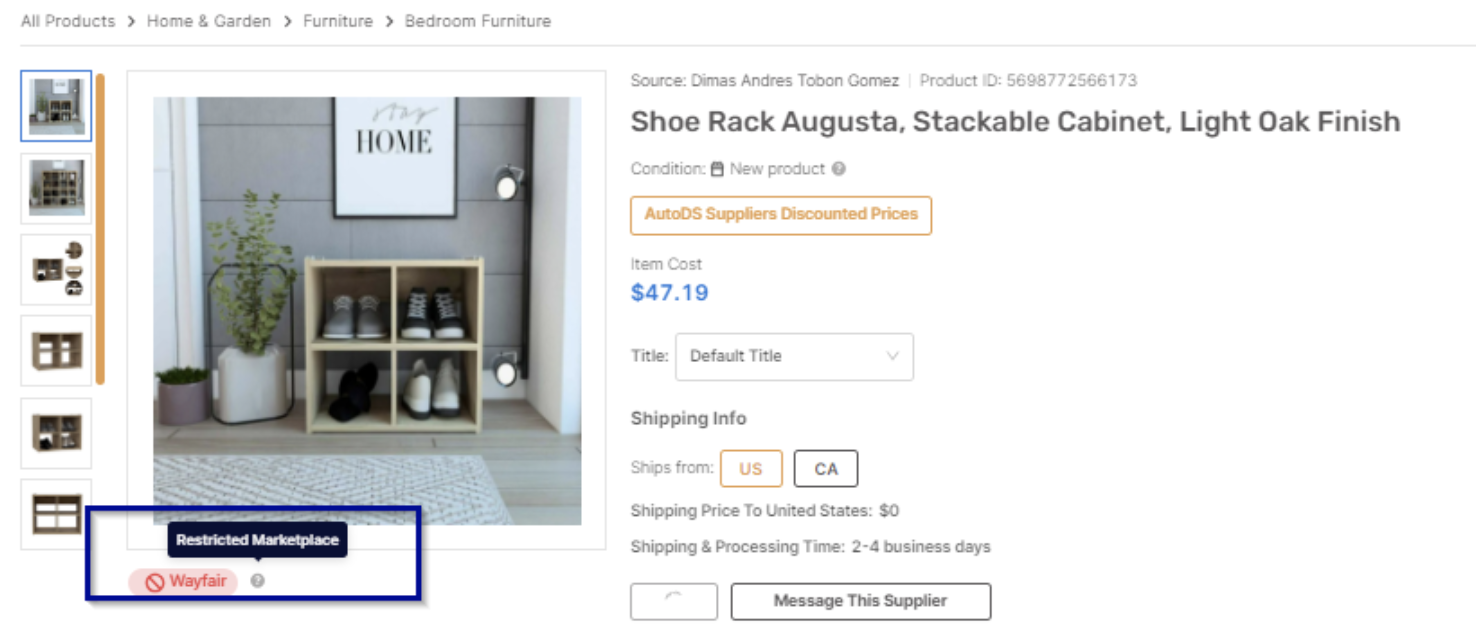 How can I cancel or return an order?
You can request a return, change, or cancellation directly from the supplier by messaging him. Click here to learn how to manage orders with AutoDs suppliers.
How do I pay or get a refund?
Payment for orders from AutoDS suppliers will be made from the AutoDS balance.
The amount will be credited to your balance if a refund is approved.
How can I contact the supplier?
If you want to contact the supplier directly, you can do so either through his product's marketplace page or a specific order. For more information, click here.
Do you offer customized items?
No, we currently do not support customized or personalized items,
Is there a discount for bundle orders?
No, there will not be a discount for bundle orders (when there is more than 1 in quantity).
---
If you have any further questions, please do not hesitate to contact us at the support chat - we are happy to help.