Allow AutoDS to automate your orders and save you time on the fulfillment of your orders - learn how you can add Buy Accounts for auto-ordering automation
There are two ways to set the automation for your order
Fulfilled by AutoDS (recommended 🌟) - our team places the orders for you using our own buy account. Click here to learn more about this service.
Auto orders- our system will place your orders with your own buy accounts.


In this article, we will focus on how to add and use your own buy accounts to create automation for your orders.
Supported suppliers for auto orders and tracking updates:
Amazon US, Amazon UK, Amazon DE, Amazon FR, Amazon AU
Aliexpress
Supported suppliers for tracking updates only:
HomeDepot
Aliexpress
Walmart
Note❗️
Adding a buy account for tracking updates only is a must.
How to add buy account
You can watch this video to learn or to follow the manual instructions below the video
To add your own buy account, go to:
Settings ➞ Buy Accounts tab and click on + Add Account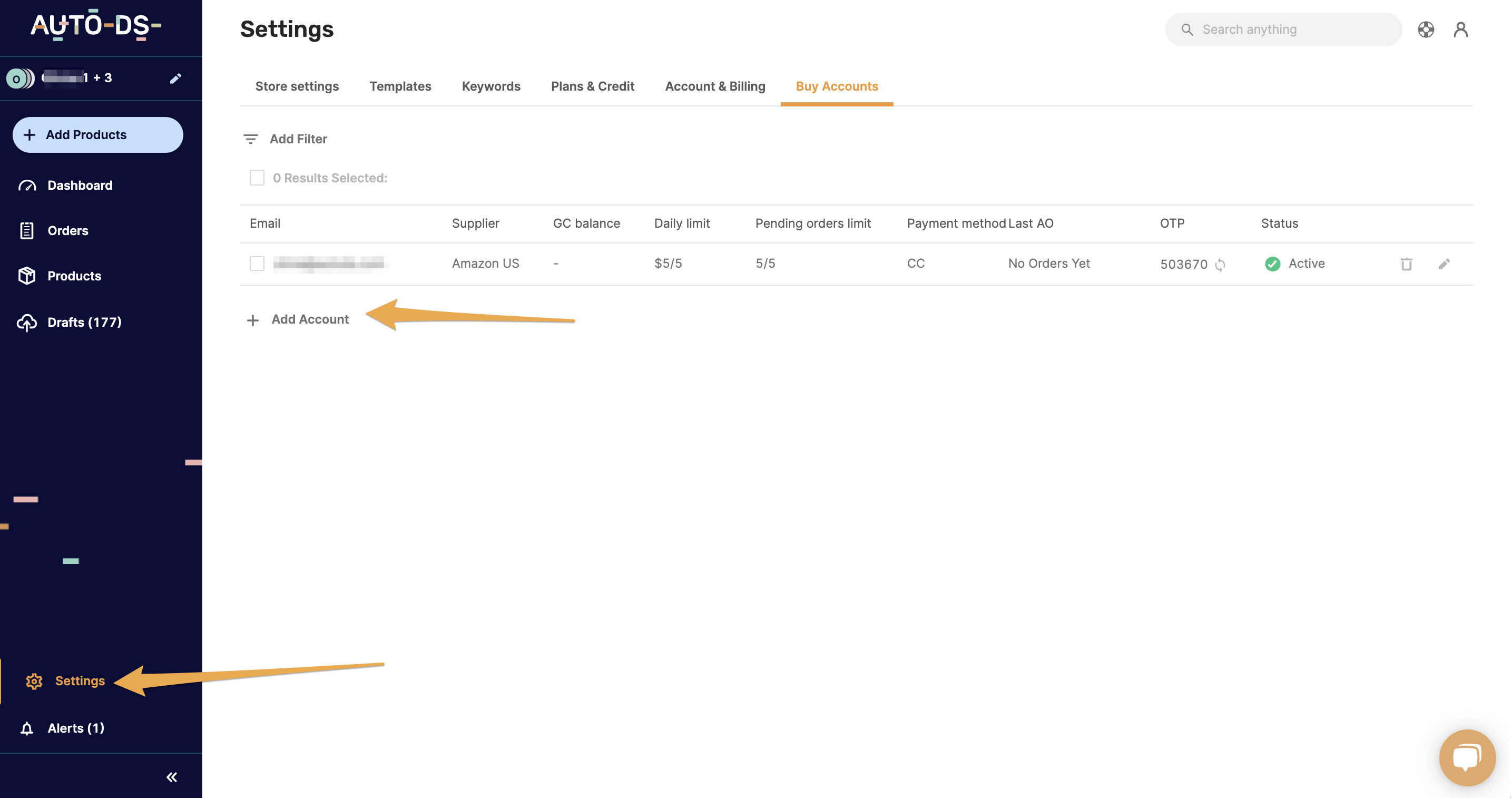 A window with three tabs will open. Start with the Account details.
Choose one of our supported suppliers for order automation: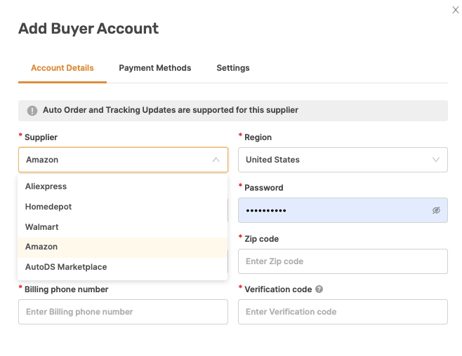 Then, choose the region: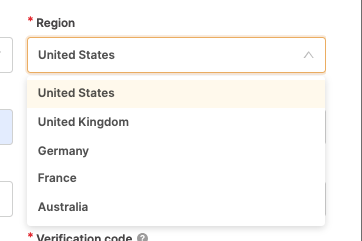 Continue to fill in the account's email and password, billing full name, zip code, and billing phone number.
The system needs this information for verification questions that might be asked at login by the buy site.
The last field on this tab requires a verification code. This is retrieved from Amazon when you set up our authenticator app. To learn how to get this code, please follow this guide.
After you have inserted all the details and verified they are valid and correct, click Next: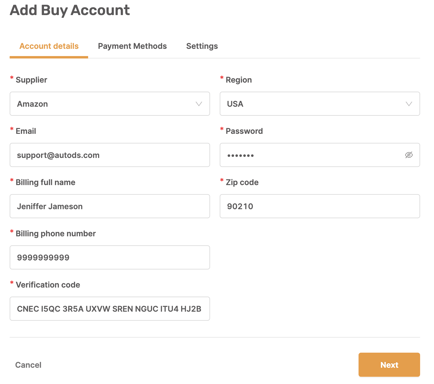 On the next stage, you will need to choose your payment method on the source site. Choose between a gift card or a credit card payment: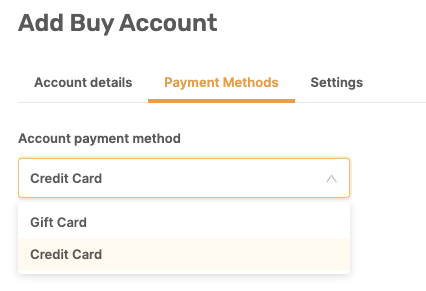 If you chose a credit card, click +Add Card and fill in all details: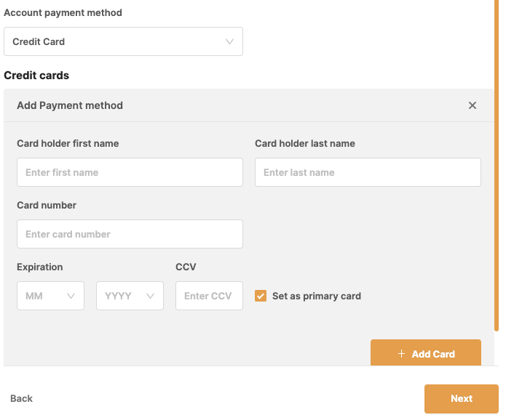 Click Next to continue to the settings tab, where you need to choose the following: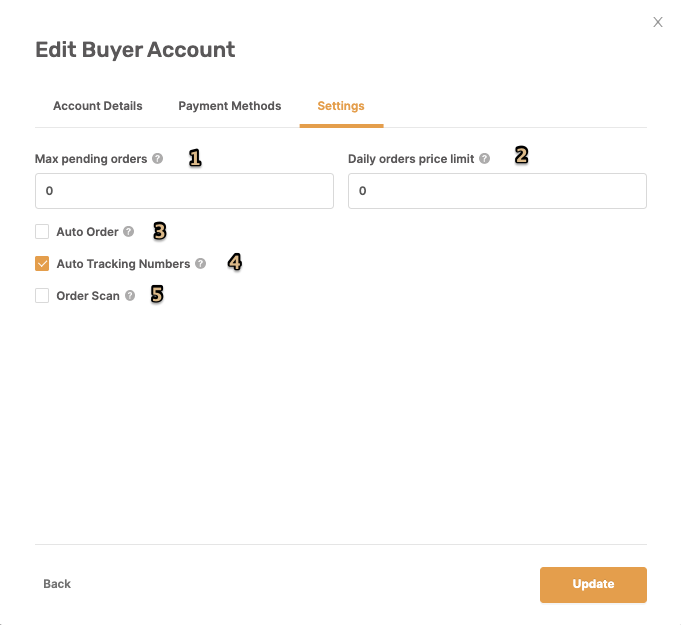 Max pending orders - set how many orders that are on 'Ordered' status on your orders page on AutoDS do you wish to have before the system can place more on your buy account. 'Ordered' means they were placed but still did not get a tracking number on the source site. (This feature was mainly created as a protection mechanism for Amazon accounts).
Daily Orders price limit

- set up a daily limit for the use of your gift card balance for this Amazon account. For example, let's say you wish only $100 to be used on this account daily, insert the number 100. The system will not place more orders after it reaches the $100 limit. It will then disable the auto-ordering account and reactivate it the next day (24-hour cycle by UTC+0/ GMT+3).

Auto Order -

the system will automatically send the order to process once detected from the selling site (= full-automation).

If you choose not to check it, the sold item will appear in your orders page with the 'Pending' status, and it will wait for you to either manually purchase it, or to send it to process by changing its status to 'Send to Auto Order' (= semi-automation).
You can use this box if you want the system to automatically update the tracking numbers received on your buy account to your selling account for your buyers to be notified.
Order scan

- By enabling this feature, you will be notified by email if orders exist on your Amazon account but not on AutoDS. Using this method, you can find duplicate orders placed on Amazon.

Click here

to learn about this feature more.
Once you completed all settings, click Add and the account will be added. You will be able to view and edit all your buy accounts from the Buy Accounts tab on your Settings page.
Also, you can filter your buy accounts by several fields - Supplier, GC balance value and more.

How to add an Aliexpress buy account
The process of adding Aliexpress buy account is a bit different. Click
here
for the full guide to setting up Aliexpress automation.
---
If you have further questions that were not answered in this article, please do not hesitate and turn to us at the support chat - we will be more than happy to assist you.