AutoDS sourcing as an alternative to Chinese suppliers! Learn how to get better prices and shipping to fulfill your orders
What is AutoDS product sourcing?
With AutoDS sourcing, you can fulfill products from China using our agents rather than Aliexpress or other suppliers.
The AutoDS Sourcing service offers more control over the product, better shipping times, and pre-shipment inspections.
What are the benefits of using AutoDS sourcing?
These are some common struggles when working with Chinese suppliers such as;
Long shipping time
Quality of products - products are not being inspected, customers can get defective products, causing bad reviews
Customer support- reaching and communicating with Aliexpress is not easy
AutoDS sourcing offers different solutions for these problems, as mentioned before.
How can I request AutoDS sourcing for an order?
There are two ways to request a quote:
Quotes can be requested after receiving an order for an unmonitored product or a Chinese supplier only (except Wish).
The
'Check quote'
option will appear once you have such an order:

By clicking on it, you will be directed to the quote related to this order or start the quote process for this order/product.
Sourcing requests status
To view all sourcing requests and their statutes, click on Orders on the sidebar menu; then the sourcing request section will be available:


New - there is no information about this product yet. You can click on Request a quote
In progress - the product is in the quoting process, which can take 24-48 hours
Cannot be sourced - our agents are not able to fulfill this product
Ready - You have got a quote for the product
Linked - the quote is linked to a product
How do I apply a sourcing request to my order?
When the request is under 'Ready' status, to see the request results - click on the product image or 'Sourcing Details' button, and you will be taken to a page where you can see all the variations we found for the product, the price, the shipping, the description, and check that it is indeed the same item.
**This information is only for your review; it will not change anything about the product at this time.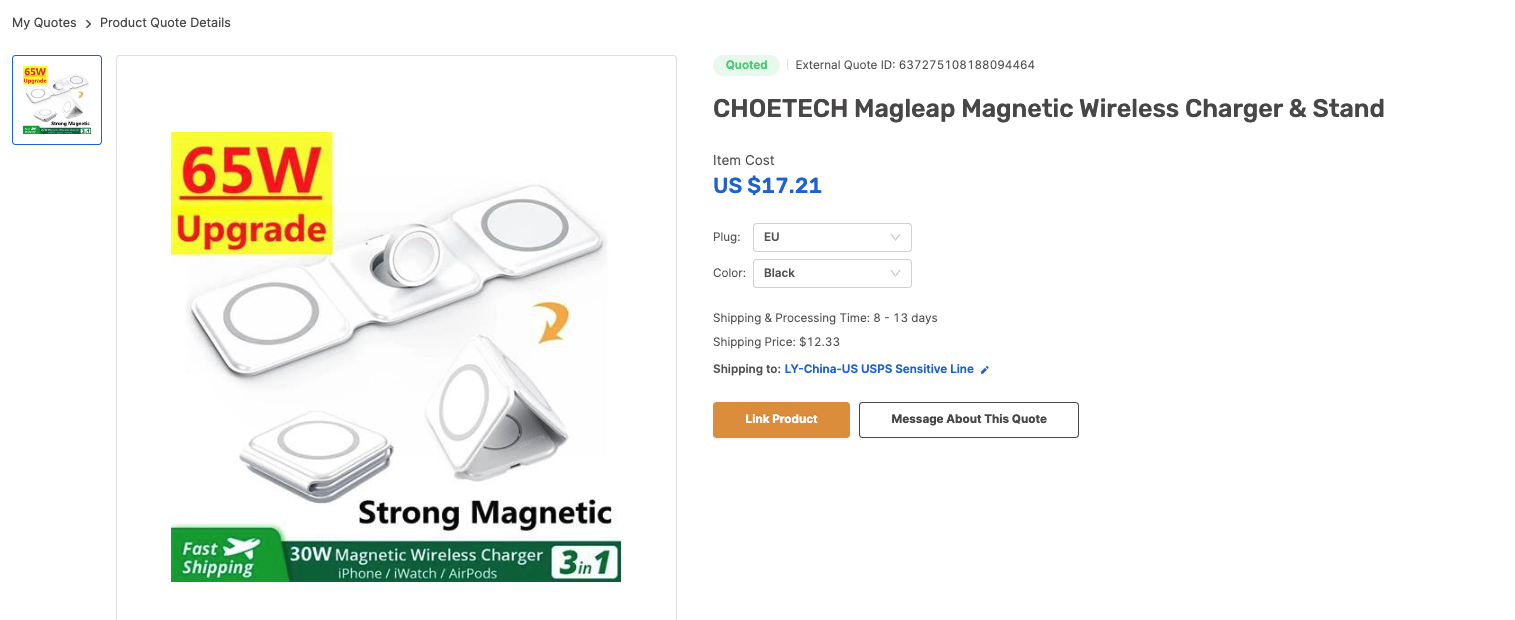 To apply AutoDS sourcing to your product, click the 'Link product' button and specify the right variation for your product if prices and shipping methods work for you.
You can also apply it on unfulfilled orders of this product by checking this box, and the buy ID will be changed accordingly.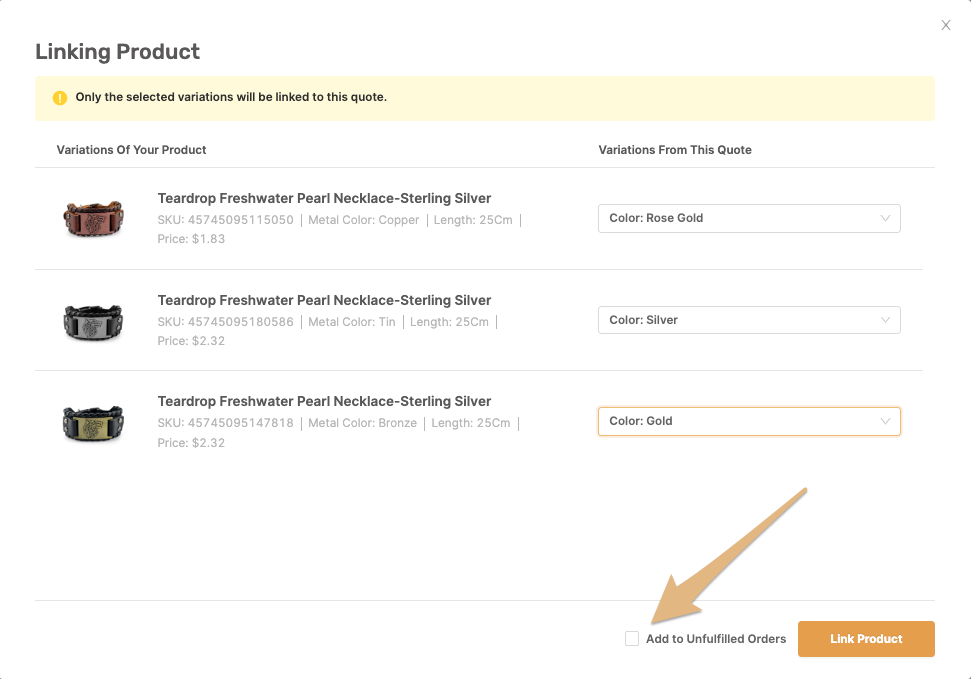 Note ❗️
A quoted order (after you link a new product from the given options) will also change the original product's buy ID. However, only the Buy ID will change, not the images or anything else. If you wish, you can change the images as shown in the quote for the order. So the future orders will have the new product.
When you request a quote, you might get offers for similar, not identical products but with better prices or shipping times from any Chinese supplier.
The new supplier will not be visible on the order or the product. It will displayed as AutoDS Sourcing


If, for any reason, you choose not to fulfill the order with AutoDS sourcing, you can edit the order, select 'Fulfill this order using a different product' and update the supplier and buy ID.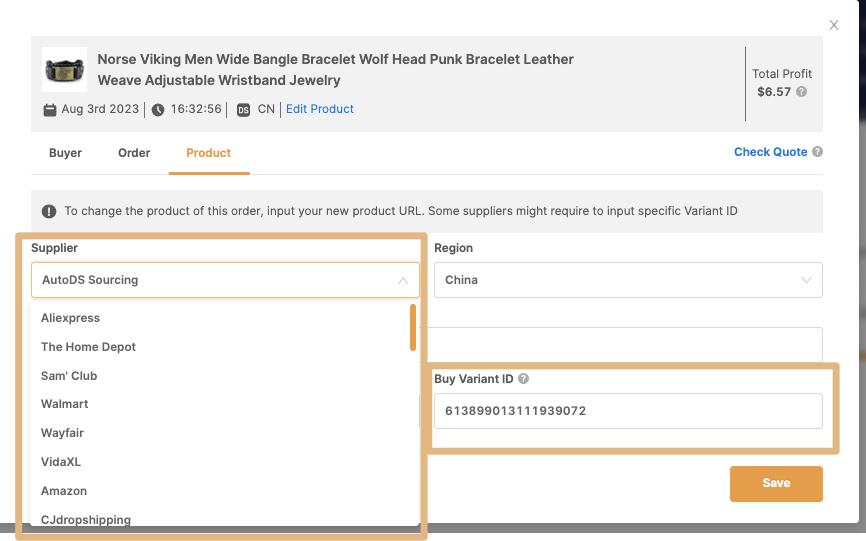 Sourcing messages center
If you have questions about a quote before and after linking it to a product or order, you can send a message.
Via Quote Details button →Message about this Quote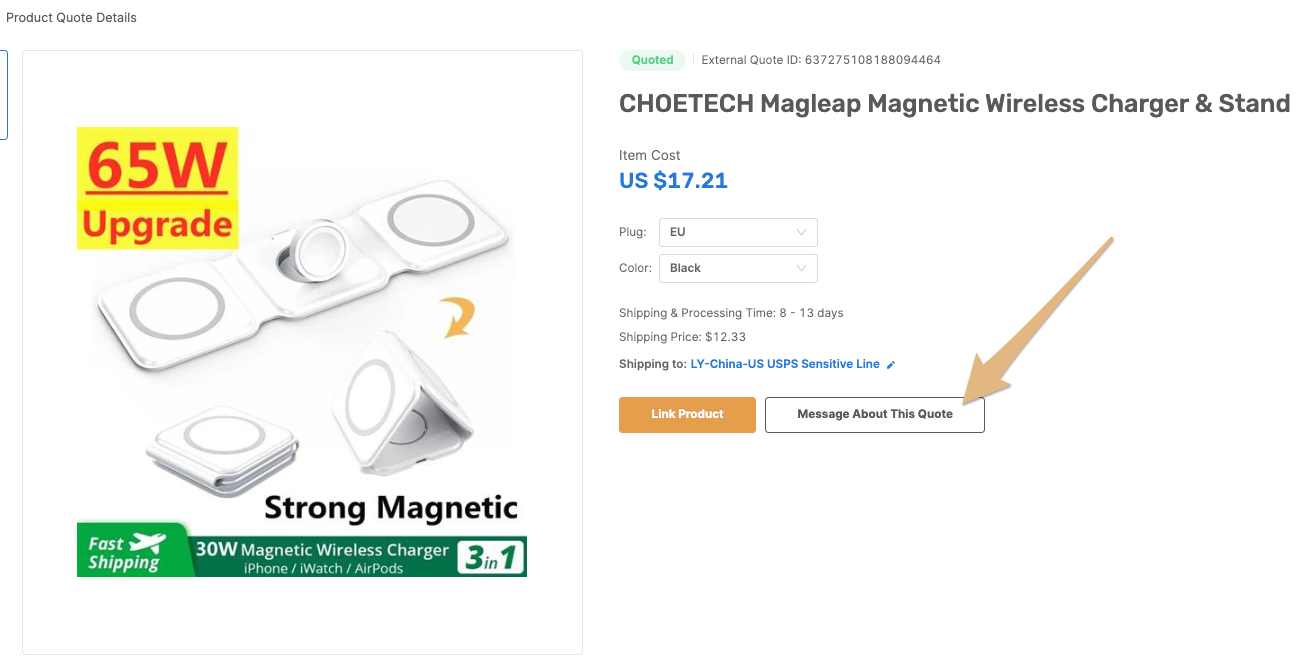 Via orders which is linked to a Quote → Send message about this order

Payment
Payment to AutoDS sourcing is by the Fulfilled by AutoDS balance. Click here to learn how to load balance.
---
If you have any further questions, please do not hesitate to contact us at the support chat - we are happy to help.