Connect Hipshipper with AutoDS to get more international sales and have it all automated for you - read more to learn how to enable it
What is Hipshipper?
Hipshipper is a better way to ship internationally. The service offers reliable, trackable, inexpensive, and hassle-free international order fulfillment. With Hipshipper, you'll have more sales, bigger profits, and a highly committed support team.
And the greatest part about it is that it is FREE OF CHARGE - Hipshipper is earning from the shipping charges paid by your buyers and does not charge you a penny, while you benefit :)
How to Set Up a Hipshipper Account?
Please watch this Hipshipper tutorial to learn how to log in and set up your Hipshipper account.

For more information, you can read these articles:

Text Tutorial: Connect your store to Hipshipper

Hipshipper - All I need to know - the full guide
If you have any questions about the setup, please address Hipshipper via their website where you can schedule a demo call or email them.

How Does the AutoDS Integration with Hipshipper Work?
AutoDS supports Hipshipper for eBay and Shopify.
Hipshipper will be supported for US-based suppliers only, and only for suppliers we support tracking updates for which are: Amazon, Walmart, Homedepot, and Aliexpress (US warehouse).
Important note!
After you have set up your Hipshipper account you must connect it to your selling channel (eBay, Shopify). All your orders (including those fulfilled by AutoDS) will be tracked only on your Hipshipper account - AutoDS does not place orders via a Hipshipper account - we only send them to Hipshipper and Hipshipper takes over.
How to Set Up AutoDS Integration with Hipshipper?
After you have set up your own Hipshipper account, you need to enable the option in AutoDS.
To do so, please go to so the specific supplier you wish to add the option to and check:
Settings → Store Settings→ Orders
And check the box 'Hipshipper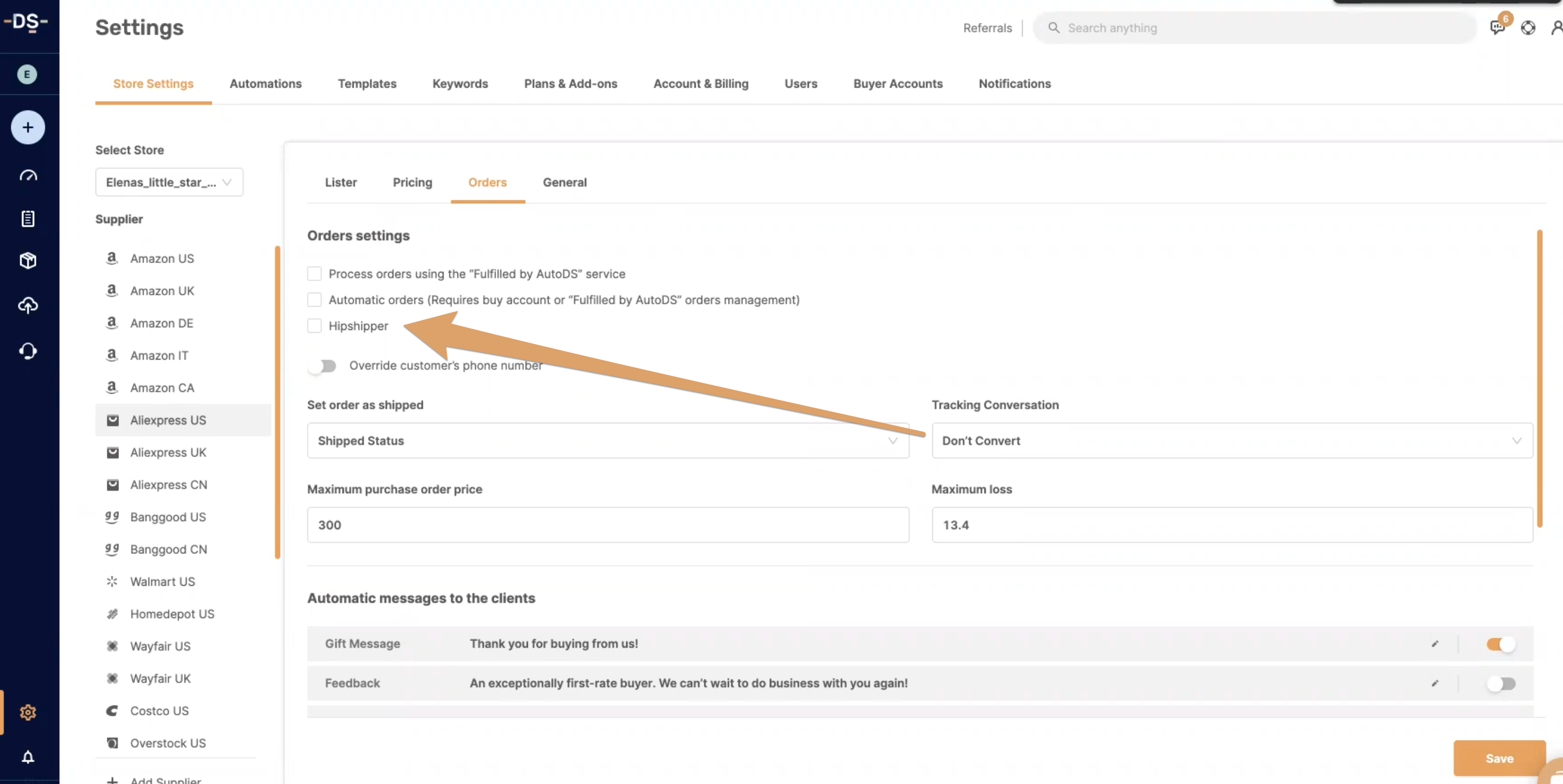 After you're done, your international orders will be directed to Hipshipper's logistic center, where they will be fulfilled and shipped. AutoDS will automatically update the international tracking number of your order.
Note:
AutoDS offers integration with Hipshipper; we cannot support any issues coming from their end. Please contact Hipshipper 's support for help.
The Dynamic Policies feature will not work with the Hipshipper integration.
FAQ:
How does AutoDS update the weight of the product from the supplier's site?
AutoDS will pull the weight unit information from the source listings and update it on your product per variation.
Does this feature work for all supported suppliers on AutoDS?
No, it works only with US-based suppliers that have tracking automation. As of the date of this article, these suppliers are Aliexpress, Walmart, Home Depot, and Amazon.
If you have further questions about this topic, please do not hesitate to address us at the support chat - we will be more than happy to assist you.