Learn how you should tackle this error coming from eBay
You might come across the following error message on your products on AutoDS:
⚠️Error - Auto decline amount cannot be greater than or equal to the Buy It Now price. Error - The Best Offer Auto Accept Price must be less than the Buy It Now price / This item cannot be accessed because the listing has been deleted or you are not the seller.


These errors mean that you're using Best Offer on your eBay Listings and have turned on Auto Decline/Auto Accept settings for the item(s). However, the calculated selling price that AutoDS is trying to change the item to is lower than your auto decline amount. eBay is rejecting the change.
You'll need to disable auto decline/auto-accept on your listings when using repricing tools. Then force reprices your item(s).
Uncheck these on your eBay account:
Automatically accept offers of at least
Automatically decline offers lower than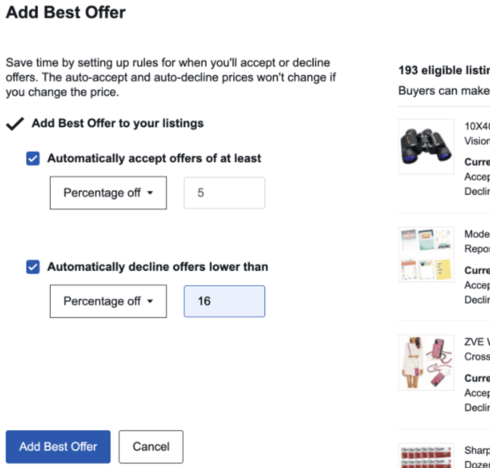 It means you will still be giving the users the option to suggest an offer, you will just not be able to automatically accept or decline them as it will prevent us from monitoring your listings.
---
If you have further questions about this topic, please do not hesitate to address us at the support chat - we will be more than happy to assist you.
---