Learn how to use AutoDS order automation service to fully take advantage of your account and save time!
Set up auto ordering for your buyers' orders to save time and trouble.
If you did not add a buy account, please start from this guide:
How to Add a Buy Account for the Automation of Your Orders?
Once your buy account has been added, set your orders automation, go to:
Settings ➞Store Settings ➞Orders
You will need to select or add the supplier (if not on the list) and then you will set up the orders settings (tab) to each of your selected suppliers (enabled for supported suppliers for automation only).
1- Use Managed Orders Fulfillment- checking this will opt you into the Managed accounts service. All the orders will be processed for you without you having to open your own source account. You can read more about it here.
2- Automatically Fulfill (Requires Buy Account or Managed Order)- This feature will immediately fulfill orders as soon as they are detected in your store (=full automation). If you choose not to check it, the orders will appear in your orders page a 'Pending' status, and they will wait for you to either manually place them or to send them to the automation process by clicking on the dropdown menu and click the next step: Send to Auto Order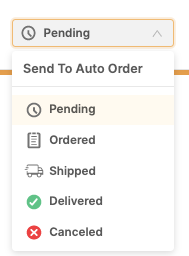 3-Hipshipper - if you have a Hipshipper account, you should check this box so that orders will be sent automatically to Hipshipper's logistic center.
4- Override Customer's Phone Number - if you turn this feature on, the system will use the number 9999999999 instead of the buyer's phone number.
5- Maximum Purchase Order Price - the maximum amount you allow for auto-ordering. For example, if the price of a product will be more than $500, the auto-order will fail as protection - allowing you to review it first before you can send it to process or order it manually.
6- Maximum Loss- the maximum loss you are willing to take. For example, if there was a sale with a loss of $3 (price was raised after the last scan) and your maximum loss amount was set to $1 then the system will fail the order to avoid the loss.
To read more about sales with loss, check out this help article.
7-Automatic Messages To Buyers- clicking on the ✎ icon will allow you to edit the gift message sent to the customer.
8 - Your Unique Tracking Email - one of the methods AutoDS uses to pull your tracking number sent from the supplier, is by retrieving it from your email. For the system to be able to retrieve it, you need to forward your emails to your unique tracking email. We only pull the tracking emails. To learn how to forward your emails to your unique email, please click here.

1- Use the filter feature to sort your buy accounts.
2- View the email of the account
3- The supplier's name
4- The remaining gift card balance (=GC).
5- Set up a daily limit for the use of your gift card balance use. If you set a $100 limit, the system will not place more orders after it reaches this limit. It will then disable the account for auto-ordering and will reactivate it on the next day (24 hours cycle by UTC+0/GMT+3).
6- How many orders that are on 'Ordered' status on your orders page on AutoDS do you wish to have before the system can place more. 'Ordered' means they were placed but still did not get a tracking number on the source site. This setting was meant to protect your buy account from getting locked for having too many pending orders.
7-The selected payment method for this account: credit card (=CC) or gift card (=GC).
8- The date of the last automatic order that was placed.
9- OTP (=one time password) is used to enter your buy account click ⟲ to get the most updated one. Learn more about it
here
.
10- You can deactivate or activate the account.
11- Delete the account
12- Enter the edit section of the account to make changes.
IMPORTANT: You can and should set the order settings for each of your suppliers. To add more suppliers, click the + Add Supplier icon on the left bottom of the screen.
Simply choose the supplier on the left-hand side, and edit its settings: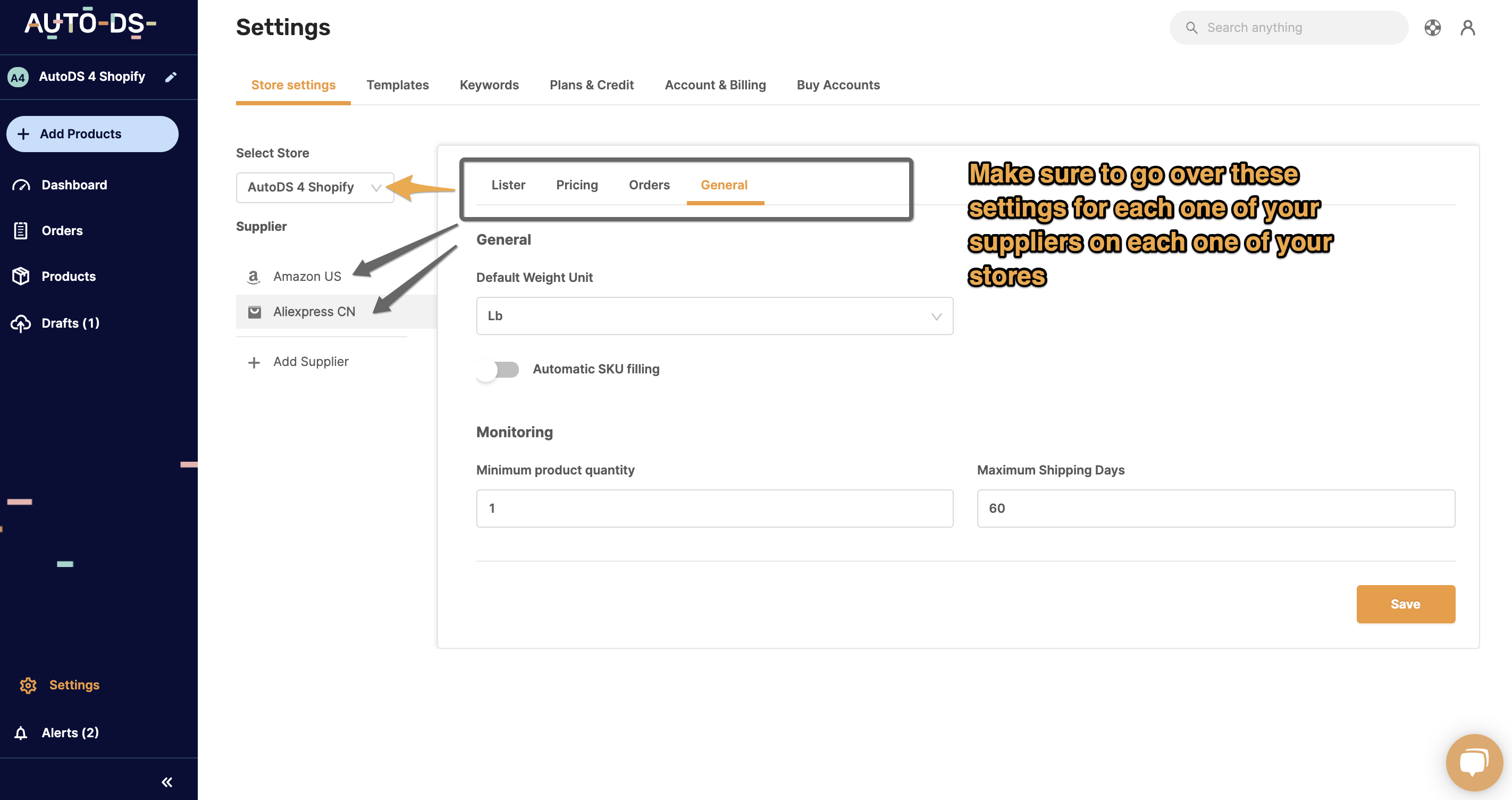 Check out these guides for more help:
If you have further questions that were not answered in this article, please do not hesitate to turn to us at the support chat - we will be more than happy to assist you.