Learn how to use AutoDS order automation service to fully take advantage of your account and save time!
You can watch this video to learn more about this feature or you can follow the manual instructions below the video.
Set up auto ordering for your buyers' orders to save time and trouble.
Do you use US suppliers❓
Let us do the work for you and use our Fulfilled with AutoDS services - You can read more about it Here.
On AutoDS, we have two ways to process your orders automatically:
1) The Fulfilled By AutoDS Service -The Fulfilled By AutoDS Service automatically handles 100% of your orders (for supported suppliers).
This means you no longer need to deal with the orders on the source site, cancellations, returns, or the fear of having your source account restricted.
All you need to do is load money on your AutoDS account, and we will process everything for you. The entire life span of the order will be handled for you: placing the order, updating tracking, and processing a return label when needed.
You can read more about it Here. (🌟Highley recommended🌟)
If you wish to use this method, follow the steps shown in the following article:
How to Opt-in & Configure the 'Fulfilled By AutoDS Service'?
2) Buy accounts - In this method, you will need to Add a buy account to AutoDS (Amazon/Aliexpress account). We will use your Buy account to Purchase and process your orders automatically.
If you wish to use this method, follow the steps shown in the following article:
How to Add a Buy Account for the Automation of Your Orders?
Once you decided what is the right method for you, please navigate to:
Settings ➞ Store Settings ➞ Orders
You will need to select or add the supplier (if not on the list) and then you will set up the orders settings (tab) to each of your selected suppliers (enabled for supported suppliers for automation only).
Please check the featured numbers in the following image. You will find a detailed explanation of each featured number underneath the image.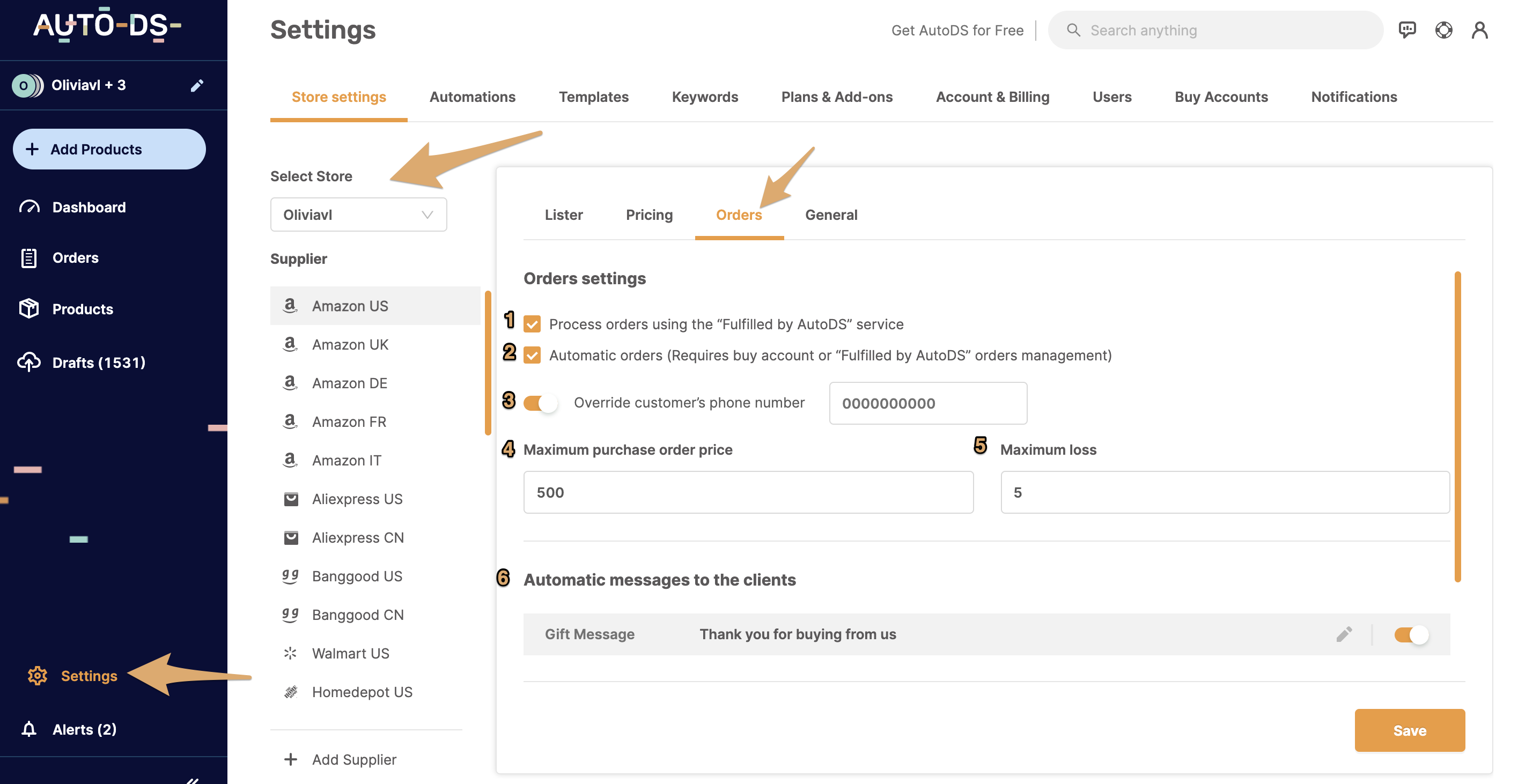 1- Use the Fulfilled by AutoDS Service - checking this will opt you into AutoDS' complete order fulfillment system. All the orders will be processed for you without you having to open your own source account. You can read more about it here.
2- Automatic orders Fulfill (Requires Buy Account or 'Fulfilled by AutoDS' orders management)- This feature will immediately fulfill orders as soon as they are detected in your store (=full automation). If you choose not to check it, the orders will appear on your orders page a 'Pending' status, and they will wait for you to either manually place them or to send them to the automation process by clicking on the dropdown menu and click the next step: Send to Auto Order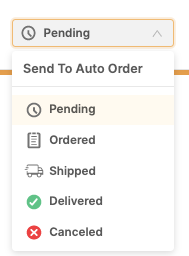 3- Override Customer's Phone Number - if you turn this feature on, the system will use the number 9999999999 instead of the buyer's phone number.
4- Maximum Purchase Order Price - the maximum amount you allow for auto-ordering. For example, if the price of a product will be more than $500, the auto-order will fail as protection - allowing you to review it first before you can send it to process or order it manually.
5- Maximum Loss- the maximum loss you are willing to take. For example, if there was a sale with a loss of $3 (price was raised after the last scan) and your maximum loss amount was set to $1 then the system will fail the order to avoid the loss.
6-Automatic Messages To Buyers- clicking on the ✎ icon will allow you to edit the gift message sent to the customer.
If you use AutoDS fulfilled services - Make sure both 'Use the Fulfilled by AutoDS Service' & 'Automatic orders' are checked.
If you use a Buy account - Make sure only 'Automatic orders' is checked.
IMPORTANT: You can and should set the order settings for each of your suppliers. To add more suppliers, click the + Add Supplier icon on the left bottom of the screen.
Simply choose the supplier on the left-hand side, and edit its settings: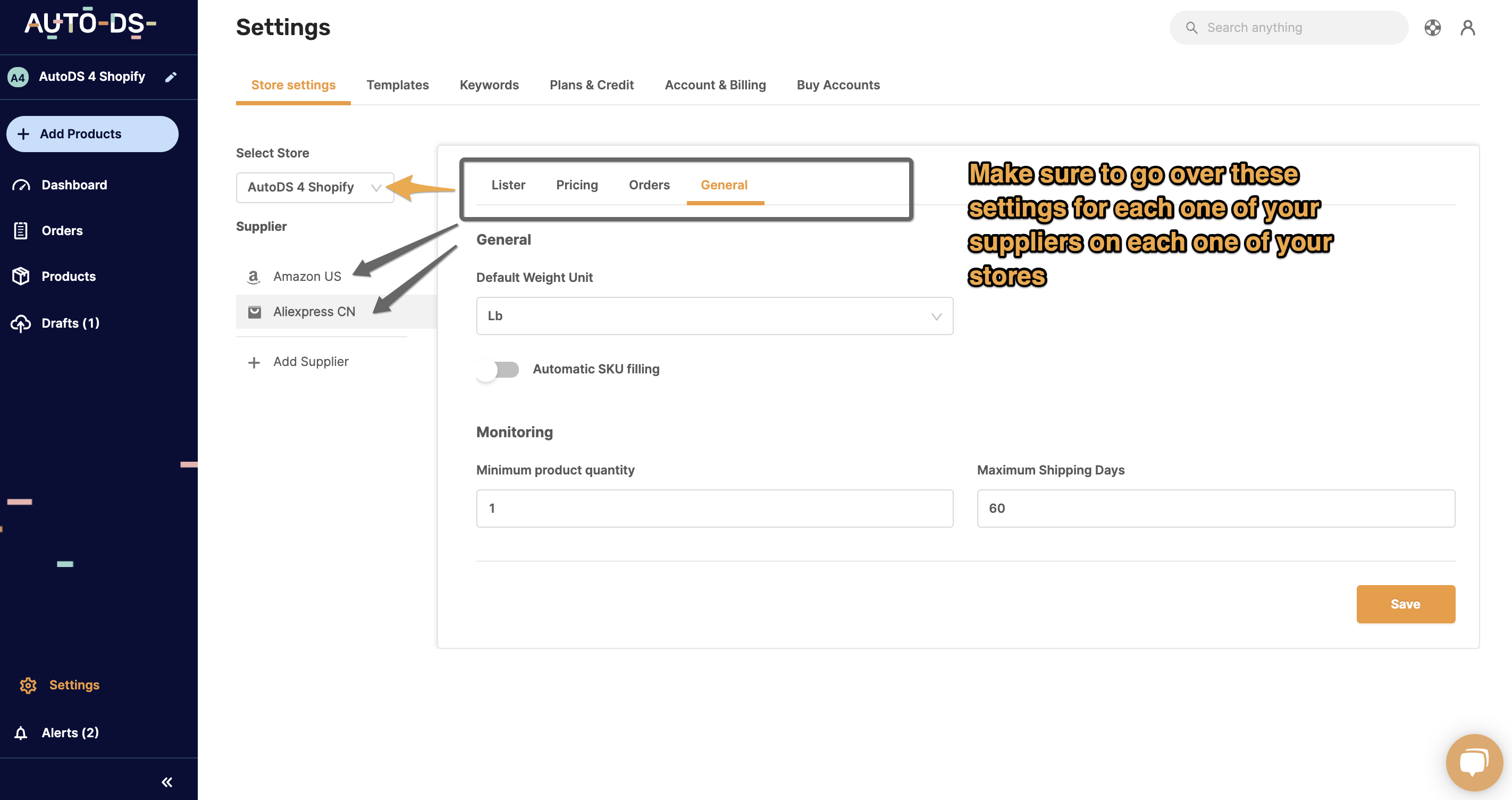 If you have further questions that were not answered in this article, please do not hesitate to turn to us at the support chat - we will be more than happy to assist you.