Learn how AutoDS allows you to manage all orders from all your stores
You can watch this video to learn more about this feature or you can follow the manual instructions below the video.
Here's an explanation of the different columns on the orders page.
Please check the featured numbers in the following image. You will find a detailed explanation of each featured number underneath the image.

1- Image - clicking on the image will give you quick access to see the buyer's information and order's details (Supplier, tracking number, buy account, etc) and the option to edit it. You will find two tabs - Client info and Order.
Client info tab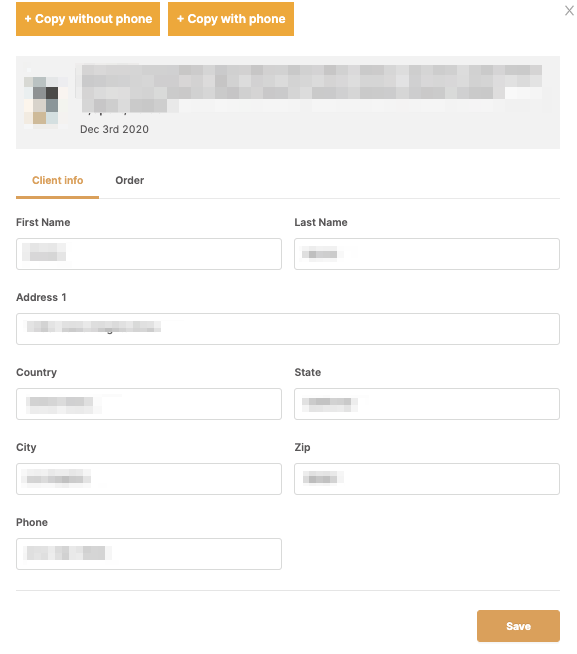 Order tab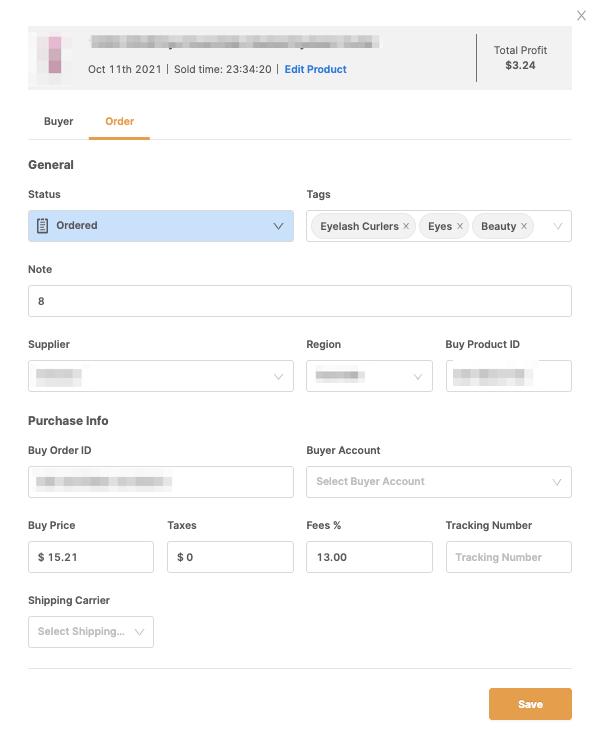 2 - Title- Products' name
3- Date- When the order was registered
4- Status- The order's status. Click here to learn what each status means.
5-Automation - The icon will show you if the order was placed as auto order (

) / fulfilled by AutoDS (=aka managed account service) (

) or it got an error (

).
5- Edit- Clicking on this icon

will get you to the order's edit page (same one as number 1).
6- Item ID- The item IDs on the source and sell site.
7- QTY- The number of units purchased.
8- DAS (=Days awaiting shipment) - The number of days awaiting shipment since the order was placed.
9- Customer- The name of your buyer/customer.
10- Address- The address of your buyer/ customer.
11 - Store- The name of the store the orders belong to.
12 - Price- The price of the product on the source and selling platform
13- Profit- The profit of the order
14- Tax- The product's tax in the source site (if you use auto-orders or the 'Fulfilled with AutoDS' service, the tax will appear automatically, if not, you will be able to insert it there).
15 - Order ID- The order ID on the source and selling site
16- Tags- Tags you added for this item to easily manage it later. You can read more about it here.
17- Auto order credits- The remaining balance of your auto-order credits.
18- Buy credits- Quick access to buy auto-order credits
19- 'Fulfilled by AutoDS'- View the 'Fulfilled by AutoDS' balance, load balance, view your purchase history, and download your invoices.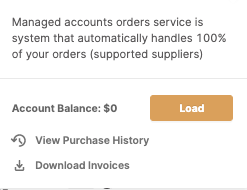 20- Customize display- You can decide which columns you want to display and work with.
Click on ||| customize display and check/uncheck the columns you want to see: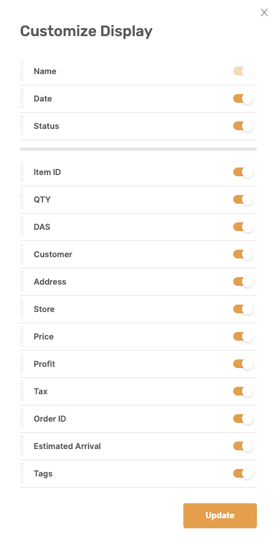 21- Export- Export your orders into CSV file. All you need to do is enter your email and the file will be sent to you.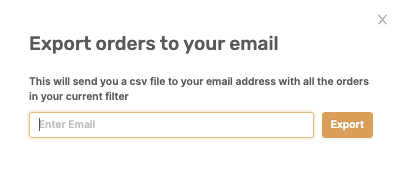 If you have further questions that were not answered in this article, please do not hesitate to turn to us at the support chat - we will be more than happy to assist you.