Learn how to add Winning products that have gone through a complete analysis and are ready to be uploaded with a click of a button
Winning Products is a feature that you can find as an addition to our Marketplace feature. It allows you to import items that have gone through an in-depth and complete analysis of how sellers run their campaigns, target audience, potential profit, and a lot more detailed information.

Start your dropshipping journey with best sellers' hand-picked items that are great to sell and ready to be imported into your store.
You can watch this video or skip to the written guide: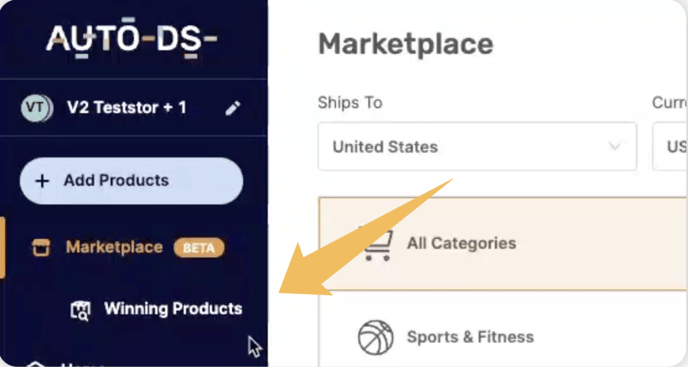 We provide 4 products for free which you can test and try on your account. If you want to see more winning products, you must enable the Product hub add-on for $14.97.

Simply go to settings -> plans & add-ons and enable the Products Finding Hub Add-on
Frequently asked questions
How many products are available in the winning product feature?

100+ products are available, and we are adding 3 - 5 new items daily.
What is the difference between AutoDS Finder and the Winning Product feature?

AutoDS finder is ideal for users who want to import products in bulk, while the Winning product feature is suitable for users who prefer handpicked items that are great to sell.
Does the Product Finding Hub Add-on have a trial?

We have provided 4 products for free which allows the user to test and try the feature. These products can be found at the top of the page. Once you enable the Product Finding Hub add-on, you will be paying the full amount of $14.97, which will be billed monthly on top of your subscription plan. This will give you full access to this feature.


From which suppliers will the winning products be?

Mostly AliExpress and Amazon for now.
If you have further questions concerning this topic, please do not hesitate to address us at the support chat - we will be more than happy to assist you.