Learn more about the variety of valuable and innovative features AutoDS has to offer
1. Price Optimization
Prices are the most important factor, not only in a dropshipping business but in any kind of business. We have made sure that the prices that you set to your products, will continue to be profitable for your business, regardless of any price changes in the source site.
Here is how we do it:
Dynamic Break even – This feature adapts the break-even according to the seller on Amazon (if the seller is Amazon, they usually charge extra tax during the checkout, while FBA sellers usually don't)
Automatic Price Raise/Drop – With this feature, you have the option to raise the price of a listing that sells well, but also drop the price of a listing that doesn't.
Price round up to .99 – Make your listings more attractive and get more sales by enabling this psychological feature, and round your selling prices to .99.
Separate settings for each supplier: Each supplier can have its own settings, profit or break even settings, minimum profit, the round up to .99, etc.

2. Stock Optimization
The second most important factor for our eBay dropshipping business is our stock. Not only do we need to have items in stock, but also, we need fresh inventory. Here are two features that will help you with that.
Automation – AutoDS allows you to automate the pricing of your products to help you become more competitive, to gain more sales, and simply profit more by setting up Where & When certain items price will increase/decrease



Dynamic Policy Creation – Adapt your shipping policy to the delivery times of the Amazon seller. This means, less Out-of-Stock listings due to delivery times and more sales!

3. Active Listings Filter and Bulk Change system
Filter your Active listings by any factor: Stock status, quantity, profit, region, upload date, Sold dates, tag (you have the option to add a tag to your listings to find them easier), and many more.
Bulk Changes: Run changes for more than 1 listings at once, with our bulk change feature, and change any you want, profit, fees %, settings, template, policies, automation, etc.

4. Advanced Products Lister
In our Products Uploader, we have added anything a beginner or advanced eBay dropshipper could ask for.
You can list products from a variety of our supported suppliers (Etsy, Lowes, eBay [for Shopify sellers only] Amazon.com, Amazon.co.uk, Amazon.de, Amazon.fr, Amazon. It. Aliexpress (China and US Warehouses) Walmart, Overstock Homedepot, Wayfair, Costco, Costway, Banggood, (China and US Warehouses) ChinaBrands, Target, Cjdropshipping, Samsclub, Gearbest, Vidaxl, Miniinthebox, Lightinthebox, Alibaba, Pureformulas, Redbubble, Wish)
6. Customer Support System (eBay)
No need to open eBay to view and respond to your messages or your open cases. You can do everything in AutoDS.
You can use premade template messages for your customers.
Manage your open cases.
Take care of your return cases.
Handle your cancellations.


7. Automated Orders
The most important thing in your eBay dropshipping business is automation.
Here is what you get with AutoDS:
Automatic Orders in a few minutes for Amazon and Ali Express when using Buy accounts.

If you decide to use our Fulfilled services, we offer Auto-orders for all of our US-based suppliers.

Automatic tracking number update once it becomes available from the supplier.
Auto-messages to your customers: Increase your communication and overall feedbacks by at least 60%, using our 3 automatic messages to your customers.
Bluecare Express integration for AMZL trackings: Turn your AMZL tracking number to a valid and trackable number by eBay, and get your Top Rated badge, as well as win over "not received" cases. (Available for Amazon US and Amazon UK)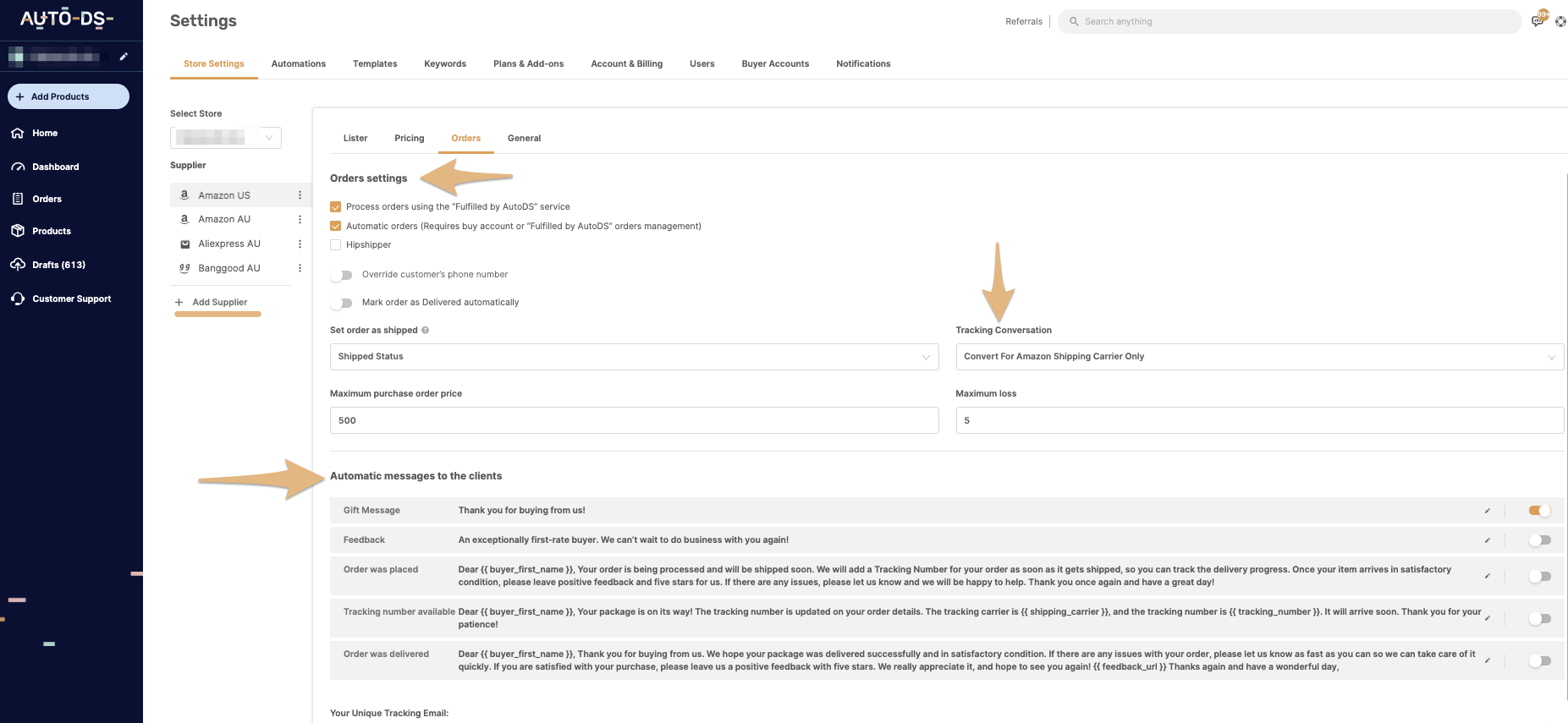 8. Simple / Full Item Edit – Item Replacement
You can edit your items, in full or simple mode. And you can change everything, either for only one listing or in bulk.
You can change factors like title, description, template, profit, break-even, policies, literally everything. Name it and we have it!
But also, you can also fully replace the item of the listing. What does that mean? If you have an item that has a very good history in sales or views but has either stopped selling for a while, or it's out of stock in the supplier, you can change it with one click.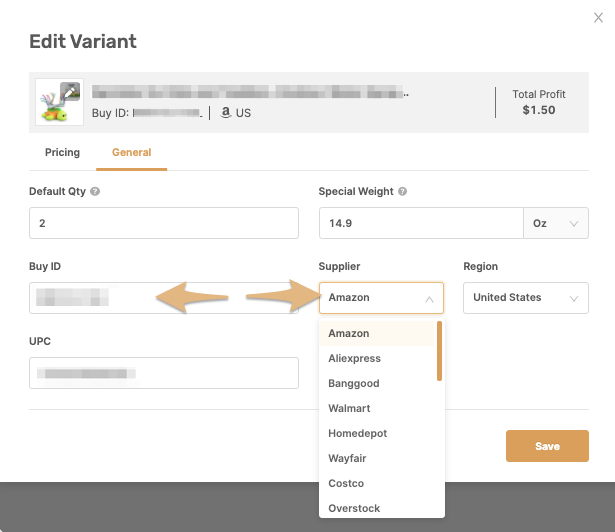 9. Multiple Accounts Management/ Protection
Do you have more than one store? Not a problem. Through AutoDS, you can add all your eBay stores. And each one can have its own settings. What you can do?
Have different settings for each store
Manage them separately in terms of :

Customer Service – you can view the messages and your open cases for each account separately
Listings management – make sure to upload different items to them if you want and avoid duplicates
Order management – View and manage the orders of each store and be able to calculate your profits individually.


10. The Best customer support, community and knowledge base
The customer's overall experience is one of the most important things for us in AutoDS. That's why customer support is one of our strongest points. Being live almost the whole day, we try to answer all your questions and solve any problem, within a few minutes.
We have a big number of communities including Facebook, Whatsapp groups, Telegram, Instagram, YouTube, and Twitter.
We run free live webinars and sessions, presented by Lior Pozin, AutoDS' CEO, once a month, to make sure you improve your dropshipping skills and grow your eBay dropshipping business. You can find some of our past recordings directly on our YouTube channel.


11. A Chrome extension that does everything for you
Here is what you can do with our dropshipping chrome extension:
Auto Copy your buyer's address directly to the supplier's site.
Grab full lists of search results from our supported suppliers, and create a CSV file for direct bulk upload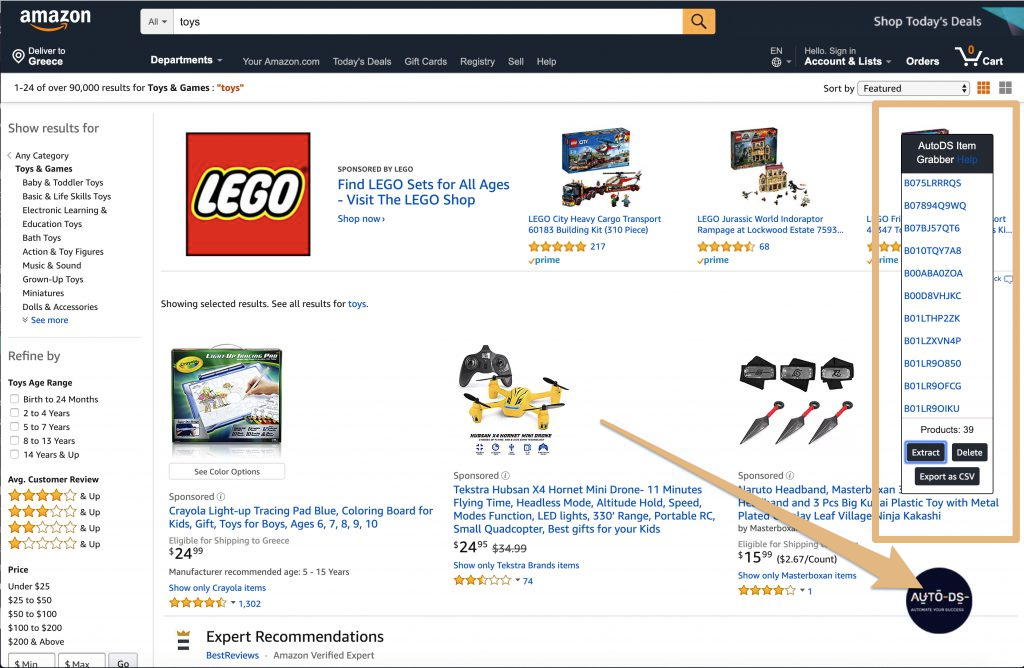 If you want to work manually with AutoDS, you can do it with our non-API solution, and in the most automated way. With the help of our manual dropshipping chrome extension, you can still have a price and stock monitoring for your stores' listings and enjoy our automation features as well.
Your manual-store will now be perfectly monitored, every hour, just like an API store, even without the API connection.