Reduce the manual work! Use AutoDS Facebook Marketplace Dropshipping Helper Extension to Copy-Paste Your Products from AutoDS to the Facebook Marketplace!
Uploading to your Facebook marketplace account has never been more simple!
How to upload products to your Facebook Marketplace account?
Follow these steps to upload a product to your Facebook Marketplace.
1. Save your product as drafts on AutoDS
First, save the products your wish to upload to your AutoDS account.
You can learn how to upload a draft in more detail in this help article.
Once you have the products saved as drafts on your AutoDS account, you can copy and paste them to your Facebook Marketplace account using our Helper extension.
If you do not have it installed - click here to download it to your Chrome browser.
2. Copy variant from AutoDS
Go to the variants of your saved drafts and click on the copy icon

The action will copy the information from this variant to the Helper. You will get a notification is was successful:

3. Paste on Facebook and upload
Go to your Facebook Marketplace account, and click on 'Create new listing'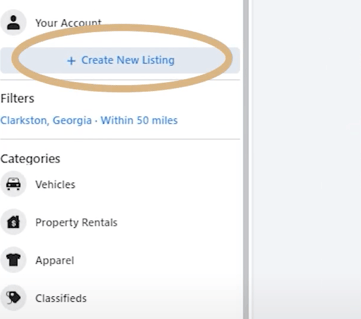 Choose 'Item for Sale' on the listing type.

Then, Click on the Helper button 'Paste Info from AutoDS'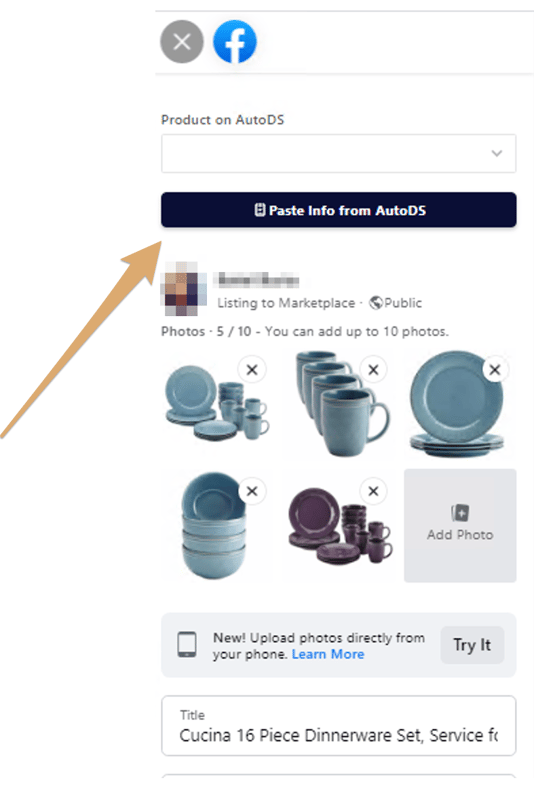 The extension will start filling in all the information of the listings:
Title, description, images, and price.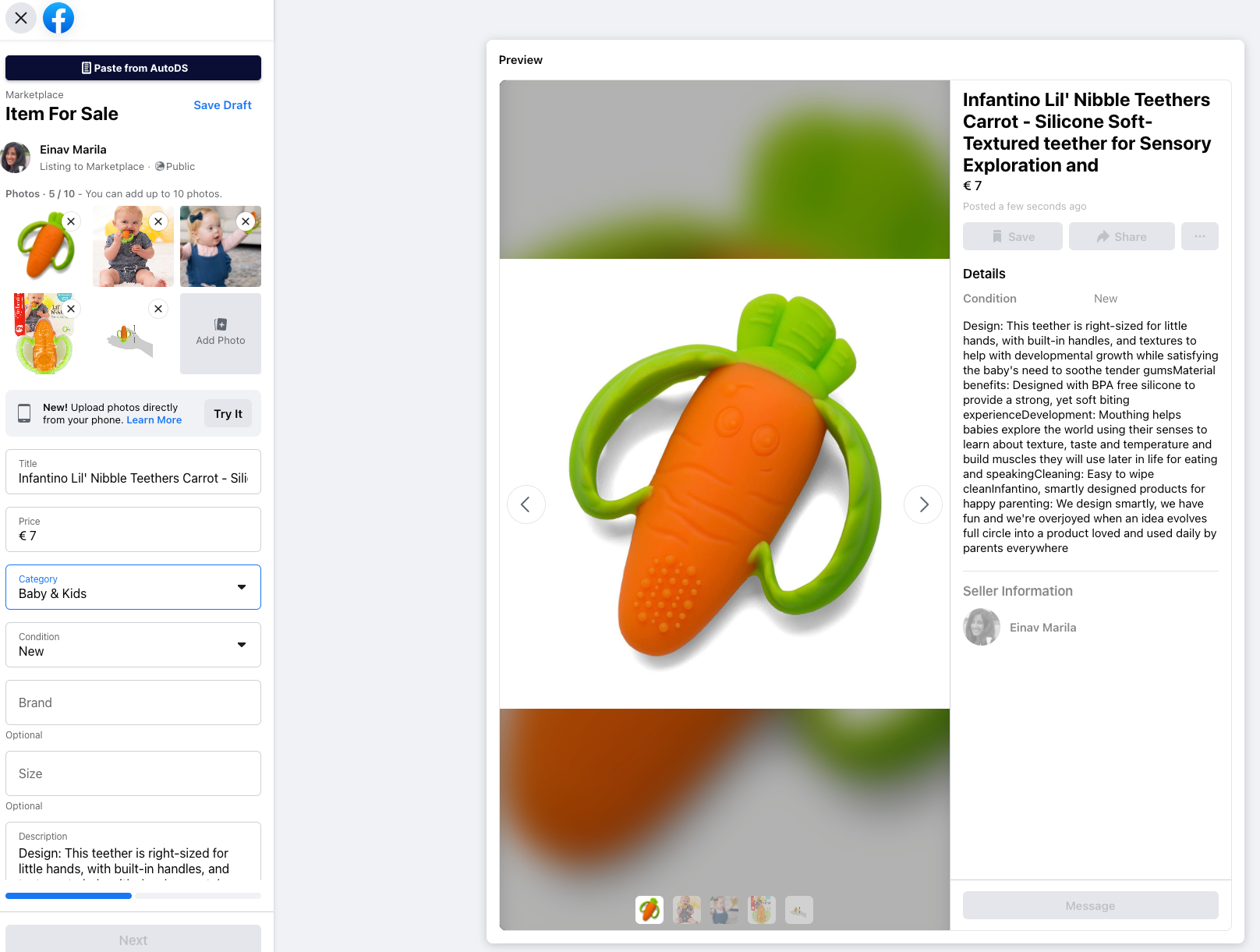 Fill/Edit in any missing information and click next. Proceed to upload the listing on your FB account and click Next:
Then, you will have an option to Add a Brand name and a SKU.
This is Optional, so you can also simply click Next.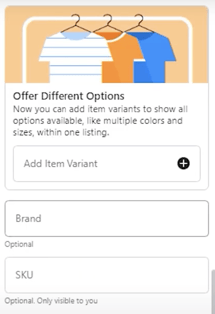 Afterward, you will need to insert the Shipping details:
1) Make sure your Delivery Method's is 'Shipping & Local Pickup'
2) On the 'Shipping option' Select 'Use your own shipping label'
3) Mark 'Turn on "Free Shipping for Buyers'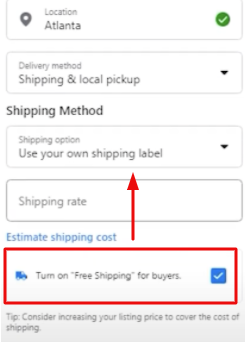 Optional - You will now have an option to allow your customer to negotiate a price equal to or above the minimum price you set, If you wish to allow it - Simply mark this option and select A minimum Price.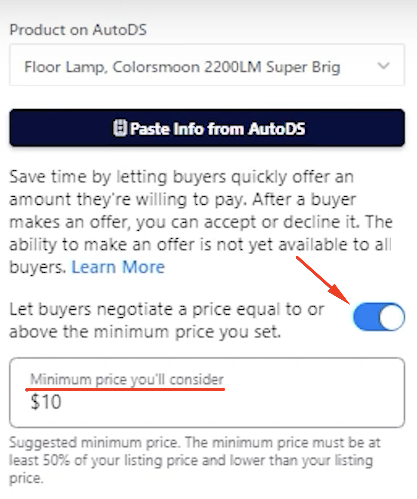 Recommended: You can Choose certain Facebook groups to list your items in (up to 20 groups)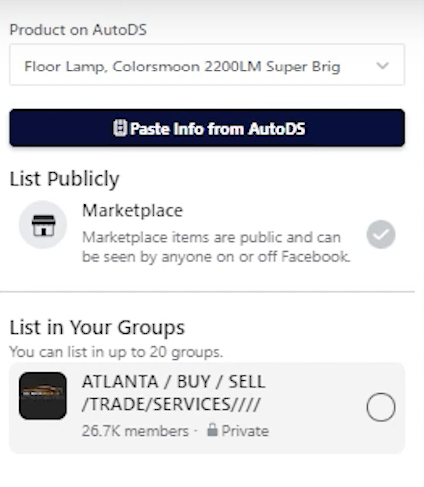 Scroll Down and Click 'Upload'.
Tip:
The dropdown menu is there to help you connect existing listings on your Facebook account with the monitored products on AutoDS (under Product on AutoDS).

If you wish to connect an exiting item, simply select it and then click Paste Info From AutoDS. The system will connect this FB listing to the product you will later import from the draft and it will be monitored.
4. Import the draft to the products page on AutoDS
The reason why this action is necessary is for AutoDS to monitor the products for you. When it is a product our system will scan for changes on the source site every 60 minutes (or more if you set it so directly on the extension).
When a change in stock occurs, for example, if on your AutoDS account the product is on hold or OOS according to the last scan, the extension will raise the price by $10K.
The reason why it will raise it to such a high selling price on your FB marketplace account is that Facebook in many cases does not allow to change the stock of a product (especially if it had already had sales). That's why AutoDS will raise the price significantly to make sure the item will not be purchased from you.
If a change in price happens, the extension (assuming it's working on your Chrome browser and that your Facebook account is open) will change the price of the listing accordingly.
To import the draft you can either click on the 3 dots dropdown or click on the + import button.

The product and its variants will now appear on the products page and will be monitored.
To learn more about setting up your notifications you can check out this help article.
---
If you have further questions concerning this topic, please do not hesitate to address us at the support chat - we will be more than happy to assist you.
---
LUD: June 10th, 2021