Decide according to which parameters the system will monitor your products on the source site
On your settings page, you will be able to set up your monitoring settings.
You can find them on Settings➞Store settings➞monitoring
1- Minimum Product Quantity - if the products unit quantity on the supplier site exceeds the value you set here, the system will place the listing as 'On Hold' (=quantity 0) as protection. For example: If you choose a minimum of 5 units and the source listing has only 3 units available for sale - the system will change the quantity of this item to zero 0 and place it as 'On Hold' on your "Products" page on your AutoDS account until the next scan which detects a higher unit quantity occurs, or until you change the setting.
2- Maximum Shipping Days- On each scan (occurs every 60 minutes), the system checks the total number of days it takes the product to be delivered to the buyer. The system will then cross-check it with the number of days you have inserted in this field and will place items with longer shipping days as 'On Hold' (= quantity 0).
3- Choose From Suppliers Table - AutoDS monitors the price from the "BuyBox" supplier as default. However, if the BuyBox listing is out of stock, or not prime, the system will check the suppliers' table and will monitor the seller by your settings. The system will only monitor sellers with a minimum of 80% feedback and 500 ratings only the first page of the suppliers' list will be checked.

Prime First/Cheapest First: Selecting one of the options tells the system which supplier on the first page of the suppliers' table you would like to monitor - the cheapest one or the first prime product on the list.
4- Prime- If this box will be checked, the system will check if your Amazon-sourced products participate in Amazon's 'Prime' membership. If they are not, the system will place them as unavailable as protection, AKA 'On Hold'.
IMPORTANT: You can and should set the monitoring settings for each of your suppliers. To add more suppliers, click the + Add Supplier icon on the left bottom of the screen.
Simply choose the supplier on the left-hand side, and edit its settings: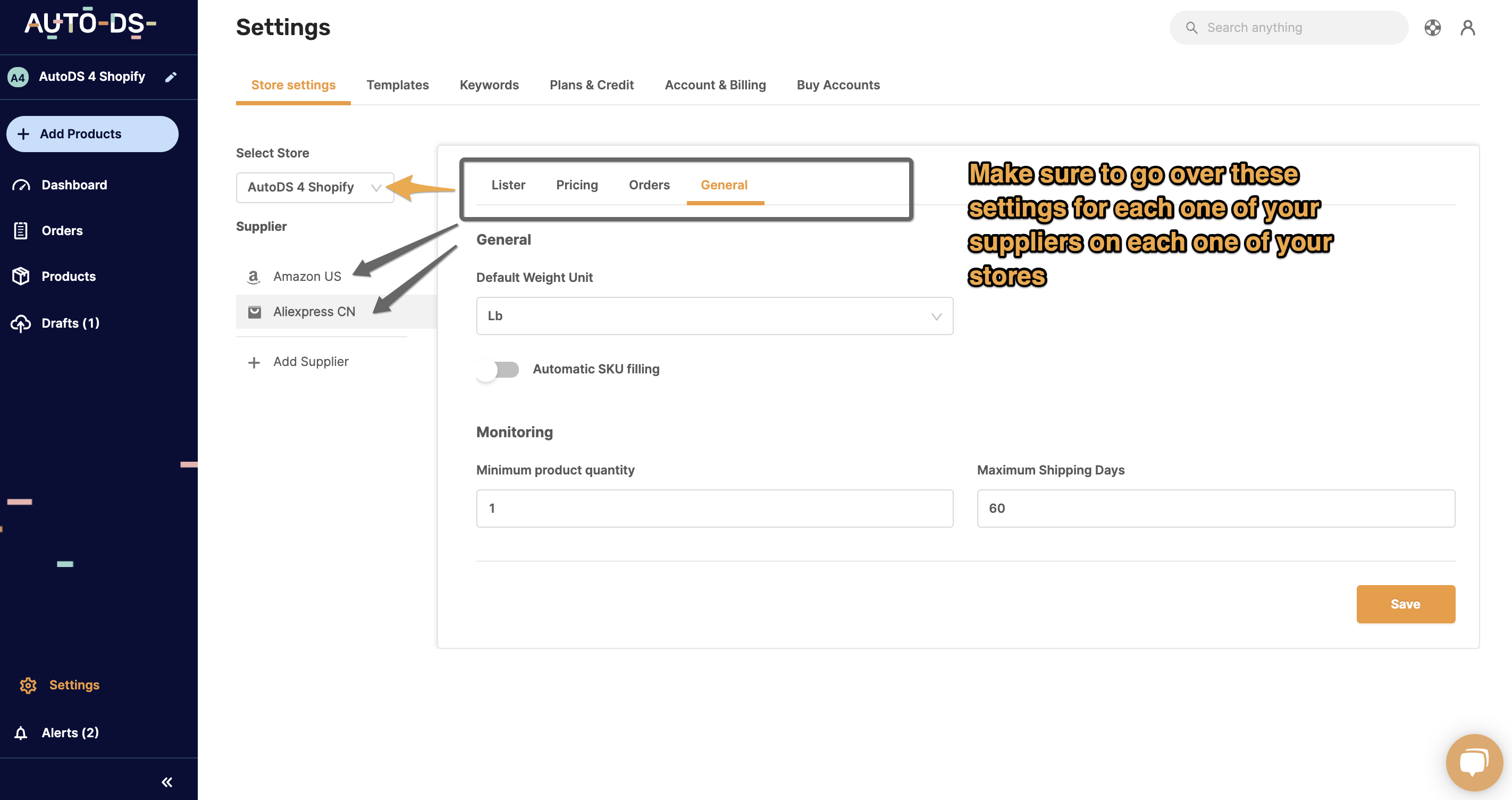 If you have further questions that were not answered in this article, please do not hesitate to turn to us at the support chat - we will be more than happy to assist you.
___
LUD: 25.6.20