Read this article to learn how you can manage all the active listings / published items on your store
You can watch this video to learn or to follow the manual instructions below the video
The products page is where you will be able to view, manage, and edit all your products.
The page is divided into 2 parts: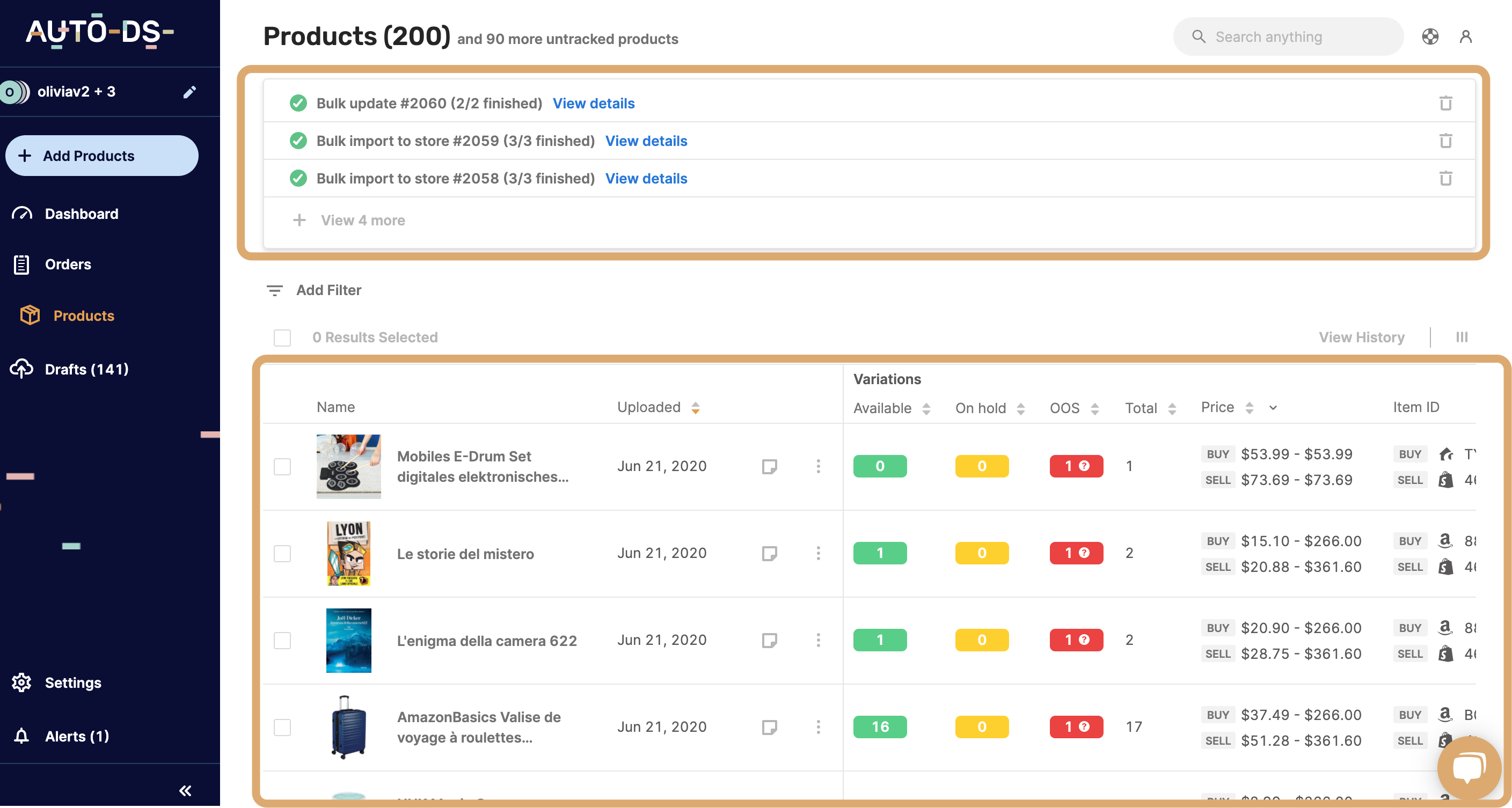 The top part displays the bulk actions you made whether it is bulk change, bulk upload, etc. The bottom part shows you all your listings with different filtering options.
Here's an explanation of the different columns on the Products page.

Name - the title and image of the listing.
Uploaded - The upload date on AutoDS.
Note- Adding a note to the product.
Edit- edit, relist, delete, or add a tag to the product.
Status- the status of the variations of the product (Available/ on hold/ OOS). To learn more about the different statuses check out this help article.
Total- the total variation count for the item.
OOS days-The number of days the item is out of stock on the supplier's site. Note that if it is a variation item, the counting days will start with the oldest variation that is out of stock.
Price- The price range of the different variations of the product.
Profit- The item's profit range of all variations
Item ID- The item IDs on the source and sell site.
Sold- The total amount of sales for this item.
DWS- The number of days without sales for this item
Store name
Views- the number of views you have for this item (eBay)
Watchers- the number of watchers you have for this item (eBay)
Days left- the amount of days left before this item ends (eBay)
Tags you added for this item
You can decide which columns you want to display and work with. Click here to learn how to customize your products' view.
Tip🌟
Try out our new product research tool - the AutoDS marketplace.
The AutoDS marketplace feature has been developed to significantly simplify product research, product finding, and product importing.
---
If you have further questions that were not answered in this article, please do not hesitate and turn to us at the support chat - we will be more than happy to assist you.