Learn how to fully edit your product's images by adding text, icons, draw, and many more...
Adding different logos, texts, and additions to your product's image can lead to greater attention from the buyers and differentiate you from the various competitors as they sometimes also sell the same products. Therefore, by using this feature, you will stand out much more in your sales channel. Plus, instead of messing with editing software, you can do it directly through AutoDS!
How do I access to this feature?
There are two ways, one for products that were already uploaded and one for products we didn't import yet (drafts).
Uploaded products:
Navigate to your selected product -> Variant -> Edit -> Pencil Logo -> Edit

Drafts:
Navigate to your selected product -> Images -> Edit -> Pencil Logo -> Edit

Clicking on the Edit button on both scenarios will lead us to this page: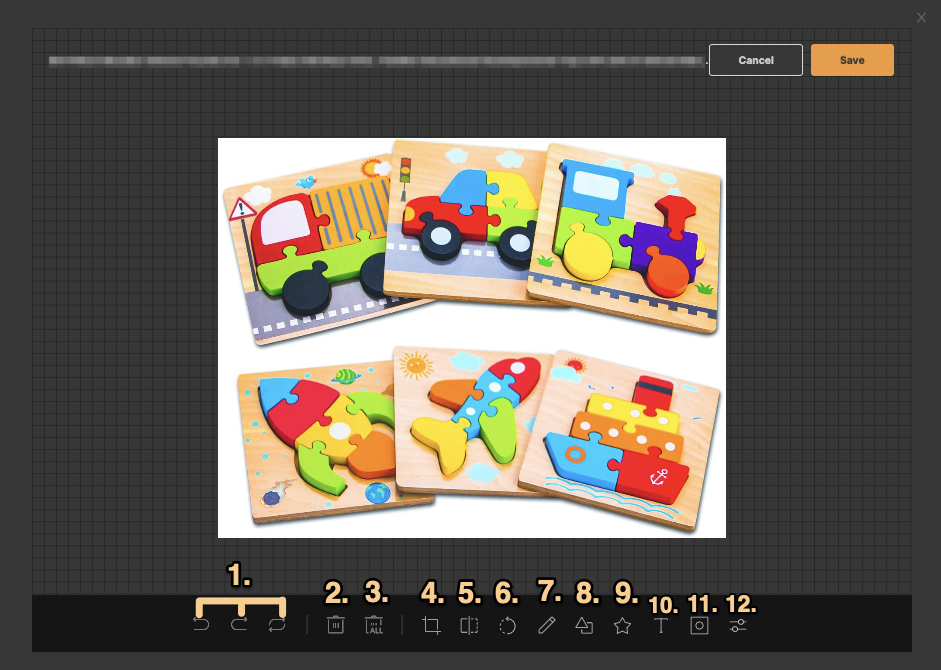 Please check the featured numbers in the following image. You will find a detailed explanation of each featured number below the image.
1 - Undo Action, Redo Action, Restart actions.
2 - Delete Picture.
3 - Delete all pictures.
4 - Crop - Delete selected parts of the image.
5 - Flip - Flip the image horizontal or vertical.
6 - Rotate.
7 - Draw - draw
8 - Shapes - Add triangle, circle, and rectangle.
9 - Icon - Add multiple icons.
10 - Text - Add short text lines.
11 - Mask - Add background image.
12 - Filter - adjust & add effects.
After you made your desired changes, save them, and they will be applied to your products.
If you have further questions about this topic, please do not hesitate to address us at the support chat - we will be more than happy to assist you.