Learn how to automatically update the tracking information on your orders
Note - Only eBay API accounts orders will be updated within the selling platform.
To make your tracking numbers update automatically on your eBay store, you will need to have a subscription to our order processor.
Then, continue according to your automation method.
Click to Quick jump
1 - Buy accounts (Amazon / Aliexpress private accounts)
Buy Accounts
By using this method, you will need to Add an Amazon/Aliexpress Buy account.
Learn how to do that here.
After you finished, you will need to forward your Emails that contain the tracking information updates to our unique email address. Learn how to do that here.
TIP💡
We Highly recommend using our Fulfilled services where you don't have a Buy account.
AutoDS Fulfilled Services
The Fulfilled By AutoDS Service automatically handles 100% of your orders (on supported suppliers). This means you no longer need to deal with the orders on the source site, cancellations, returns, or the fear of having your source account restricted.
On top of that, we also update automatically the tracking numbers for you.
Read more about the Fulfilled services here.
Once everything is set up, all you need to do is to make sure that your order settings for your suppliers look like the below screenshot, and we will update the tracking numbers for you.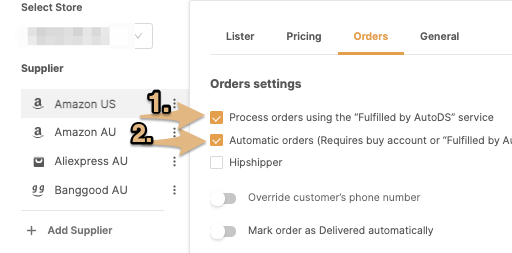 2 - Is Optional and not a Must.
---
If you have further questions about this topic, please do not hesitate to address us at the support chat - we will be more than happy to assist you.