Contacting AutoDS Customer Support
How to add a Screenshot to Live Chat/Ticket
Learn how to take a screenshot and add it to your Live chats & Tickets.
In order to make this process easy & fast, we recommend using the 'Lightshot' google extension, Click Here to add this extension.
After you added the extension, it should appear on the right top side of your chrome browser

each time that you will click on it, it will allow you to choose the area that you would like to screenshot.
After you picked the area you would like to send us, you will have 3 options.
Please check the featured numbers in the following image. You will find a detailed explanation of each featured number below the image.
1 - Save it to your computer.
2 - Copy it directly and paste it.
3 - Get a special link that will redirect us to the image.
How to add it to Live Chats/Tickets?
1 - If you saved the item picture on your computer, click on the pin icon and select the photo you saved.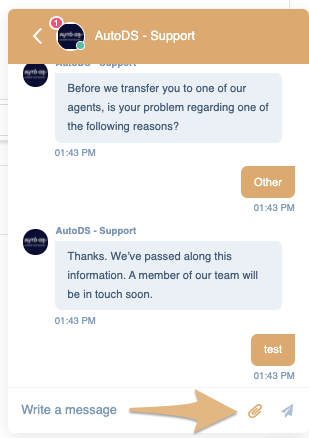 2 - If you clicked on the copy-paste option, you need to make sure that your cursor is clicked on the chat, and then, click according to your PC type.
3 - If you clicked on the special link option, simply send the link on chat.
---
If you have further questions about this topic, please do not hesitate to address us at the support chat - we will be more than happy to assist you.