Learn how the process of reporting a system bug works on AutoDS and how & when it will be resolved
Why do bugs happen?
Like any software out there, we also experience bugs in our system 🙈.
We are doing our best to minimize them with a team of QA specialists who are working around the clock 🕘.
Unfortunately, AutoDS functions as an intermediator app connecting your selling channel to the source site, and thus it is highly dependent on the behavior of these sites: our supported suppliers, and marketplaces, and system bugs happen due to changes made on these platforms.
What to do if I encountered a bug in the system?
If you have encountered an issue on your account, please address the support team on chat if available or open a support ticket.
Make sure to describe the issue well. Add examples (product ids, store names, etc), screenshots, and it will also be great if you can add a short video explaining the issue.
Once reported, our support agents will try to reproduce the issue on your account. When confirmed, they will move the ticket to our technical team to fix it.
When will the bug I reported be fixed?
Depending on the urgency of the bug, an estimated time to fix the bug will be decided by our technical team.
Our support team will get back to you on the relevant ticket (via email) within 3 business days notifying you of the estimated time (ETA) we will deploy the fix for this bug.
▪️ Bugs that will be defined as low-priority bugs (affecting 1-2 items and not blocking the user's day-to-day work) can be fixed up to 5 weeks from the day they were reported.
▪️ Bugs that will be defined as high-priority bugs (affecting more than 5 users, blocking the user's day-to-day work) will be fixed in a matter of one day and up toa maximum of 2 weeks.
💡 Tip: You can view the status of your open tickets on your private URL.
You can get to the URL by clicking on the right side icon on AutoDS platform and then, click on 'View my Tickets'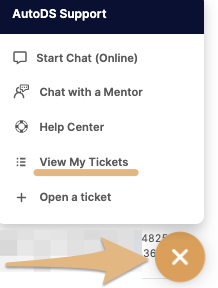 We understand that it can be frustrating to wait so long for a fix to your issue. However, please do take into consideration we are doing our best around the clock and that in high-priority bugs the time it takes to fix the issue will be faster than expected in most cases.
If you have further questions that were not answered in this article, please do not hesitate to turn to us at the support chat - we will be more than happy to assist you.