AutoDS for Affiliates & Referral
How can I join the program?
Learn how you can earn money from AutoDS!
This article is for existing Customers, If you don't have an AutoDS account please read this article to learn how you can be one of our affilates.
To start referring customers with your link all you need to is:
1. Find the 'Referral' field in your AutoDS account:

2. And here is your private link you can start refer with: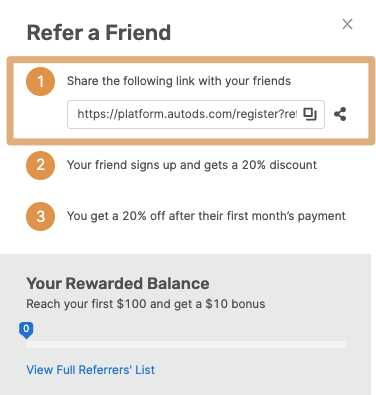 Important to know 📚
It is not allowed to run traffic on our brand name 'AutoDS'. We will not approve payments in such cases.
Your commission is calculated based on the monthly invoice paid by the users you referred for the previous month.
In order for a referral to be connected to your account, they need to sign up with your link.
You can only add new customers and not existing ones.
An affiliate period lasts 3 months after you refer the user.
If you have further questions about this topic, please do not hesitate to address us at the support chat - we will be more than happy to assist you.