Learn how to work with eBay's global shipping program to open your listings to more marketplaces and getting more conversions and sales!
eBay's GSP gives the option to ship your US located items worldwide.
When you opt-in to this program potential international buyers can view and purchase your item. You will ship it to eBay's logistic center in KY - after the item will arrive at this center eBay will ship it directly to the buyer's country outside of the US.

You're protected from negative/neutral feedback in case a problem with the shipping occurs or if the item is lost or damaged during transit.
The eBay seller is only responsible to ship the item to the domestic shipping center and after that eBay will take responsibility for the shipment.
In addition, the seller can choose which of his items he wants to ship through the program.
There is no additional fee for listings that the seller chooses to add to the GSP policy. The buyer pays the international shipping fee directly to eBay. If the seller charges a domestic shipping fee he/she will get the domestic shipping payment while eBay will receive the international shipping payment from the buyer.
How to Opt-In the GSP:
Go to My eBay > Account > Site Preferences.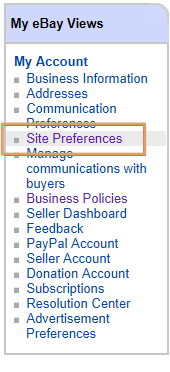 2. Go to the 'Shipping Preferences' section and click on it:


3. Click Edit to the right of the Global Shipping Program and choose to add the GSP. The status should change to 'Enrolled'
After that you need to allow it in your business policies: Go to My eBay > Account > Business policies. There you need to check the GSP option

Any orders received with the GSP on AutoDS will have the reference ID eBay requires and the address of their logistic center in KY. If you are using our automatic ordering feature, the order will be automatically shipped there. If you work manually, you will be able to use our Helper extension to copy the address and paste it into the source site for quick fulfillment.
If this process is still difficult for you, we highly recommend you to
NOTE - Sales with wrong shipping policies can result in a "Delay" on Ebay and later may lead to suspension / Sales with loss.
The mentorship program can save you a lot of precious time with the variety of issues that eBay sellers deal with.
If you have further questions that were not answered in this article please do not hesitate and turn to us at the support chat - we will be more than happy to assist you.