Check if the answer to your questions is here - learn all you need to know about your non-API store
Q: How much does it cost to add a Non-API store?
It costs $9.97 per store, per month in addition to your subscription plan.
Do I still have to pay the monthly subscription for my items?
Yes, the monthly subscription applies to the number of products that are monitored on your account. The Non-API store subscription is an additional payment to the regular monthly plan.
Can I use AutoDS Finder with the Non-API version?
Yes, AutoDS Finder is available to non-API stores. The only function of the Finder that is not supported is the recurring uploads. You can learn more about the Finder in this help article.
Do I need both my browser to be up and my computer on with a stable internet connection at all times?
Yes, if you wish to use the order automations and you wish us to always show you the correct amount of untracked products you have
When the browser with the installed extension is not up, new orders or untracked products will not get populated on your account. They will, however, automatically populate, when you log in again or if you click the buttons on the extension when you log in to speed it up. That's why, if you wish that the system will detect new orders and auto-order them, you need to have everything connected.
I no longer receive emails from eBay's file exchange. Is this normal?
Yes, it is, as eBay closed the File Exchange service starting June 15th, 2021, and started working with the SellerHub reports. They do not send hourly emails from this system.
I have a notification that says: Please sign in to your eBay account here, then try again. What does this mean?
It means that you probably closed your browser, eBay tab, or that eBay was inactive and signed you out so the monitoring of your orders and untracked products had stopped (Price and stock monitoring and uploads will keep running at all times).
All you need to do to fix this is to sign back into your eBay account from the link on the error logs of the extension.
Can I convert my existing store to non-API?
Sure you can, even though it's not very recommended. You can do it from the edit of your store, click the edit pencil icon then select Convert to Non-API.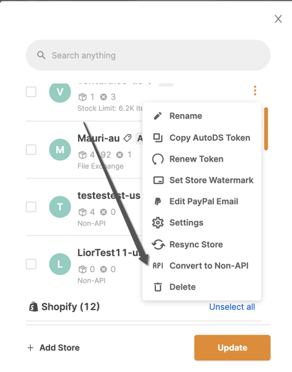 You will also need to remove the API permission on eBay.
I changed my mind and I want to convert my Non-API store to a regularly connected store. Is this possible?
Yes. Got to the store settings from the edit pencil icon and click Convert to API.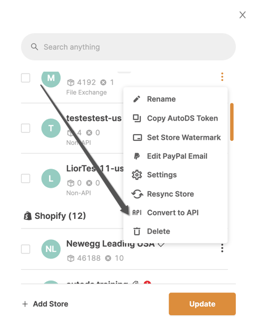 Can I change my store name after I add it to AutoDS?
Yes, you can always edit your store name from the pencil edit button.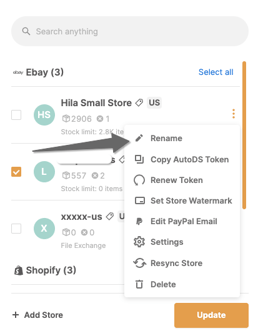 Can I have auto-ordering with my manual drop-shipping store?
You can. When you receive an order, it will be synced through the extension directly to your AutoDS account, and the auto-order process will start. You will need to make sure your chrome is up with an active internet connection for orders to be populated at all times.
Do I also get to have the 3 automatic messages to my customers through the manual option?
A: Unfortunately, auto messages are still not supported for the Non-API stores. You can check out the progress of this feature request on our roadmap for new features on our Upvoty account.
Do I get to have my tracking number updated when it's available from the supplier?
Currently, the tracking number will be updated on your AutoDS order only and not on your eBay account. You will need to copy it from AutoDS and manually update it on your eBay orders. You can check out the progress of this feature request on our roadmap for new features on our Upvoty account.
I need BCE conversion for my tracking numbers. Will this feature work?
Yes, you will get your Amazon Logistic tracking numbers converted to BlueCare express only if the order was placed automatically. You will need to copy the BCE tracking from AutoDS and paste it on your order on eBay.
I want to try this manual dropshipping feature. Do I have to pay for the store also in the $1 trial?
No. You can add a manual dropshipping store and you will not pay any additional fee while on trial. The amount of $9.97 will be charged, once the trial ends.
I received the error "Please enter a valid name. Special characters are not allowed", but my store consists of special characters in the name. What shall I do?
Special characters and characters from different languages are not considered valid for the system, but this is not an issue. You can add any name for your store, and it will be approved, as far as it's not already added in AutoDS.
If for example, your store name is "Store1$", you can change it to "Store1" or "Store1dollar". It will still be your store.
Can I relist my items from my manual store, directly on AutoDS?
No. The relisting feature is not yet available for non-API or API users. You can check out the progress of this feature request on our roadmap for new features on our Upvoty account.
Will the views/watchers of my listings appear on the products listings page?
No, because this eBay does not give us this information via the SellerHub Reports.
I edited my product and made some changes. How long does it take to update the changes on AutoDS and on my selling site?
AutoDS sends the change to eBay's SellerHub Reports system every 15 minutes. Thus, you will see a change in a minimum of 30 minutes. However, it can take longer if there's a delay with eBay's SellerHub Reports system as it can sometimes be busy. If there is a delay, you will see it on the extension logs.
Is there a way to get my AutoDS token after I have already connected the extension?
Yes. You can go to your store, click on the 3 dots dropdown and click the Copy the AutoDS Token.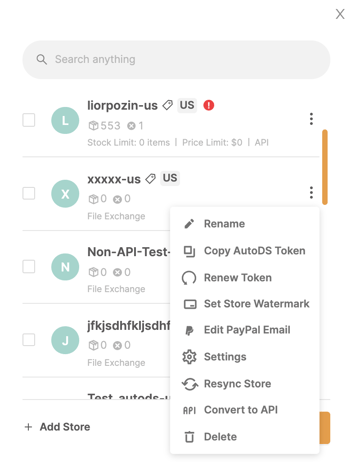 Does AutoDS support the non-api extension for Chromebooks?
The non-API extension is not supported on Chromebooks.

If you have further questions that were not answered in this article, please do not hesitate and turn to us at the support chat - we will be more than happy to assist you.