Have your eBay Shipping policy created based on the monitored product data!
What does this feature do?

This feature allows you to work with our different supported suppliers without the trouble of creating a shipping policy for each supplier or seller you choose to work with on AutoDS. This feature will automatically calculate the time it will take to deliver the product to the buyer and then change your shipping policy on eBay accordingly!
Why should I use this feature?
This feature will allow you to work with more suppliers with no fear of failing to ship the items on time. Working with this feature will decrease the number of out-of-stock products you have on your account since you can increase your maximum shipping time setting.
When you work with the feature, it is recommended to change the Maximum Shipping Days value under Settings → Store Settings→General [for each store and each supplier you choose] to a minimum of 21-23 days so that this feature will work best for you.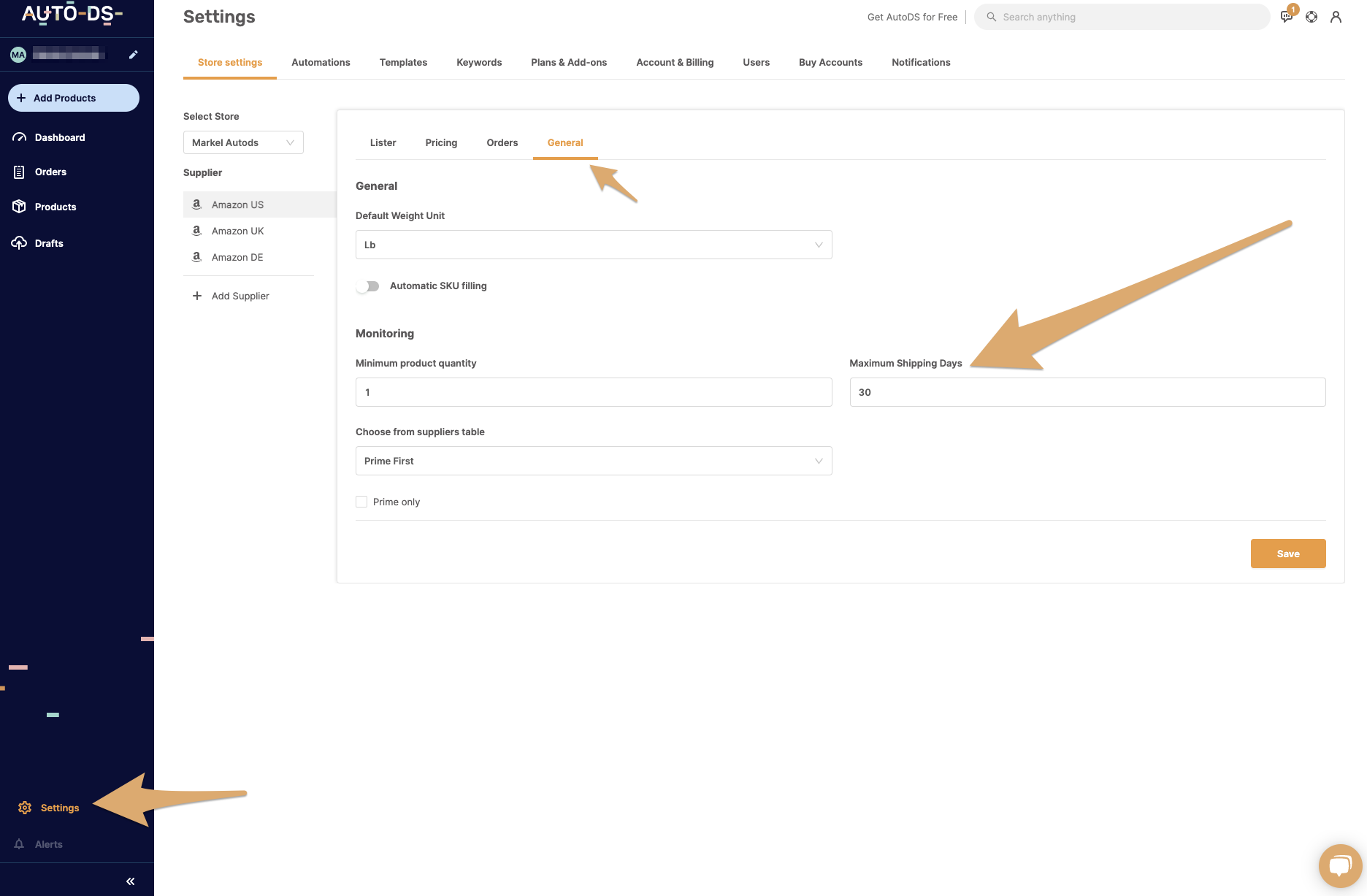 How does it work?
When this feature is enabled, the system scans your active listings every 60 minutes.
It checks the seller's shipping time on the source site (handling+shipping= total delivery time). It then changes the shipping policy on your eBay item according to the product's shipping time on the source site. The system calculates the number of days it takes the product to arrive at your buyer and creates a new policy on your eBay account for this listing.
Important:
The dynamic policy feature works with eBay accounts, API or NON API.
For eBay Non API stores with products from one of the following suppliers, the return policy will be marked as paid by the Seller (Amazon, Walmart, Costco, home depot, lowes, Kmart, sams club, Target)
If you are working with Hipshipper, this feature is not recommended for you.
How can I enable the dynamic policy setting on my AutoDS account?
You can enable it per product or draft or enable it to a specific store and supplier.
Enabling it for a store and a supplier
Make sure you select the store you want to change it for, then go to Monitors → Products Monitor → Amazon settings.
Click on the pencil icon at the bottom of the screen to open the page for edit, and then enable the Use Dynamic Policy feature and save the changes.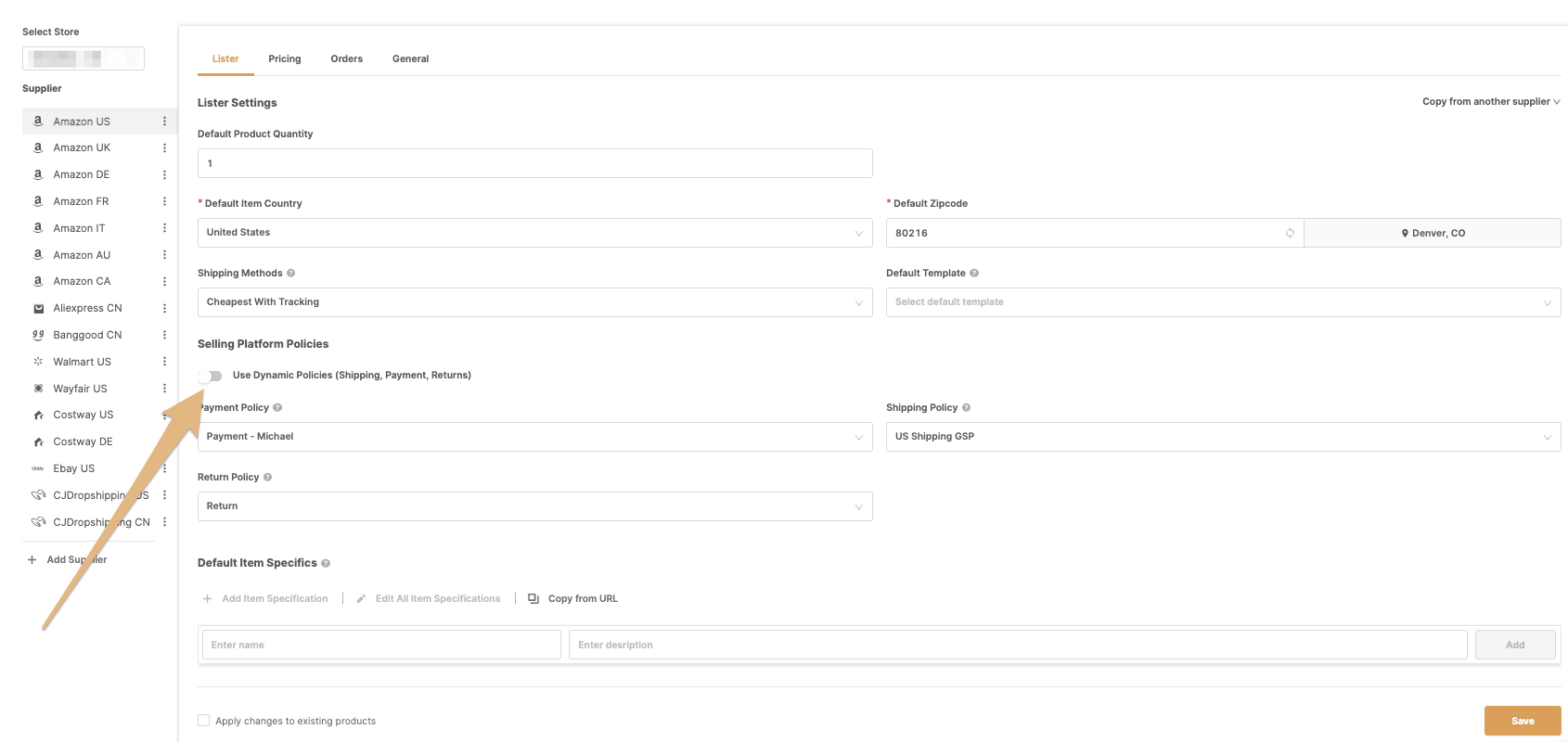 Once enabled, you will have an option to choose the number of handling days you wish your shipping policies to have [1] and whether you wish to allow the eBay listing to take part in eBay's Global Shipping Program [2].

Warning: For the GSP to be enabled on your selected product, you must opt-in to program directly from your eBay account. Learn how to do it here.
Enabling it for a draft or a product
To edit a single draft or product, go to the product tab and activate it:

Changing in bulk
You can also apply changes to all your products or drafts in a bulk action.
You can learn more about bulk changes at this link.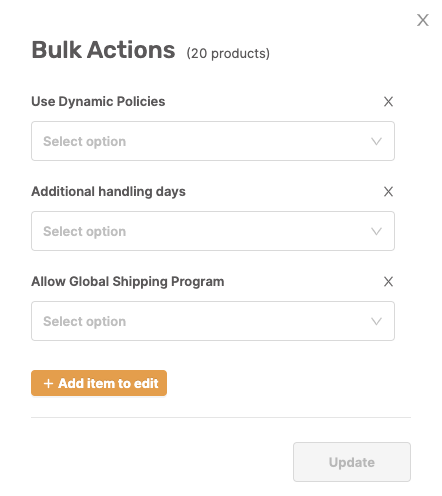 Frequently asked questions:
Many new policies are created on my eBay account. Why is that?
Every time AutoDS detects a change in the shipping time, it needs to create a shipping policy for it. We have a set of policies we create as default for a range of days. Please note, to request eBay's API to create a shipping policy, they require us to update all 3 policies: shipping, returns, and payment. We use a set of default ones for them as well. The number of policies you have on your eBay account should not trouble you since eBay allows you to have as many as you like.
If I use Hipshipper's business policies, can I also use this feature?
No, using this feature together with Hipshipper will cause you to lose the Hipshipper's ones.
I got a sale for a product, and its shipping is longer than the policy it has. Why is that?
The system updates your products every 60 minutes. That's why there will always be a 1-hour gap between the info the buyer saw in your listing at the time of the purchase and the info on the source site. So, for example, it is possible the buyer bought the item when it had 5 shipping days, and by the time you got to fulfil it, the seller extended the shipping time to 10 days.
---
If you have further questions about this topic, please do not hesitate to address us at the support chat - we will be more than happy to assist you.
---