Learn how you convert your tracking numbers from AMZL to BCE
What is BlueCareExpress service?
AutoDS integration with BCE will make sure to convert all your Amazon tracking numbers to BlueCare Express tracking which is accepted by eBay. BCE is an authorized and recognizable carrier on eBay. Meaning, you can choose them from eBay's dropdown menu list of carriers and your buyers will be updated on the transit process of their parcel.
Note❗️
BCE service is supported by Amazon US/UK/FR/DE only.
Configuration
First, you must enable our Orders' Processor, either in Auto or fulfilled with AutoDS service.
Go to Settings → Plans & Add-ons and make sure you have enabled the Order processor.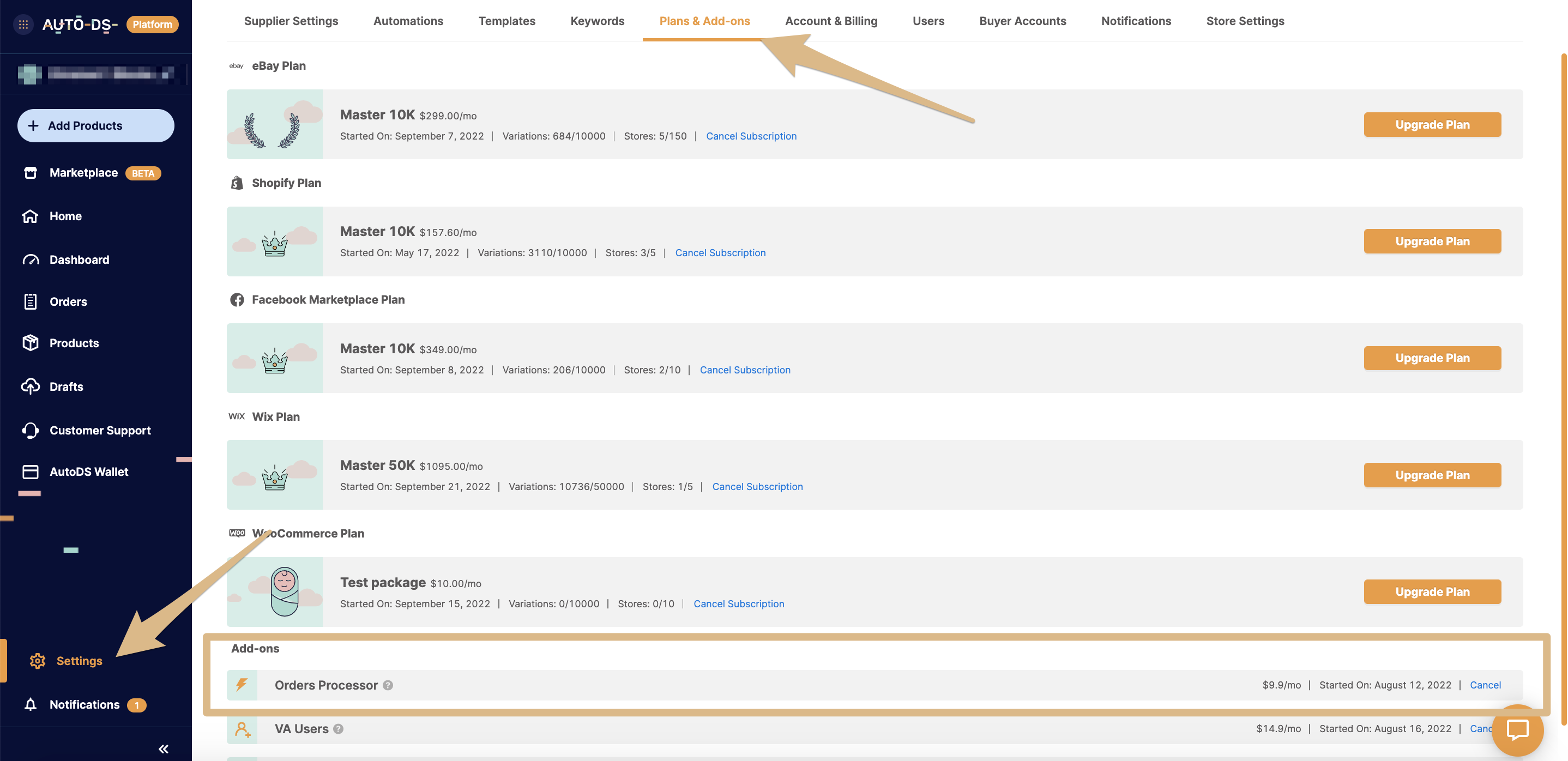 Once the orders processor feature was added and go to Settings → Store settings →Orders and choose the relevant option for you.


Don't convert - By choosing this option, your orders will not convert for this particular supplier (not recommended if you are working with Amazon as your main supplier).
Convert for all orders - By choosing this option, all of your tracking numbers for all orders for this supplier will be converted (even valid ones like USPS or FedEx).
Convert for Amazon shipping carrier only - By choosing this option, only tracking numbers that were provided by Amazon (For Example AMZL/ Amazon Logistics) will be converted.

To learn more about other conversion options such as Aquiline or QTrac, click here.
Pricing
Tracking number conversion to BCE costs 0.33 auto order credit.
Meaning, if you are using auto orders, then 1.33 auto order credit will be deducted from your credits balance ( 1 credit for the order + 0.33 credit for the conversion).
If you place your orders manually, then you will be charged only 0.33 auto order credit.
FAQ ❓
My order was placed automatically and yet a BCE tracking was not updated. Why?
If you interfered with the order's process, for example, you changed the status of the order, placed the AMZL tracking yourself, and more - the BCE will not be updated as the system will no longer recognize the order as AO (=automatic order). Make sure not to do it again for future orders and address the support with a request to convert this order to BCE (possible as long as it was not yet delivered to the buyer).
Please note: there will be cases where we will not be able to convert your tracking numbers to BCE as a result of an issue on Blucare's end.
My tracking number was not converted to BCE and the buyer opened a case on eBay, what can I do?
AutoDS does not guarantee this service will work in 100% of the cases. This is an outsourced service we offer with integration to BlueCare Express. There are occasions when the conversion will not work for different reasons. AutoDS assumes no responsibility for it and is not to blame for cases you lost for orders that did not get the BCE tracking.
I can see my order got a BCE tracking on AutoDS, however, when I check on the BCE site it does not appear with tracking data. Why is that?
When the order is still in status 'Ordered,' the tracking number is not trackable on BCE as they provide us with the numbers before validating them. When the order status changes to 'Shipped', it is validated as per BCE and the tracking information is available.
---
If you have further questions that were not answered in this article please do not hesitate and turn to us at the support chat - we will be more than happy to assist you.