Transfer and withdraw funds between your AutoDS and your Payoneer account easily.
AutoDS is the biggest dropshipping tool in the industry. We've been around for many years. Our experience, our users, and our technology enabled us to cooperate with one of the largest banks in the world - Payoneer.
This cooperation led us to create the AutoDS Wallet.
What is the AutoDS Wallet?
The AutoDS Wallet is a feature that helps to manage all of your payments, payouts, and finances for your Dropshipping Business all inside the AutoDS Platform!
NOTE: Registering with a new Payoneer account can earn you rewards.
Get Free $10 when you load $100, and 150 FREE Auto-orders credits when you load your first credits.
How to create a new Payoneer account?
First, nagivate to AutoDS Platform page and click on the new "AutoDS Wallet" section.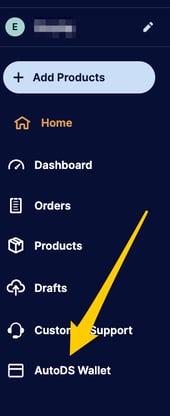 Afterwards, you should see the following page:
If you already have an account - Click on the " I already have an account" option and sign-in.
If you don't have a Payoneer account - Click on the "Sign up to Payoneer" option and continue to create a new account, Watch the following Video (Prefferbly from 2:19) in order to watch the sign-up process.
What can we do with the AutoDS Wallet?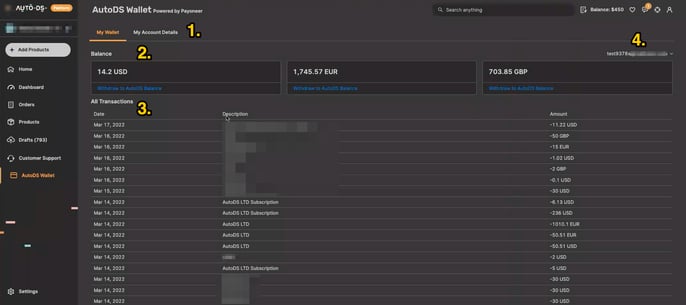 Please check the featured numbers in the following image. You will find a detailed explanation of each featured number below the image.
1 - View your Wallet details (My Account Details)




2 - Withdraw Balance for Fulfilled by AutoDS/Convert funds from different currencies.
Click on "Withdraw to AutoDS Balance" from one of the following currencies

3 - View your Payoneer bank account actions.


Wallet Advantages
Save up to 1.5% on your AutoDS subscription and managed services
Receive your dropshipping sales to a Payoneer issued USD bank with no landing fee
Cover your business expenses using the Payoneer card for FREE.
Save up to 2% on currency conversions,
Earn up to 1% cashback on card spend/PPC
---
If you have further questions about this topic, please do not hesitate to address us at the support chat - we will be more than happy to assist you.