Working with AutoDS gives you the best copy-rights/ trademark protection there is - learn more in this article
AutoDS is the biggest dropshipping tool in the industry. We've been around for many years. Our experience, our users, and our technology enabled us to own the largest and most up-to-date VERO protection list out there.
Our VERO protection list includes not only items from participant's brands on eBay's VERO program (updated regularly) but also brands that are copyrighted by their owners that require specific authorization to list their items.

We update our VERO list on a regular basis from reports of our users on the chat support and from the VERO violation messages they receive which are scanned by our system once a week.
We have also added words like "knife" "alcohol" etc to the list as these are items that eBay prohibits to list. This way, our customers to be warned before accidentally uploading them. Some categories are also blocked, such as the medical category.
There are two types of VERO violation in AutoDS:
Warning- you will recognize it by the yellow exclamation mark and means that the vero word appears in the title/description of the product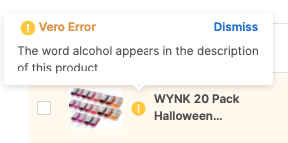 Critical- you will recognize it by the red exclamation mark and means that the vero word appears in the manufacturer of the product and most likely this product has copyrights.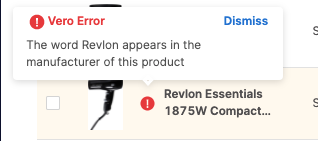 If you will try to upload an item existing on our VERO list, the creation of the draft will fail for this reason:

If you wish the item to be uploaded despite the warning, upload it again, however, this time make sure to hit the Advanced Options dropdown and check the Allow Vero/ Blocked keywords [2] option: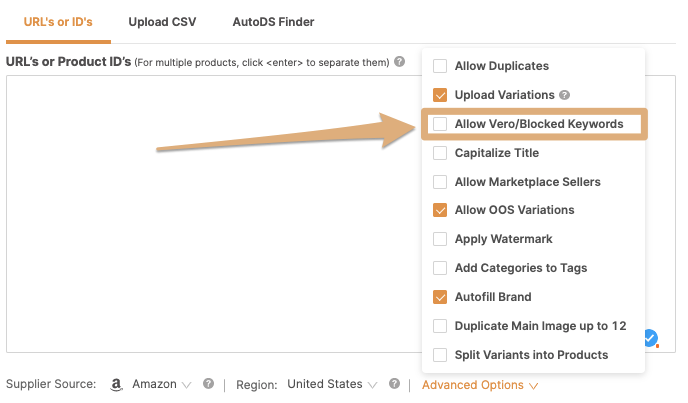 Your item will be uploaded despite the Vero alert.
❗️Note, this is risky to your account and by doing this you take full responsibility.
On top of our VERO list, you can add your own personal black keywords restrictions.
Check out this article to learn how you can update your own keywords.
Please note that brands and copyright violations are very dynamic and there can never 100% protection.
There will always be new brands added and sellers complaining about their listings being copied.
No monitoring system out there can offer you a full guarantee from eBay restrictions due to VERO violations.
You can read more about eBay's VERO program at this link.
FAQ:
eBay blocked my account for brand misuse, what does it mean?
A: When you get this message from eBay:
Your eBay selling privileges have been temporarily restricted: Brand Name Misuse
It means you have used a brand name on an item that is not that brand.
For example, if you listed a doll of a pink pig and you added the word 'Peppa Pig' to the title or description, you have misused the brand as this not a listing of Peppa Pig but of just another pink pig doll ( a fake).
As far as eBay is concerned, you have misused this brand, used wrong keywords in your listings, and misled its buyers.
Therefore, there's no issue here with a specific brand that should be removed or added to the VERO list, but a wrong upload on your end.

I have uploaded from AutoDS Finder and received a VERO violation message from eBay. Why?
When uploading from the Finder the system gets the category from eBay based on the title & existing listing and by default always selects the first category that eBay offers.
If the products were not uploaded in the right category according to eBay, eBay will remove the list and suspend the account for one to three days.
It is impossible to exclude certain items from uploading in the wrong category and a good example is sex/ adult products which can only be listed in specific categories eBay does not offer automatically according to the title.
We cannot block keywords like 'sex, vibrator' etc by adding to our VERO list since this niche is profitable, and blocking them will affect all of our users and not only those who use the Finder. Yet, you can block keywords of forbidden or problematic categories such as the adults-only category in your own private list. Learn how to do it here.
I have uploaded a new product I'm sure it is VERO and I was not warned. Why?
The system will not alert you before the upload, it will fail the product from uploading (see above). If you believe an item should be added to our list, open a support ticket and explain why. If it was restricted before on your account by eBay, please add a screenshot from eBay's message warning you about it.
If you have further questions that were not answered in this article, please do not hesitate and turn to us at the support chat - we will be more than happy to assist you.