Learn how to work with AutoDS Non-API extension to manage your eBay store
AutoDS offers the best non-API manual solution in the industry today!
You can manage your eBay store without having an API integration with eBay.
You can learn about the differences between a non-API integration to an API one in this help article.

To enjoy the non-API integration service, you need to follow these steps:
Set up the extension
1. Download the non-API Chrome extension at this link. Once downloaded to your Chrome, pin it 📌 for easy access.

2. Connect your store as non-API and set up the extension. You can learn how to add your store here.
How does the extension work?
The extension has several monitors (toggles) and functions (buttons).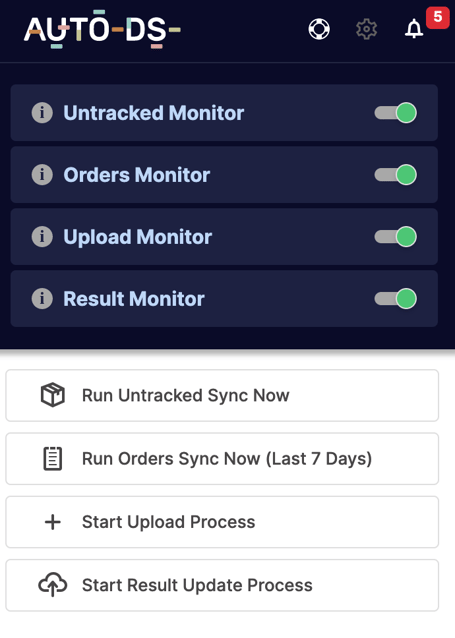 Untracked Monitor -

is responsible for syncing your active listings on eBay to AutoDS untracked listings (it helps you find unmonitored products and avoid missing sales and products). The monitor runs once an hour.

Orders Monitor - is responsible for syncing

your orders from the last 7 days from eBay to AutoDS. The monitor runs every 20 minutes.

Upload monitor - is responsible for syncing reports to eBay about newly uploaded items, deletions, and changes to existing ones. The Upload monitor runs every 20 minutes.
Result monitor- is responsible for syncing reports sent back from eBay concerning your monitored items. The Result monitor runs every 20 minutes.
Run untraced Sync Now - Use if you deleted untracked products on your eBay account and wish these changes to reflect now on your AutoDS account.
Run Orders Sync Now -Use if you believe you are missing orders that appear on your eBay account but not on AutoDS.
Start Upload Process - If you wish the uploading process to begin, you can click this button. Please note that this action can take between 15-30 minutes to reflect on eBay.
Start Result Update Process - get the result files from eBay almost immediately once you click this button.
The extension has 3 more icons:

Click to be directed to the non-API section in our help center.

Update your AutoDS store token and your email address.

Check the logs of the extension. You can learn more about the extension logs in this help article.
Important❗️
The non-API manual solution will only work as described above if you keep your computer and your chrome browser open and make sure you have a stable internet connection. When one of these does not work, AutoDS will not be able to monitor your products well. Auto DS will not assume any responsibility for the monitoring of your items. AutoDS support team will not check any complaints regarding orders coming in with the loss or out-of-stock products.
---
If you have further questions about this topic, please do not hesitate to address us at the support chat - we will be more than happy to assist you.