You can change your subscription at any time. Learn how it works in this guide.
To change your subscription plan go to:
Settings➞Plans & Add-ons
You will be able to first view the plans on your account divided by the selling channels you have:

To change your plan click Upgrade Plan on the desired selling platform.
After clicking Upgrade you will find the available plans. Select a plan to upgrade or downgrade.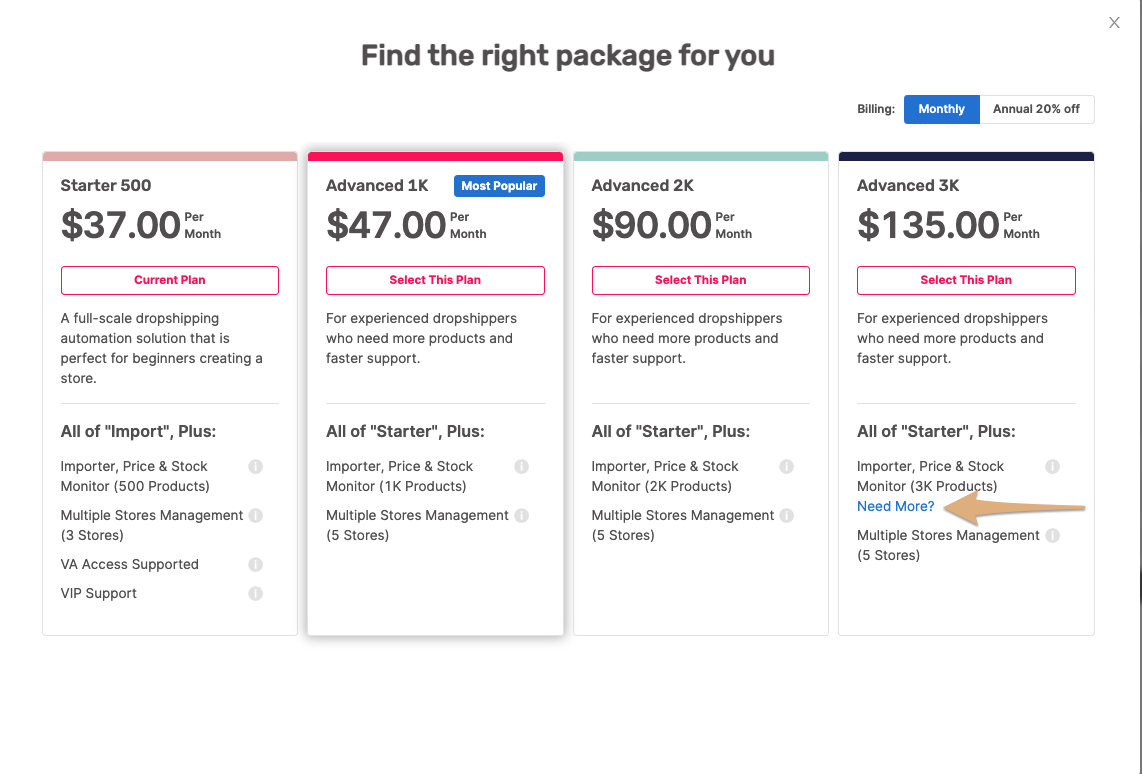 If you need more listings to monitor than the default subscription, you can click on 'Need more', and you will have the option to customize a plan.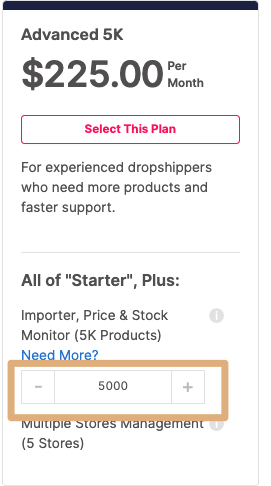 You can choose to be billed annually (once a year) and get a discounted rate (20% off). You can choose to pay monthly with a recurring payment if a billing cycle of every 30 days upfront.
Important: When you downgrade your plan, the previous plan will still be available for you till the end of your billing cycle. When the new billing cycle starts, you will be charged for the smaller plan. For example, let's say your invoice is around the 8th of each month (it will never be on the same day as the billing cycle is 30 days) and you had the Standard Dropshipper plan for 1K products and you downgraded on the 30th to the Just Started plan, you will still have the Standard Dropshipper plan till the 7th of next month and on the 9th you will be charged for the Just Started Plan.
If your payment method is updated then the new subscription will be applied immediately.
If the payment method isn't updated then you will have to go through this process:
Please check the featured numbers in the following image. You will find a detailed explanation of each featured number underneath the image.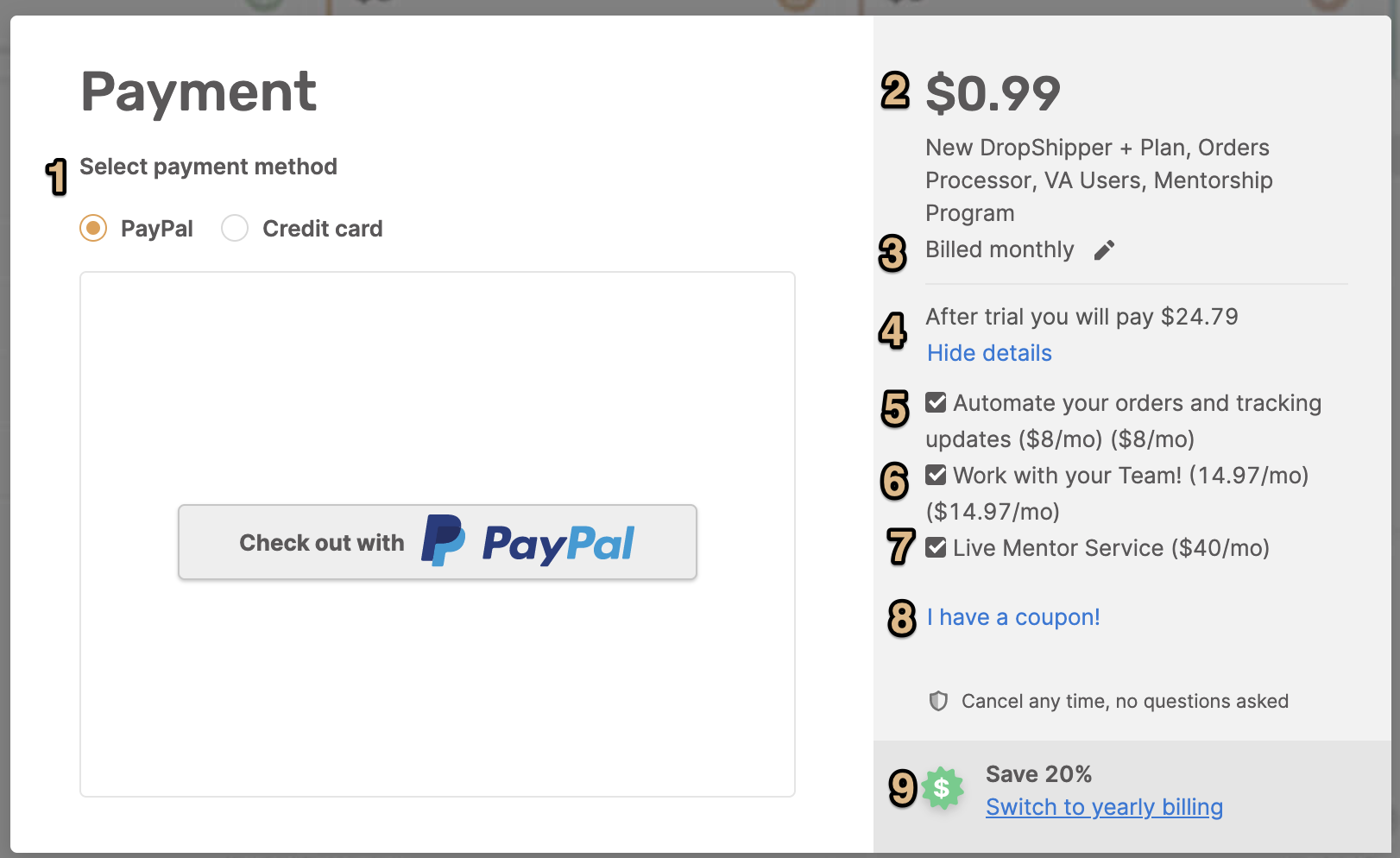 1- Choose your payment method: PayPal or Credit card. Selecting PayPal will direct you to PayPal to approve us for recurring subscription payments. When payment is approved you will be directed back to AutoDS. If you choose a credit card payment, make sure to add all necessary and accurate details, and click continue.
2- The plan and add-ons you selected. If this is your first time registering to AutoDS then you will pay first $0.99 for any plan you will choose and after 7 days you will pay the full price for the selected plan and add-ons.
3- By clicking on the little pencil you will be able to change the plan from monthly to the yearly plan or change the default plan according to your needs (amount of stores and listings)
4- The sum you pay for the plan and the add-on once the trial period ends.
5- Automation (Add-On) - add our orders' automation feature to save time on fulfilling your orders. Read more about it here.
6- Virtual Assistant (Add-On) - add more users for your VA accounts to manage specific stores and have limited permissions on AutoDS. Read more about it here.
7- Mentoring program (Add-On) - join our mentoring program, where one of our mentors will work with you on different strategies and tactics and provide you with answers to general questions regarding Dropshipping and everything else needed to succeed.
8- If you have a coupon, click "I have a coupon" to insert your coupon code.
9- Switch to a yearly plan (billed now and then once a year) to save 20% on your subscription plan.
Click Confirm and you're done!
If you have further questions about this topic, please do not hesitate to address us at the support chat - we will be more than happy to assist you.