You can change / cancel your subscription at any time. Learn how it works in this guide.
How to change your your AutoDS subscription?
To change your subscription plan, go to:
First, you can view the plans on your account divided by the selling channels you have, and add ons: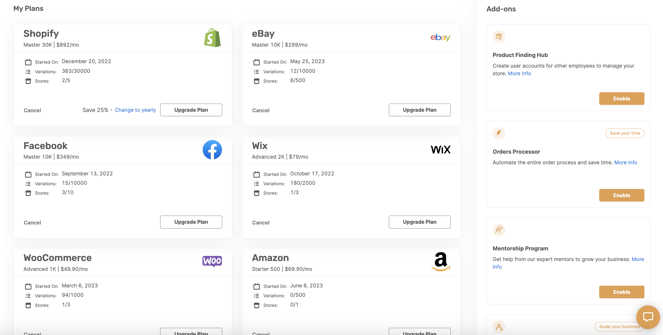 To change your plan, click Upgrade Plan on your desired selling platform.
After clicking Upgrade you will find the available plans. Select a plan for you to upgrade or downgrade. If you don't see the number of monitored listings you would like to have on this page, click on the 'Need More?' column and choose the package that fits your business needs the most from the dropdown menu.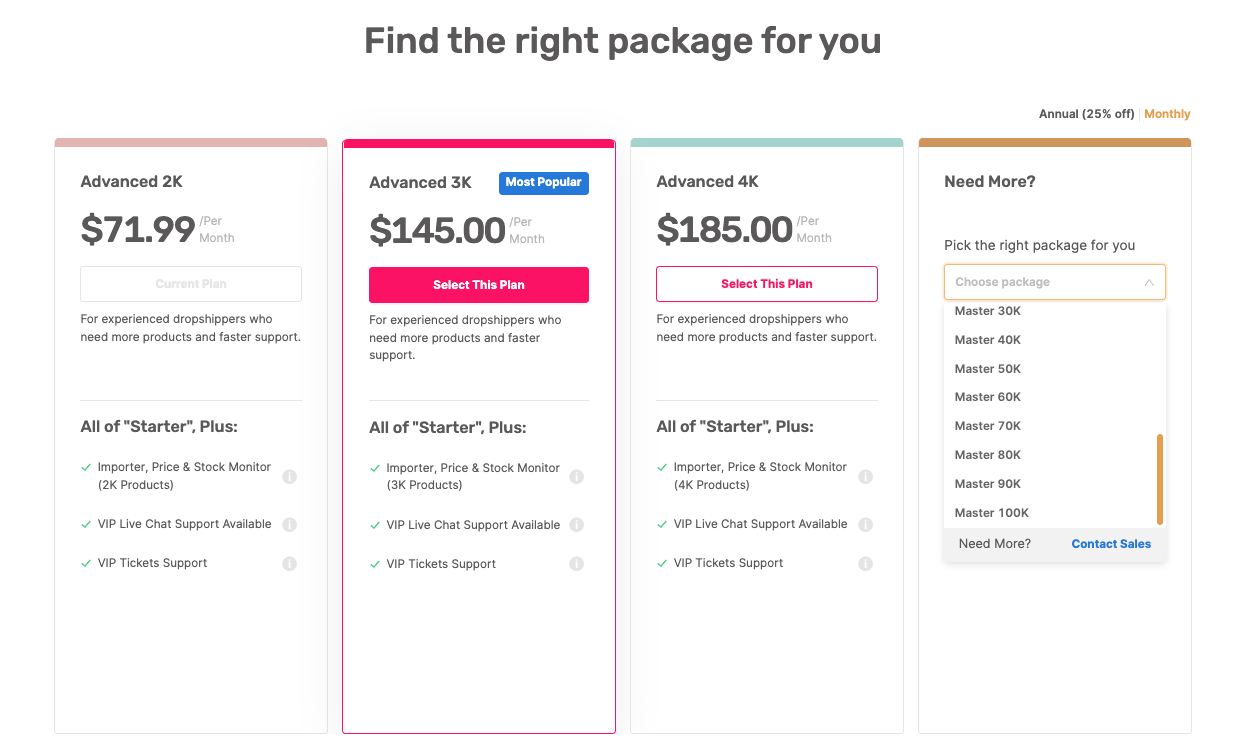 Tip💡
By upgrading, you can decide to be billed annually (once a year) and get a discounted rate of 25% off (recommended 🌟).
If you need a package for more than 100K listings, click on 'Contact Sales' and you will be directed to schedule a meeting with our team to determine which package is best for you.
When you select your preferred plan, a pop-up will appear showing the relative upgraded cost and your current payment method, which you can change before charging.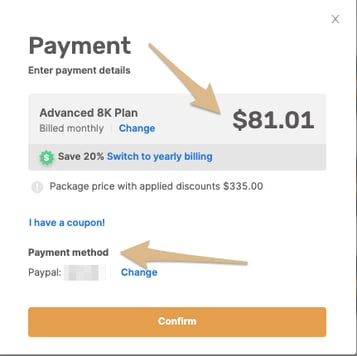 Confirm the pop-up, and your plan will be updated! 😊
Important❗️
Upgrades automatically charge you for the difference between the smaller plan you paid for on your subscription payment date and the relative days left in your 30-day billing cycle for the new bigger plan.
Downgrading your plan will allow you to use the previous plan until the end of your billing cycle. As soon as the new billing cycle begins, you will be charged for the smaller plan. There is no refund for downgrades if you change the plan before the billing cycle.
How to cancel and delete my AutoDS account?
To cancel your AutoDS account, go to settings -> account & billing
At the bottom right of the page, click on the "Cancel account" button.
Note: your accounts will be deleted automatically, and your subscription will be canceled. Orders will not get updated with any status updates.
---
If you have further questions about this topic, please do not hesitate to address us at the support chat - we will be more than happy to assist you.