Learn what you can do when an auto-order fails for different reasons - find the solutions in this guide
Here is a list of the most common errors for auto-order failures:
1. Unknown Reason
Workaround - Just retry the order (after making sure it was not placed on your buy account) and it should work. If it doesn't, please contact us through the support chat and we will check it for you.

2. Not Enough Gift Card Balance
The problem is your gift balance has run out on the buy site- in order to use auto-orders, you must reload your gift card balance.
Workaround- Check your gift card balance on the buy site and make sure you have sufficient funds to fulfill the failed order. After you reload your balance you can retry the order.


3. Order already tried, please check on Amazon and if the order is not placed there, you can send it again by clicking on the red button.
Sometimes an attempt to place an order is made but at the end of the process, it is not clear whether the order was placed or not. This is when you will get this error.
Workaround- Please check your buy account. If the order was placed, simply update the buy account order # under 'Buy Order ID'. If the order was not placed, simply click resend the order by changing its status to 'Pending' first and then 'Send To Auto Order'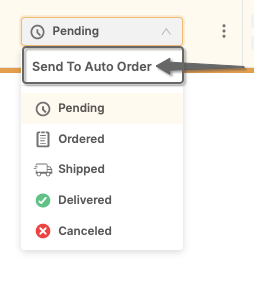 4. Add- On item not supported.
AutoDS cannot order Amazon Addon items automatically - Amazon does not allow it. All Add-on items will need to be ordered manually if you choose to work with them.

Workaround- order the Add-on manually with other orders or cancel the order with the buyer.
5. Auto order disabled for this product.
You have disabled Auto-Ordering for this product. You might have a coupon of this item or you are working with a different supplier and for that reason, you had disabled the auto-order feature for this product.
Workaround- You can order it manually with the help of our AutoDs Helper.
6. Item does exist as an active product
This is because you don't have the listing on the buy site synced with a source market product ID. The case can also be that the listings had ended on the selling site for some reason.
Workaround - You'll need to go to your Untracked Listings. If the list has not ended it should appear there.
Find the source ID of the listing on the buying site, and copy it.
Paste the source ID to the box of the untracked listings make sure to choose the correct source site and target site and click Add. To learn more about how to do it check out this article.

7. Item price is more than the maximum loss.
This happens if the item is available but the source price has increased since AutoDS' last price check. When you have set up your orders setting, you have set a maximum loss price in case of a price increase.
Workaround - You can go to Settings➞ Orders and increase the maximum loss price and then retry the order. Alternatively, you can place the order manually and try looking for a cheaper product. Learn more about the max loss feature in this article.
8. Limited purchase quantity -Reached maximum item acceptable by amount
This happens when the product is limited for a number of purchases on Amazon.
Workaround - Either order manually with the help of a fellow seller or add another buying account from which the item can be purchased again. Learn how to add a buy account here. You can also save the headache and use our Managed Accounts System.
10. Can't log in to your account Verify your password and other account information is correct | Phone number authentication on Amazon is not supported. Remove the phone number from your Amazon account.
Our auto ordering bot cannot log in to your buy account because you probably did not set up our 2-step authenticator app.
Workaround: Set up our authenticator. Learn how to do it here.
11. Address not valid
The address of the buyer is not accepted on the buy site and that can happen for various reasons.
Workaround: Try editing the address of the buyer and resend.
12. All buy accounts locked or Inactive for ordering
The system tried to order from all connected buy accounts but failed to order on all for different reasons.
Workaround: Check the details of each account, make sure the password is correct, and all other data. If you are working with a gift card, make sure you have balance. Learn more about how to set up your buy account correctly in this article.
13. item is unavailable Amazon offered this ID instead B07W8Y3RF7
The item is not available on Amazon anymore and the system is offering you an alternative one.
Workaround: make sure the offered ASIN is equal to the one purchased by your buyer and if so continue to order it manually.
14. Amazon account locked
Your Amazon account probably got locked and the system cannot log in.
Workaround: Try login into your account from an incognito browser to check it. You might need to call Amazon and identify to open your account.
15. Item Unavailable (Code 301) Please try later or order manually
The item is no longer available on the buy site.
Workaround: You can try to wait with the order as the stock might be added, try to find it from other suppliers, or cancel the order with the buyer.
In case you encounter any other failure reason that does not appear here, please contact us by the support chat, provide the error description, and the order number and we will be happy to assist you.

If you have further questions that were not answered in this article please do not hesitate and turn to us at the support chat - we will be more than happy to assist you.
___
LUD: 30.6.20