Learn how to make changes to your templates and add new ones.
This article explains AutoDS V1, our OLDER version.
It seems like you got left behind and still not upgraded to our newer V2 version if You still see this article! No worries, you can start the process NOW!
👇🏻Click on the link below to Start the Migration👇🏻
SAVE YOUR TIME - Go ahead and transfer to our New AutoDS V2 Version!
We have the same Tutorials & Features on our V2 section, don't worry about it!
___
Templates are an essential part of your listing. A professional looking template can attract buyer's eyes and subconsciously change their preference and decision causing them to buy from us rather than from our competitors.
To view your templates, click on Uploader . There, you will see the template panel containing the four following buttons: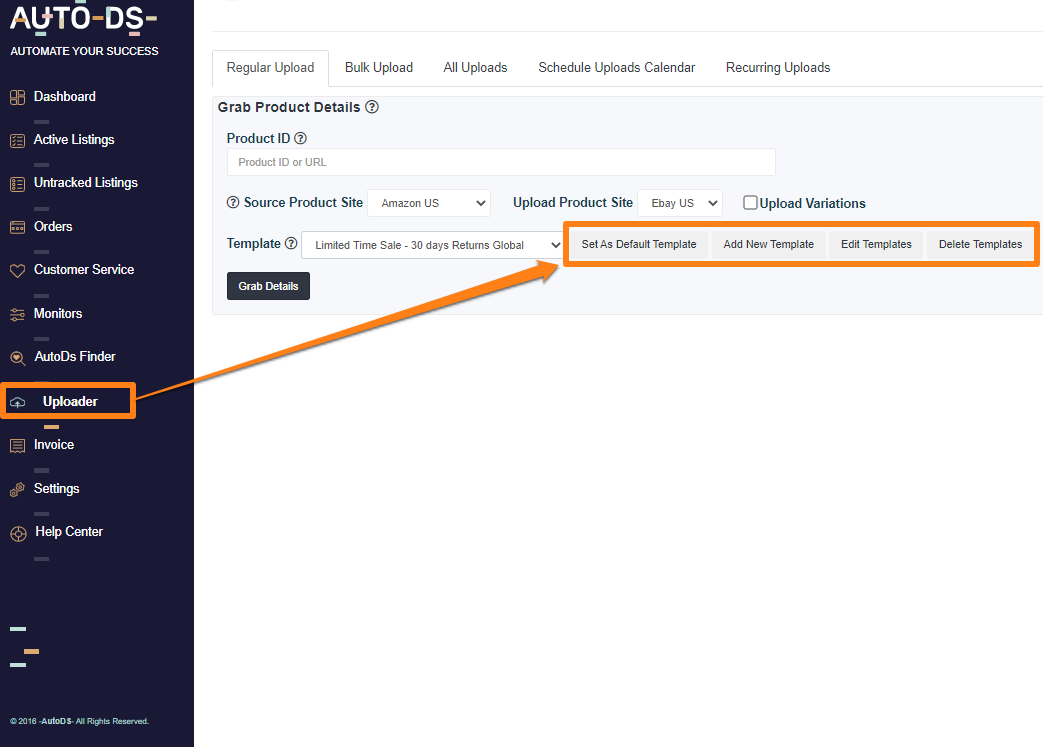 Set as default template - Sets the chosen template as your default template for each upload.
Add new templates - Add new templates using an existing HTML code, or create one from scratch.
Edit templates - Edit your existing templates and AutoDS default templates to create a new one.
Delete template - Deletes the chosen template.
Note: you cannot delete default templates.
Adding New Templates
To add a new template, you will need to fill your template name and add the template itself in the 'Description' field or by clicking the SOURCE button and then pasting your HTML code

The 'Uploader' uses constant strings in order to change them with the real values from the source site.
Put the following constant strings in the place you want the real value to appear:
For the title, put: TITLE_HERE
For the description, put: DESCRIPTION_HERE
For the features(from Amazon page), put: FEATURES_HERE
For the main image, put: MAIN_IMAGE_HERE
For the product dimensions, put: DIMENSIONS_HERE
For the package dimensions, put: PACKAGE_HERE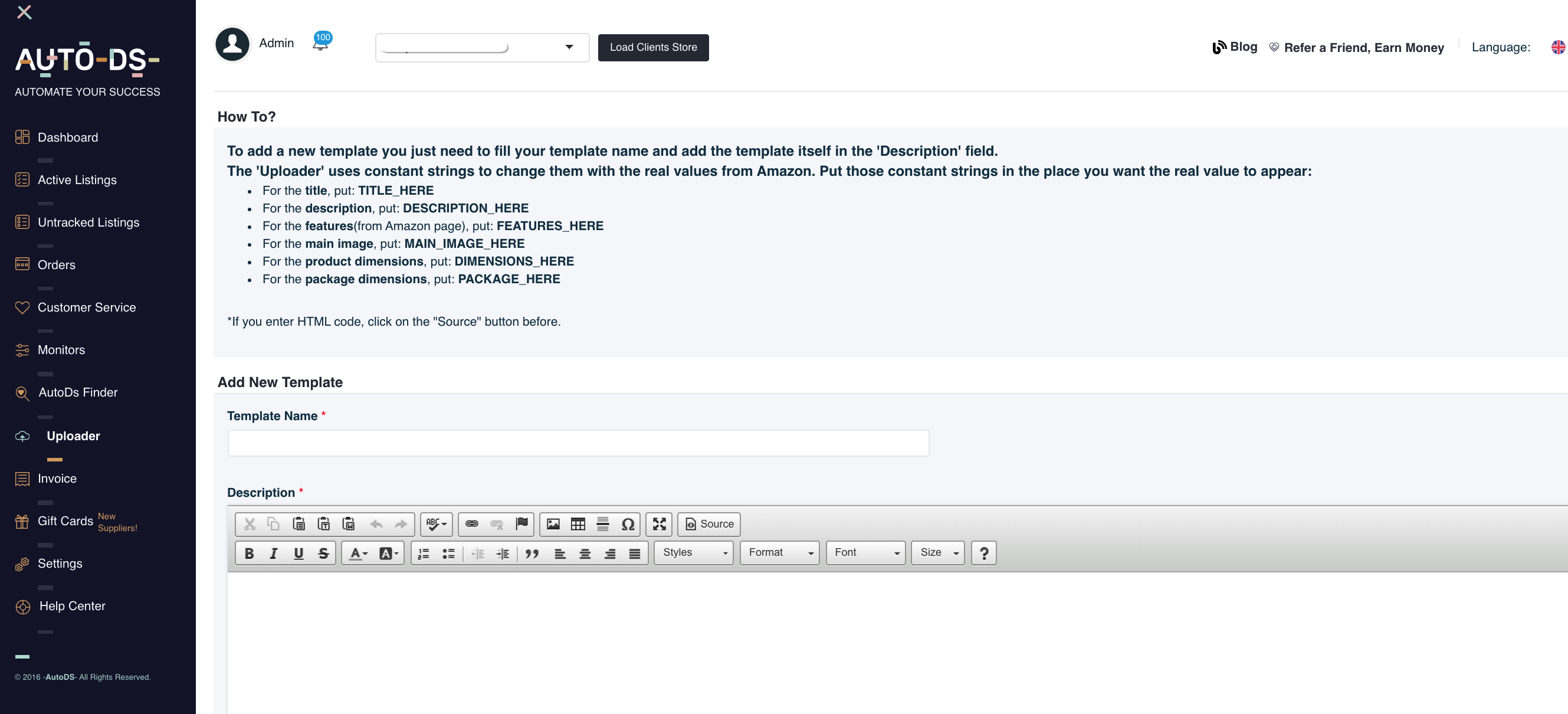 Editing Existing Templates
Before you can edit a template, you have to choose which template you wish to edit. It is also possible to change the name of the template.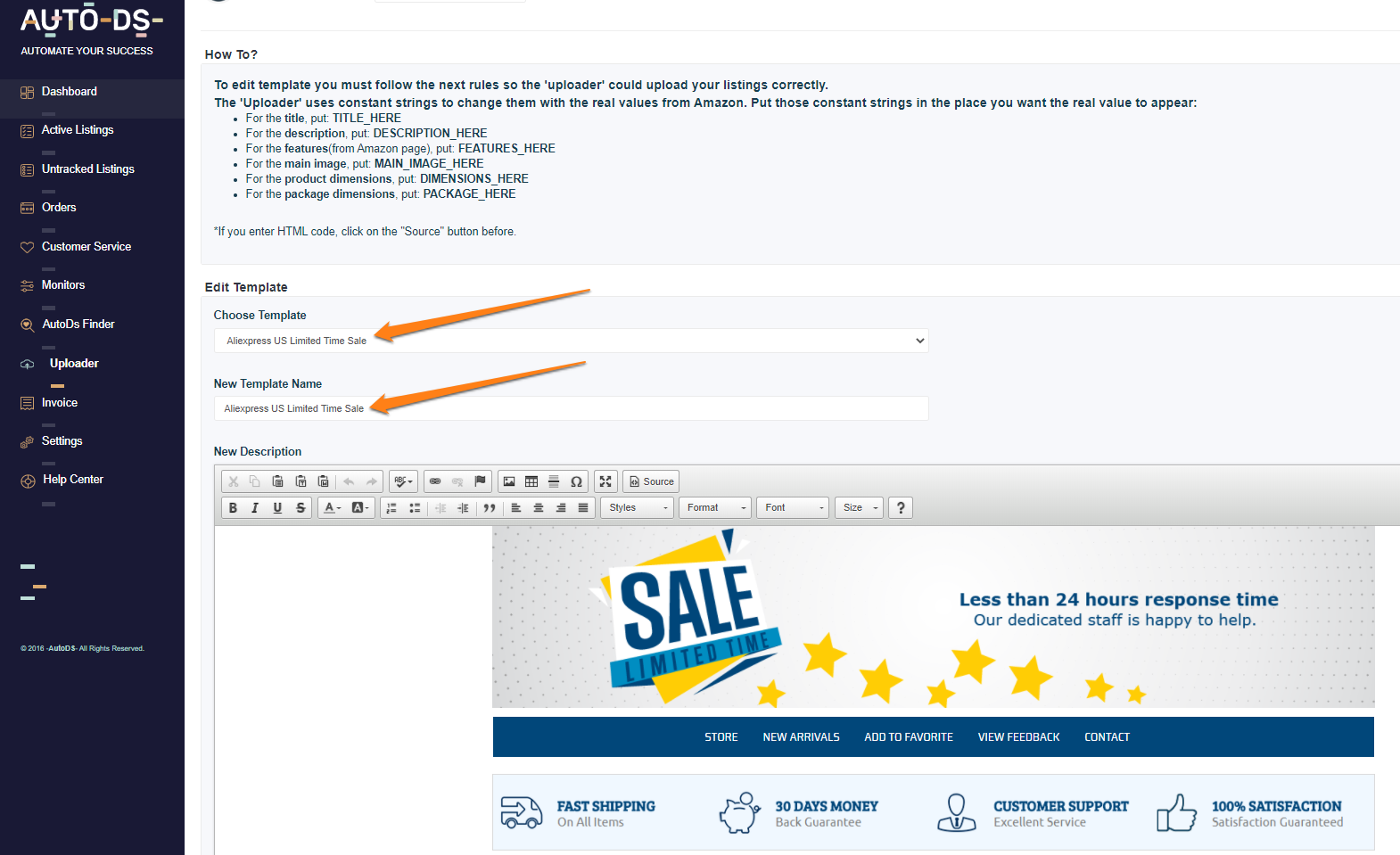 FAQ:
Q: Why does my template get distorted?
A: It's possible you have edited the HTML of our templates, creating a new one with errors. You may have a broken code piece in the HTML during the upload process. The solution is to fix the code, save the template, and then bulk change all listings to the new corrected template. If you're not an HTML expert, we recommend you not to edit the template on your own. If you like, you can order the services of a designer who created AutoDS templates on Fiverr.
Q: I'm getting an active content warning from eBay about my listings. Why, and what can I do?
A: There is no need to do anything. We've checked with eBay and our templates are fine. Whatever their system defines as active content it, will just not display it. You can check your listing here and see for yourself:

http://www.isdntek.com/ebaytools/ActiveContentSandbox.htm
If you are still concerned, you can change the template in bulk to one of our new ones. For example, "Limited Time Sale". Know that this change will grab back the original data from your source site to the description. Click here to learn how to bulk change your listings.
Enrich your knowledge further with these related articles:
How to Upload Products on AutoDS
How to Use The Scheduled Uploader
How to Choose a Category Manually
If you have further questions that were not answered in this article, please do not hesitate and turn to us at the support chat - we will be more than happy to assist you.
______
LUD: August 16, 2020.