Learn about AutoDS' basic settings and features
This article explains AutoDS V1, our OLDER version.
It seems like you got left behind and still not upgraded to our newer V2 version if You still see this article! No worries, you can start the process NOW!
👇🏻Click on the link below to Start the Migration👇🏻
SAVE YOUR TIME - Go ahead and transfer to our New AutoDS V2 Version!
We have the same Tutorials & Features on our V2 section, don't worry about it!
-----

Hello, and Welcome to AutoDS!
The most cutting-edge monitoring platform in the industry!
Now that you're here, it's time to get acquainted and set up the system according to your preferences.
Don't worry, it's super easy, and we'll walk you through it.
If you've connected a non-API account, please search the Help Center for Non-API to learn how to proceed.
STEP 1 - Migrate your existing listings to AutoDS
Read on how to migrate your listings here
If you are just a beginner or you still do not have any existing listings on eBay, you can skip to STEP 2.

STEP 2 - Configure the system settings to fit your needs
Important: When migrating listings from a previous system, please make sure that the migration process completed syncing before disconnecting your previous monitoring software. For any assistance, please contact us directly at the support chat.
Setting up the Monitors page: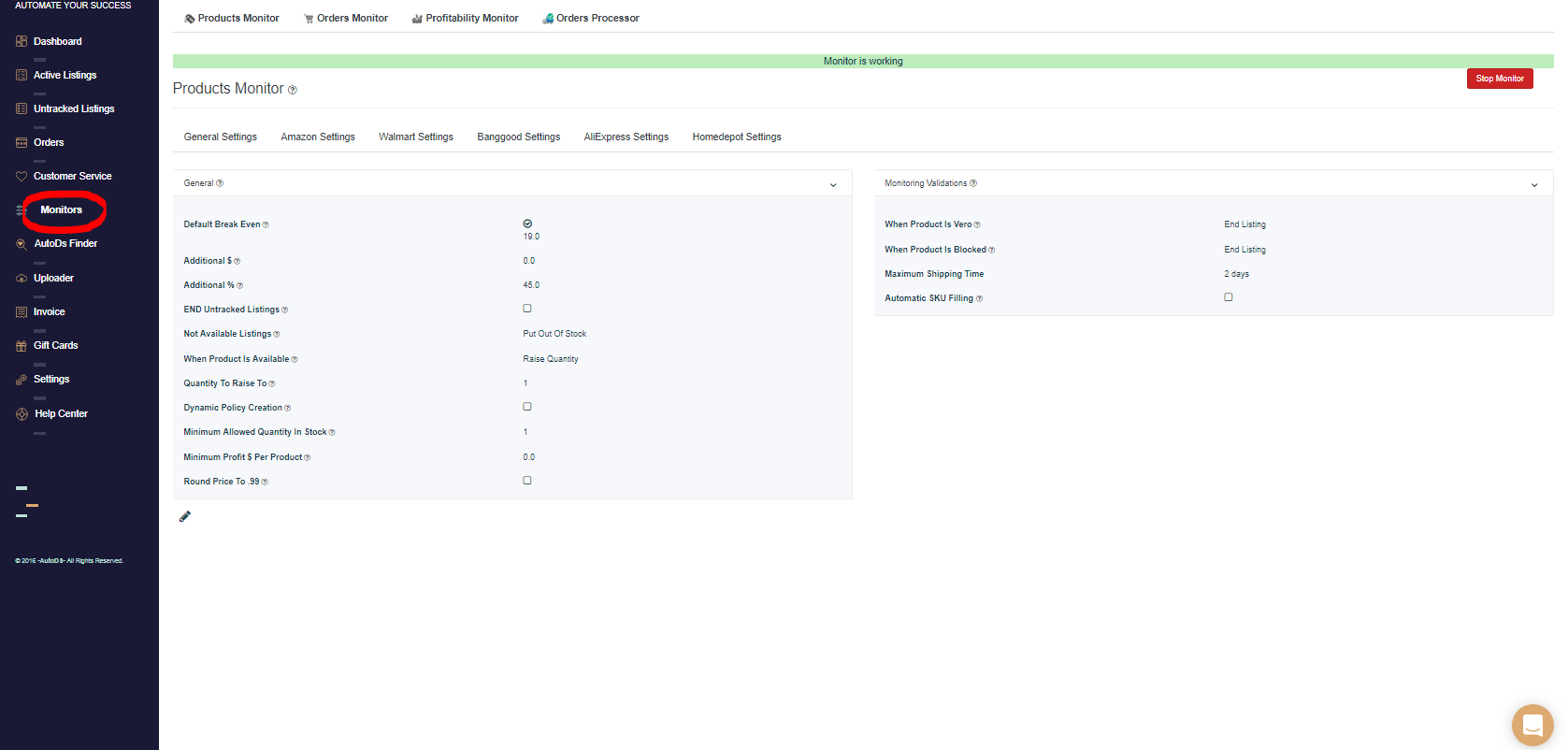 Here you will find the settings for the different monitors in the system.

AutoDS does much more than just scan prices and stock. Our system has many features and many monitors running at different intervals to provide your account with full 24/7 coverage. To read about all our features, check out our blog.
The Monitors Page includes:

Products Monitor - This classic feature has evolved with time to offer extensive customize options, including price and stock settings, VERO protection, break-even and profit settings, round prices to $.99, maximum shipping days protection system, and more.
Each supplier on AutoDS has its very own settings page, allowing you to have complete control of your settings across all source sites.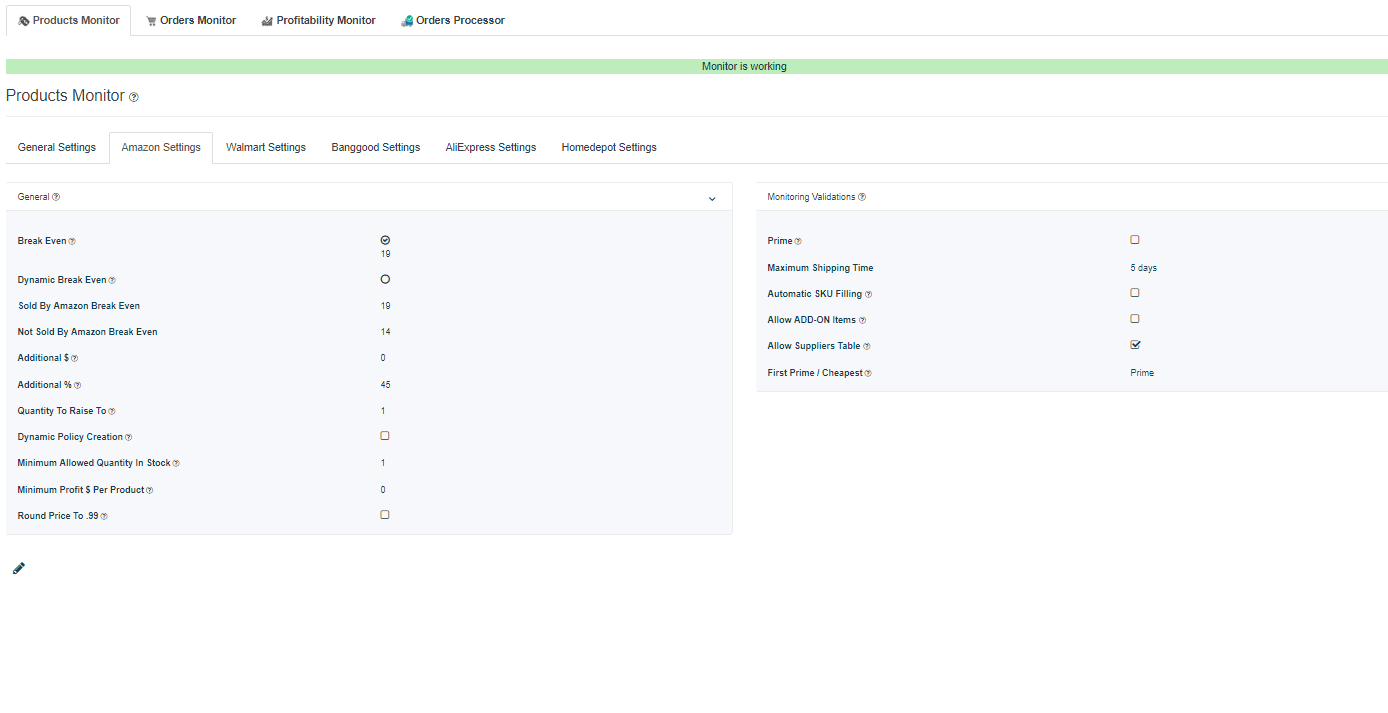 Orders Monitor - This monitor allows you to automatically raise the price of selling items and lower the cost of non-selling items!
The orders monitor will help you maximize your profits and always keep you at competitive market prices.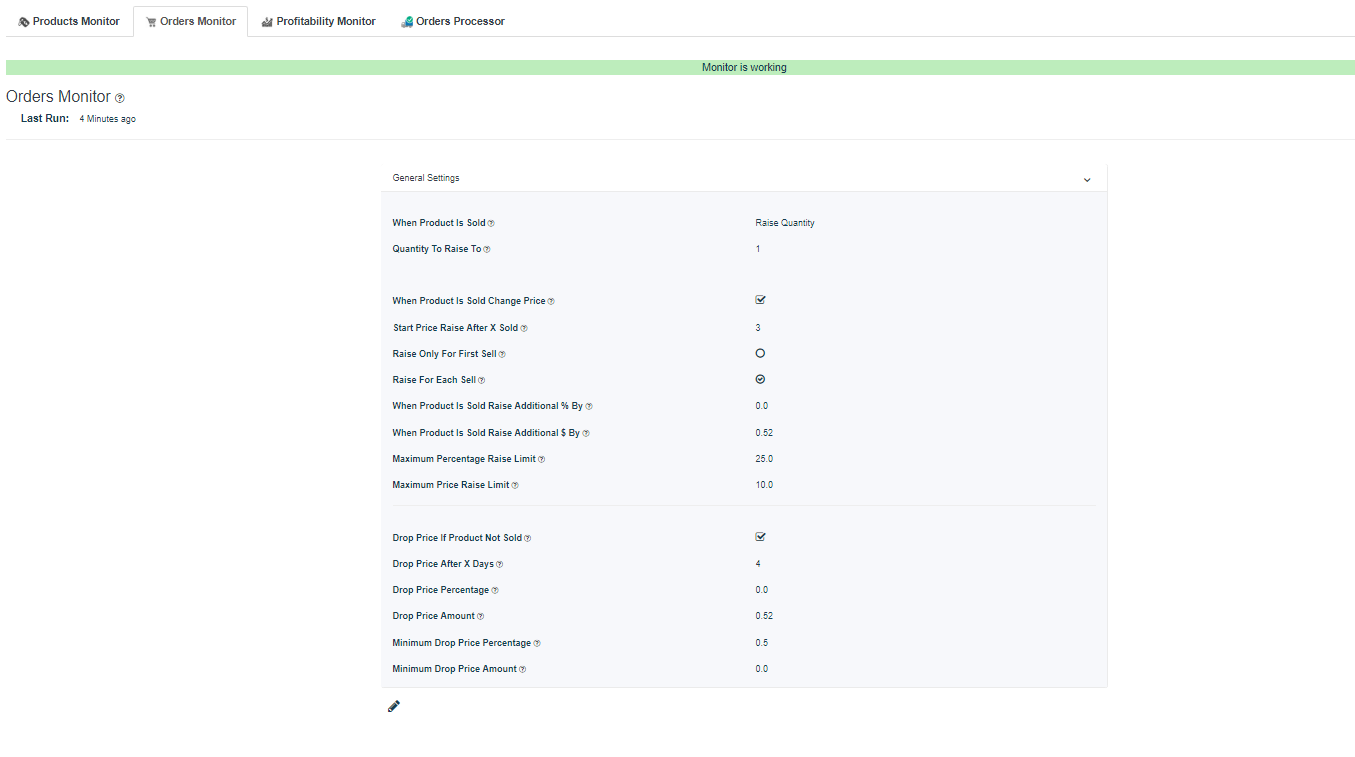 Profitability monitor - This monitor will end listings on eBay that do not sell or do not pass your settings as "profitable" listing. It will help you save money on eBay insertion fees, free up listing space in your store, and make room for new better-selling items.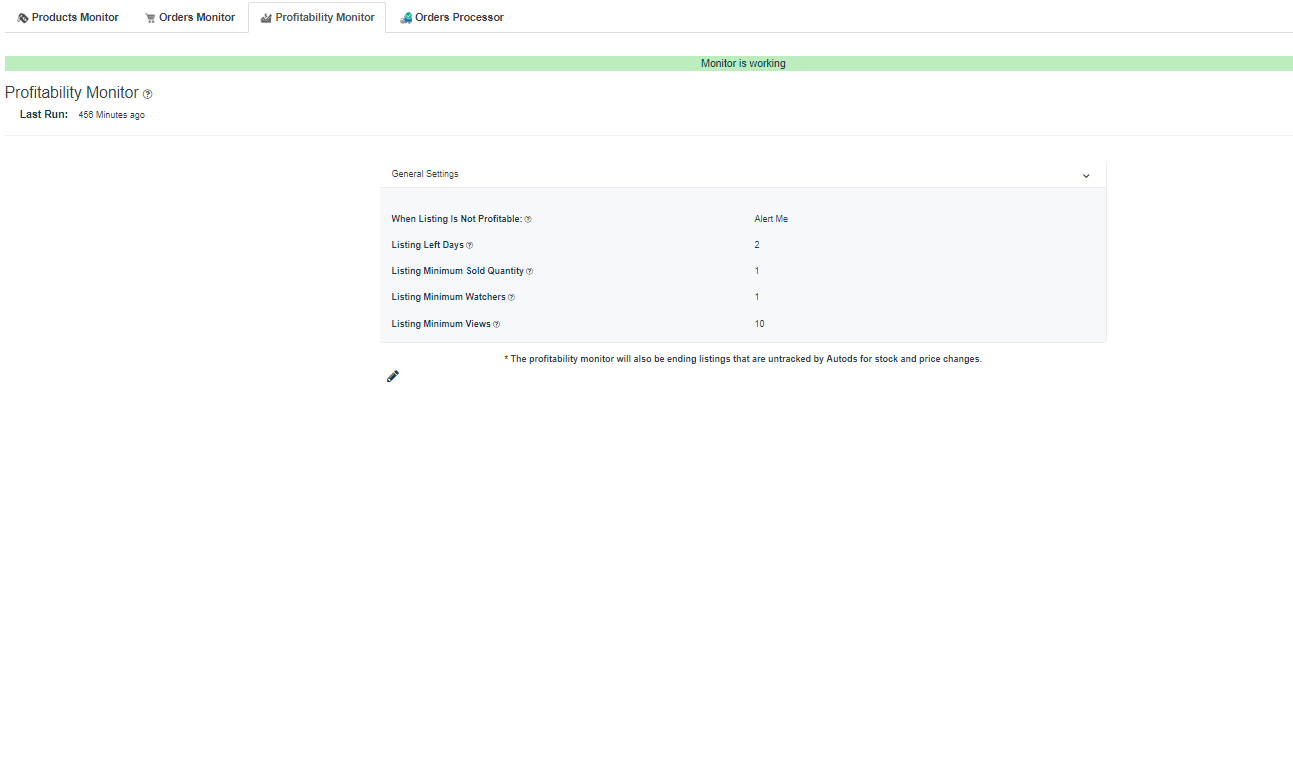 For more on how to set up your Monitors, check out this help article.
Lastly, the monitors' page includes the Orders Processor.
This powerful feature is responsible for the automation of your orders:
Placing automatic orders directly from your linked source account (subjected to the purchase of automatic orders credits)
Updating tracking information
Converting your tracking numbers to BCE (Blue Care Express)
Cashback option on supported sites
Leaving feedback for your buyers
Sending three automated messages to each buyer after a sale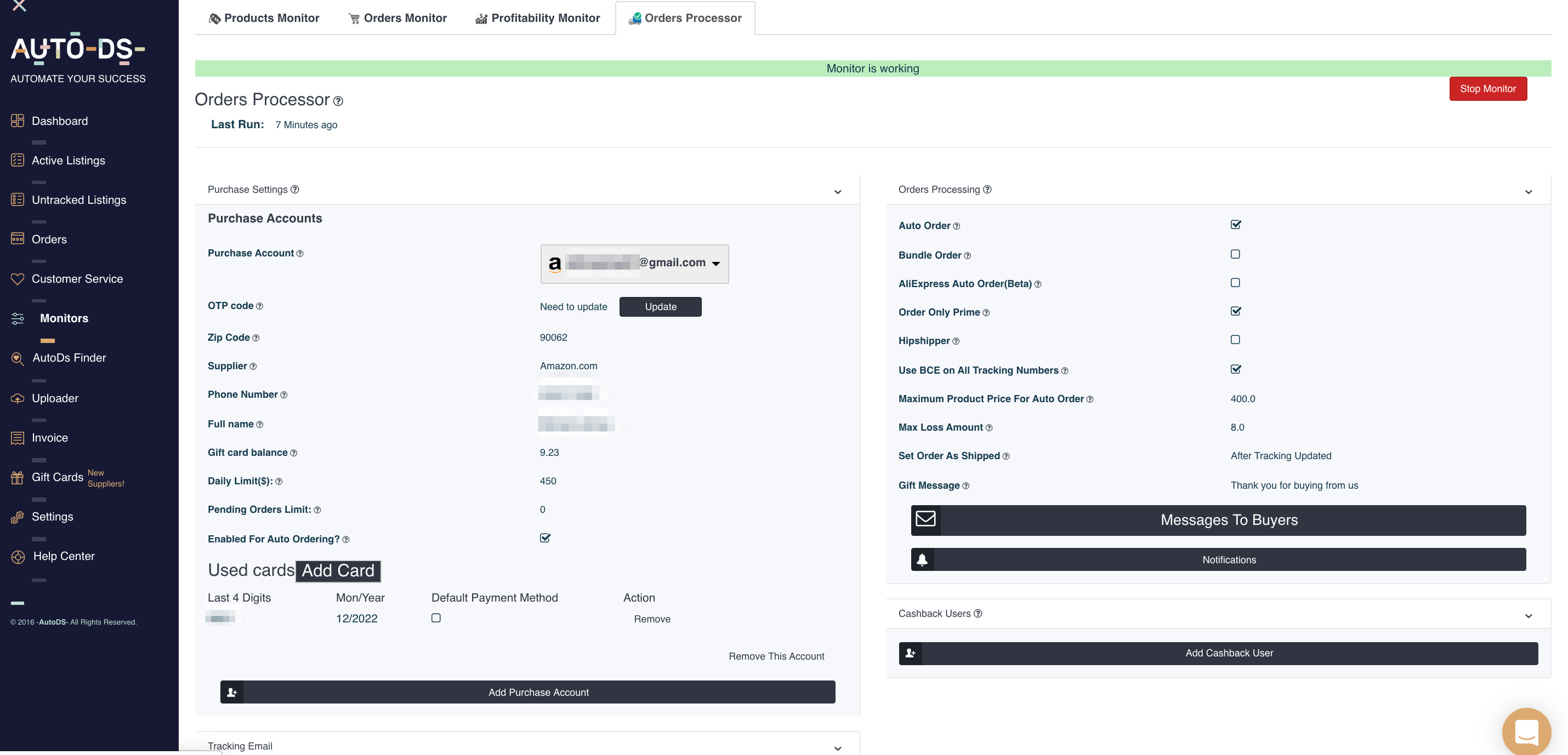 For more on how to set up your Orders Processor, check out this help article.

After your listings sync, and you have set the different monitors according to your preferences, it is time to start exploring all of the other great features AutoDS has to offer.
Here are some of them:
The AutoFinder - locates and uploads the best-selling items for your store.
Customer service - Where you can handle all buyer-seller communication, cases, and returns directly on AutoDS.
Uploader - AutoDS lister through which you can list your items manually, in bulk, or schedule your listings to upload at an exact time and date of your choosing. Also, the recurring uploads feature allows you almost complete automation for the upload process - one of the most time-saving features for dropshippers on eBay.
If you have any questions, please do not hesitate and turn to us at the support chat - we will be more than happy to assist you.
Expand your knowledge with these related topics:
____
Last Updated: July 5th 2020