Learn how you can sync your active listings from your previous re-pricer to AutoDS.
This article explains AutoDS V1, our OLDER version.
It seems like you got left behind and still not upgraded to our newer V2 version if You still see this article! No worries, you can start the process NOW!
👇🏻Click on the link below to Start the Migration👇🏻
SAVE YOUR TIME - Go ahead and transfer to our New AutoDS V2 Version!
We have the same Tutorials & Features on our V2 section, don't worry about it!
-----
You can watch thisfull tutorial or continue below to a written guide:
First, obtain a CSV file with your active listings on eBay.

There are two ways to do that:

1) Export your listings from your previous monitor using AutoDS Helper Chrome Extension

You can use our Chrome extension, AutoDS Helper, to export your items from your previous monitor.

After you've installed the AutoDS helper extension, you can go to your active listings page on your previous monitoring system to export your listings. In the end, a CSV file ready to be uploaded to your Untracked Listings page on AutoDS will download onto your computer.

How to export your listings using the AutoDS Helper

The AutoDS Helper extension will appear at the bottom right of the page displaying your active listings on your previous monitoring system.
First click "Extract" and then "Export as CSV."

Go over each page of your active listings in your previous monitor and hit 'Extract' (it's best to show more entries on each page if possible to speed up the process).

In the end, hit 'Export to CSV,' and the file will download onto your computer.

Once downloaded, you can upload the file from the Untracked Listings page.

Here are two video tutorials explaining how to do that:

How to import a single listing to AutoDS
How to bulk import listings to AutoDS
2. Export your CSV using eBay's File Exchange system
Another way of exporting your eBay listings is directly from eBay.
This action will only work if you had enabled the automatic SKU labeling on your previous monitoring system. Meaning, the source IDs from your suppliers appear under the 'custom label' column on your active listings on eBay.
Please read through the following guide to understand how to export directly from eBay.
The format of the exported file by AutoDS Helper Chrome extension will look like this:
<eBay ID>, <Supplier ID>, <Supplier name>, <eBay site>, <Variation>

You will need to prepare a similar file to comply with AutoDS.
This is how you should our suppliers and eBay sites:
Suppliers:
amazon_us
amazon_co_uk
amazon_de
amazon_fr
amazon_it
Walmart
Homedepot
Costco
Wayfair_us
Wayfair_co_uk
Banggood
Aliexpress
eBay sites:
ebay_us
ebay_co_uk
ebay_de
ebay_fr
ebay_it

In order to upload the listings to the untracked listings and have them synced and monitored, click 'Connect Untracked Listings with File':

A window will pop-up: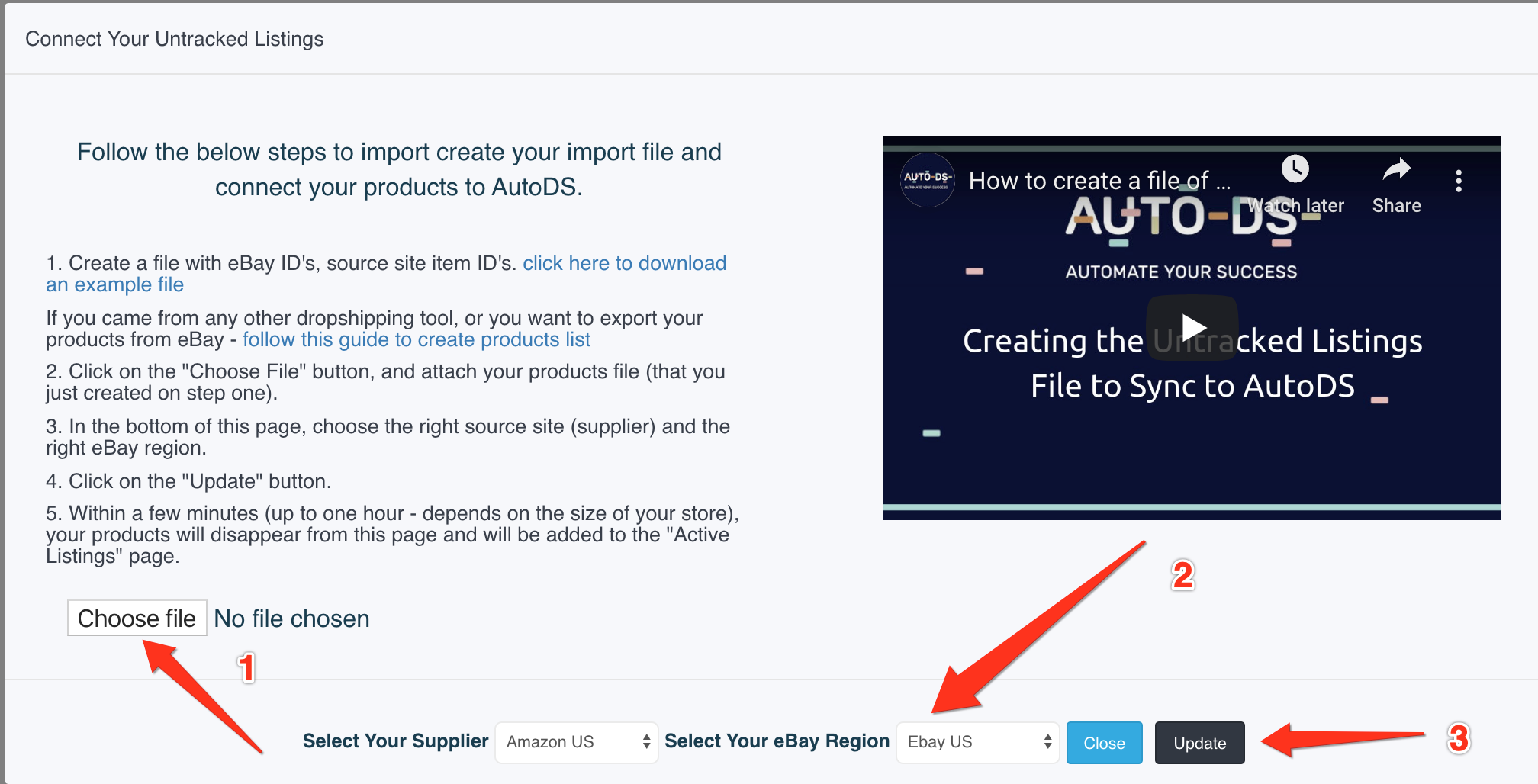 1. Click 'Choose File' and select the file to upload from your computer.
2. There's no need to select a specific supplier as the system will be able to get this info from the CSV file if it's in the correct format (downloaded by our Helper). If not (see example in the note below), you do need to choose the supplier and eBay region.
3. Click Update.
Note: If you use the eBay File Exchange to export the file or you received a file from your previous monitoring system, the file format (CSV file UTF-8 encoding) needs to be edited to the following format and separated by suppliers:
<eBay ID>, <Supplier ID>
See the following image as a sample example

That means you will have one file for Amazon, one file for Home Depot, etc. - and you will need to upload them each separately.

When using this format, you need to select the supplier and eBay region before clicking 'Update.'

If you have any questions, please do not hesitate and turn to us at the support chat - we will be more than happy to assist you.
Enhance your knowledge with these related articles:
_____
Last Updated: July 6th 2020.