Have your eBay Shipping policy created based on the monitored product data!
This article explains AutoDS V1, our OLDER version.
It seems like you got left behind and still not upgraded to our newer V2 version if You still see this article! No worries, you can start the process NOW!
👇🏻Click on the link below to Start the Migration👇🏻
SAVE YOUR TIME - Go ahead and transfer to our New AutoDS V2 Version!
We have the same Tutorials & Features on our V2 section, don't worry about it!
What does this feature do?

This feature allows you to work with more confidence with different sellers on Amazon and non-prime products. The reason is that it automatically calculates the time it will take to deliver the product to the buyer, and then it changes your shipping policy on eBay accordingly.
Why should I use this feature?
This feature will allow you to work with more suppliers on Amazon with no fear of failing to ship the items on time. Working with this feature will decrease the number of out-of-stock products you have on your account since you can increase your maximum shipping time setting.
When you work with the feature, It is recommended to change the 'Maximum shipping time' under Monitors → Products Monitor → Amazon settings to a minimum of 21-23 days so that this feature will work best for you.
How does it work?

When this feature is enabled, the system scans your active listings every 60 minutes.
It checks the seller's shipping time on Amazon (handling+shipping= total delivery time). It changes the shipping policy on your eBay item according to the product's shipping time on Amazon. The system calculates the number of days it takes the product to arrive at your buyer and creates a new policy.
Note: Dynamic policy creation doesn't work with Hipshipper or Global Shipping program
How can I enable the dynamic policy setting on my AutoDS account?
Go to Monitors → Products Monitor → Amazon settings. Click on the pencil icon at the bottom of the screen to open the page for edit and then check the Dynamic Policy Creation feature and save the changes.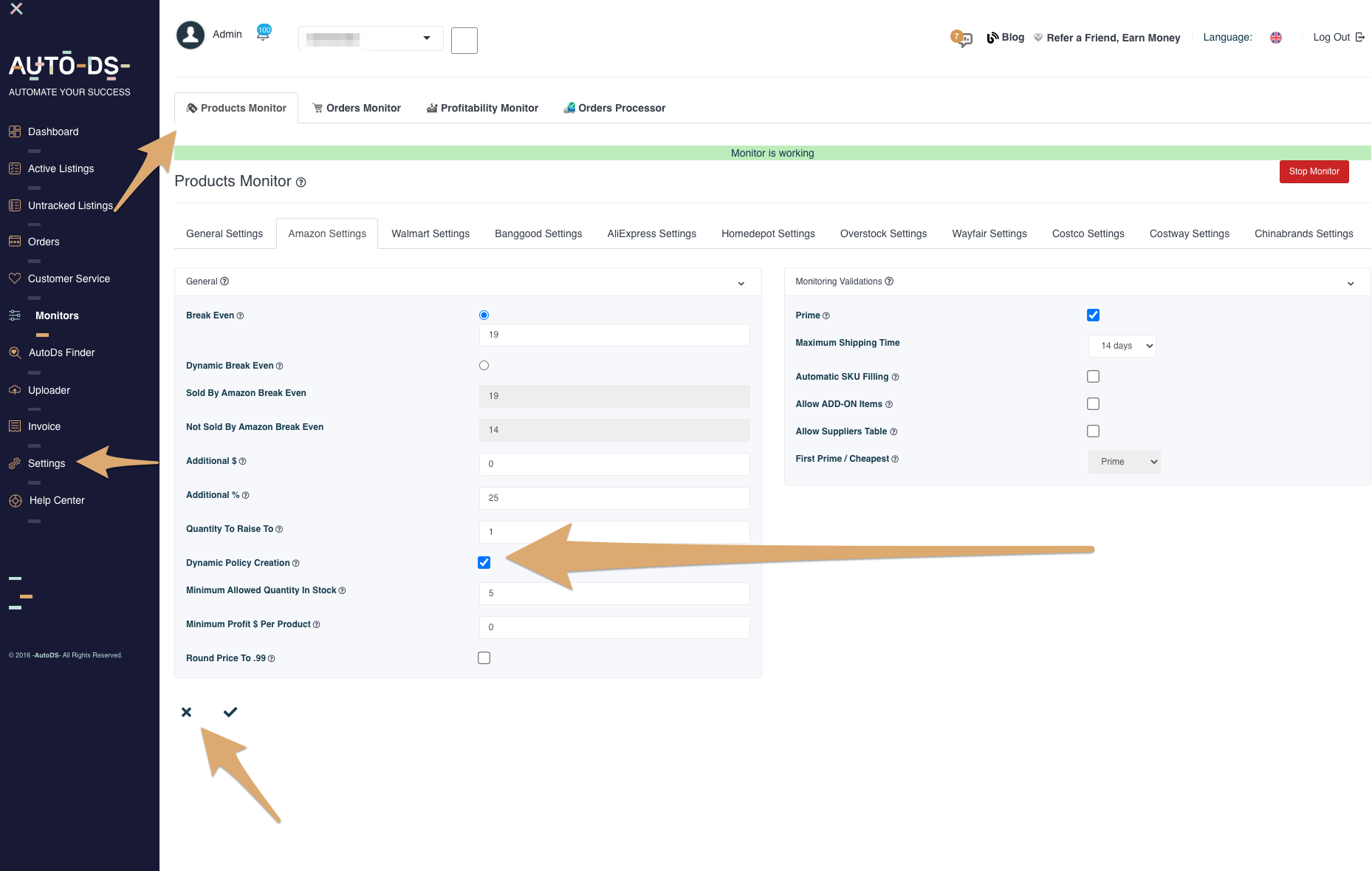 ---
If you have further questions about this topic, please do not hesitate to address us at the support chat - we will be more than happy to assist you.
---
LUD: March 17th, 2021