Learn how to use the dynamic break-even feature and be more competitive with our Amazon-sourced listings
This article explains AutoDS V1, our OLDER version.
It seems like you got left behind and still not upgraded to our newer V2 version if You still see this article! No worries, you can start the process NOW!
👇🏻Click on the link below to Start the Migration👇🏻
SAVE YOUR TIME - Go ahead and transfer to our New AutoDS V2 Version!
We have the same Tutorials & Features on our V2 section, don't worry about it!
---

This feature checks who the sellers on Amazon are and makes changes your listings' break-even accordingly. It was added as a request from our sellers who follow this pricing method. They in fact take a risk by having a lower break-even which does not include the state tax charges on Amazon.com.
If you check this box, you will have to set up a break-even for products that are 'Sold By Amazon' and for items that are 'Not Sold By Amazon'.
If you choose to work with dynamic break-even, it will override the default break-even you set, and will only consider this new dynamic break-even.

Sold by Amazon break-even: a higher break-even is needed because Amazon as a seller usually charges state tax (0%-10%). To learn more about US taxation for each state click here.

Not Sold By Amazon Break Even: A lower break-even can be placed. Please note this can lead you to have losses if tax will be added and you didn't set enough profit, to begin with.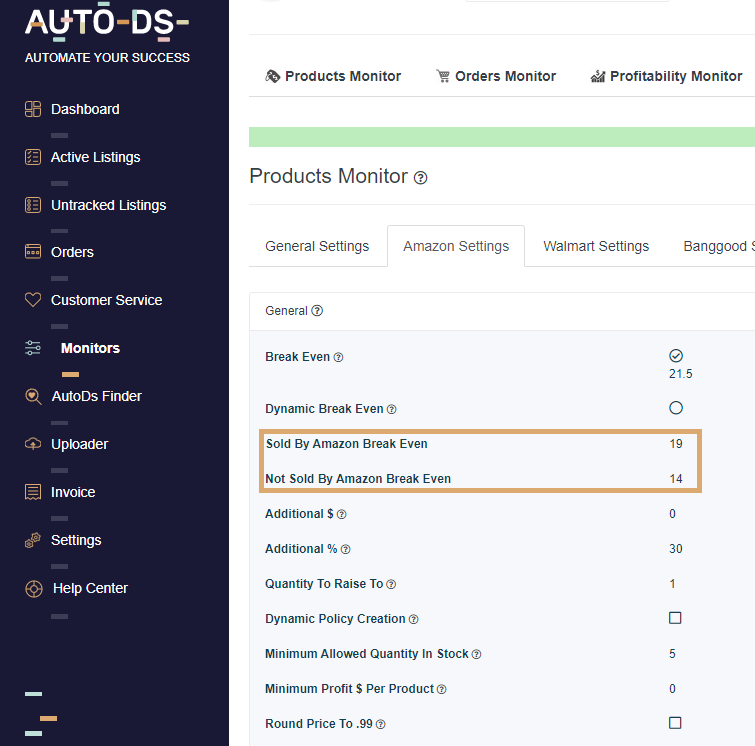 If you have further questions that were not answered in this article, please do not hesitate and turn to us at the support chat - we will be more than happy to assist you.
Check out these related articles to learn about more features:
____
Last Updated: July 26th 2020