Learn how to resend your downloaded or failed uploads on your non-API account
This article explains AutoDS V1, our OLDER version.
It seems like you got left behind and still not upgraded to our newer V2 version if You still see this article! No worries, you can start the process NOW!
👇🏻Click on the link below to Start the Migration👇🏻
SAVE YOUR TIME - Go ahead and transfer to our New AutoDS V2 Version!
We have the same Tutorials & Features on our V2 section, don't worry about it!
___
When you upload listings to the schedular, in some cases the upload may fail on eBay's end (you can always check it on your end on the schedular- if there are no errors there, check by downloading the response file exchange on eBay).
IMPORTANT: Before you do this step - please make sure first that the items were not uploaded to your eBay account or else it will create duplications. If the items were uploaded to eBay, follow the instructions here.
If the items were not uploaded, please do the following:
Go to your scheduled uploads on your calendar and click "Change Downloaded to Pending"
​

​
​
​
Make sure that your extension is connected, and then click "Upload Pending Uploads to eBay".
​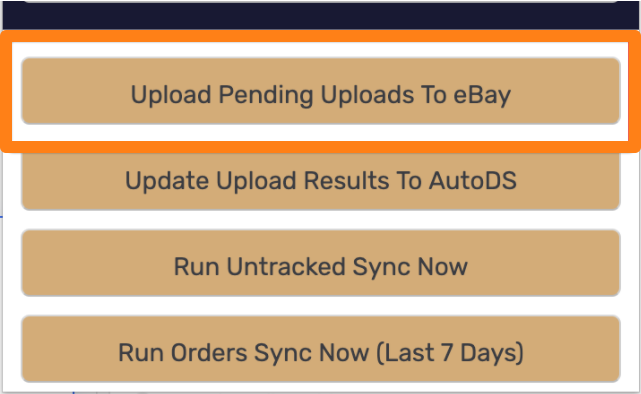 ​
The system will now upload the listings to your eBay account.
If you need additional help on Non-API accounts, check out these related articles:
How to Upload Products Using AutoDS' Non-API Solution?
How to Install and Configure AutoDS' Non-API Drop-Shipping Chrome Extension
How to Check Your Non-Api Extension Logs
If you have further questions that were not answered in this article, please do not hesitate and turn to us at the support chat - we will be more than happy to assist you.
_____
LUD: September 17th, 2020.