Use the AutoDS Finder tool to set recurring daily uploads to your store saving you time on product research!
This article explains AutoDS V2 (2021), our newer version supporting dropshipping to eBay and Shopify. If the images you see do not match the ones on your account, it means you are using the current version (V1). Check out this link for the article relevant to you.
The AutoDS Finder hot-selling product system allows you to create a recurring uploads.
You can select a time of the day and every day as long as the recurring upload is active, the Finder will automatically upload a selected number of products to your store.
You can learn how to use our Finder in this Help Article.
After you selected the categories you wish to upload from and set your pricing, shipping and policy settings, you will reach the last stage- import to store.
Next, choose the 4th option Publish Recurring: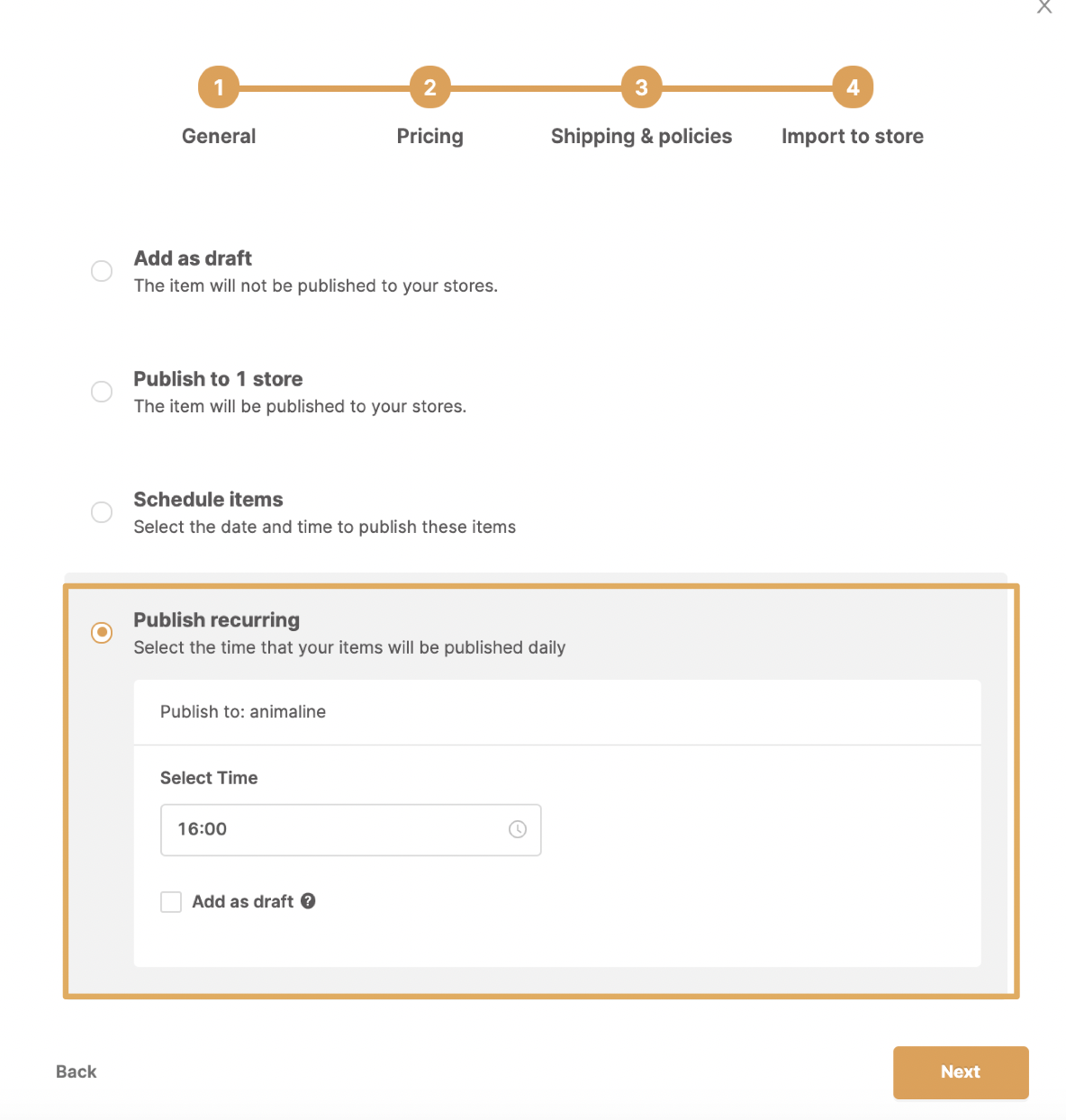 Select the time (it shows your time zone) you want to upload each day and click on "Next".
You will see this notification:

IMPORTANT: Please note the time you select is according to your time zone. if you have a VA working for you who sets recurring uploads to your selling channels from the Finder, he will see his time zone, so you need to make sure you convert the required time of upload.
In order to see the recurring upload, go to Drafts→Recurring.
Please check the featured numbers in the following image. You will find a detailed explanation of each featured number below the image.

1-Date- The next upload date
2- Store- The store that the recurring upload is set on
3- Quantity- The total number of products in this upload
4- Products Category- The Finder product setting selection (sales per month)
5- Supplier- The source site you chose to upload from
6- Upload time- The upload hour
7- Edit- Clicking the pencil icon will allow you to edit the upload and change the Finder category, the amount of products you chose to upload each day, the supplier, region and upload time.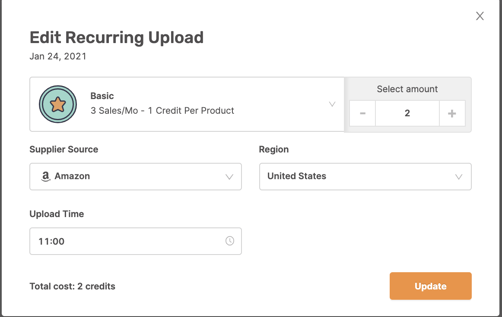 8- Pause - Clicking on the pause icon will pause this recurring upload. Click again if you wish to activate it.
9- Delete- Will completely remove this recurring upload
---
If you have further questions that were not answered in this article, please do not hesitate to turn to us at the support chat - we will be more than happy to assist you.
---
LUD: March 1st, 2021