Learn how you can end untracked listings on your eBay account using AutoDS
This article explains AutoDS V1, our OLDER version.
It seems like you got left behind and still not upgraded to our newer V2 version if You still see this article! No worries, you can start the process NOW!
👇🏻Click on the link below to Start the Migration👇🏻
SAVE YOUR TIME - Go ahead and transfer to our New AutoDS V2 Version!
We have the same Tutorials & Features on our V2 section, don't worry about it!
___
Ending untracked listings on AutoDS is only possible with eBay accounts connected via our API. It's no longer a feature available to a non-API account.
Untracked listings are listings which we do not monitor for you in terms of price and stock changes, and we will not detect orders for them as well.
Some users prefer to keep some items untracked and that's OK as long as they are aware the system will not monitor them.
If you wish to end your untracked you have 2 options:
1. End the listings from the untracked listings page:

Just click 'End Listing'. The listing will be added on eBay and will be removed from your Untracked Listings page.
2. You can have the 'End Untracked Listings' feature checked,
Monitors-> Products Monitor-> General Settings END Untracked Listings
This means the system will always scan for untracked listings and end them automatically. This is useful to end untracked listings in bulk (if you have many). If you do not wish it to keep ending them, make sure to uncheck it after the listings were removed.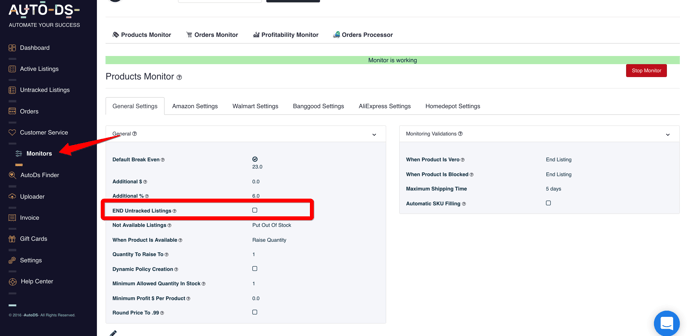 If you tried adding your untracked listings in one of the ways mentioned above, and they were not ended in 3 hours, there might be an eBay bug causing it. Let us know at the support chat, and we will gladly check it for you.
If you have further questions that were not answered in this article, please do not hesitate and turn to us at the support chat - we will be more than happy to assist you.
____
LUD: 29.5.20