Learn how you can convert your tracking numbers to Aquiline
You can watch this video to learn more about this feature or you can follow the manual instructions below the video.
eBay's new item location policy was a struggle for dropshippers who dropship from all around the world and have multiple locations for their items.
eBay policy wants you to provide clear and accurate information about where your item is located, including the postal code, city, and country from which the item is shipped. So, when you upload the tracking number to eBay, it must match the shipping location you provided in the listing.
You should keep in mind that when you dropship from multiple locations and don't know or provide from which zip code the item will be sent has consequences.
It can affect your views, sales, profits, and in the worst-case scenario, eBay might flag your account.
But no more - we at AutoDS have the solution for you! 🤩
AutoDS integration with Aquiline will make sure to convert all your tracking numbers coming from the different shipping carriers to Aquiline tracking approved by eBay, according to the zip code you chose on Settings page in AutoDS.
Converting to Aquiline is going to add your own zip code for the tracking numbers. So, eBay will consider all your items are being shipped from the same location.
Aquiline is an authorized and recognizable carrier on eBay. Meaning, you can choose them from eBay's dropdown menu list of carriers, and your buyers will be updated on the transit process of their parcel.
What is the difference between BlueCare Express (BCE) and Aquiline?
When using Aquiline, the system adds the zip code from which the item was dispatched, as requested by eBay while using BCE will only convert the tracking number to be recognizable by eBay.
As explained, AutoDS will use the default supplier setting zipcode you have inserted and update it for these tracking numbers. That means that the chance to be flagged by eBay for dropshipping will be drastically decreased as eBay will see you are shipping the items from the same zip code you publish them for!
Please note: this feature is only supported eBay as a selling platform and only supports Amazon.com, Amazon.co.uk, Amazon.de, and Amazon.fr.
Configuration
First, in order to enjoy this feature, you must enable our Orders' Processor, the service is valid for all orders (Fulfilled with AutoDS, auto orders and also manual orders).
Go to Settings → Plans & Add-Ons and make sure you have enabled the Order Processor:

Then, make sure to set a zip code in your supplier settings, here is how:
Settings -> Store settings -> (Pick a supplier) -> Lister -> Default Zipcode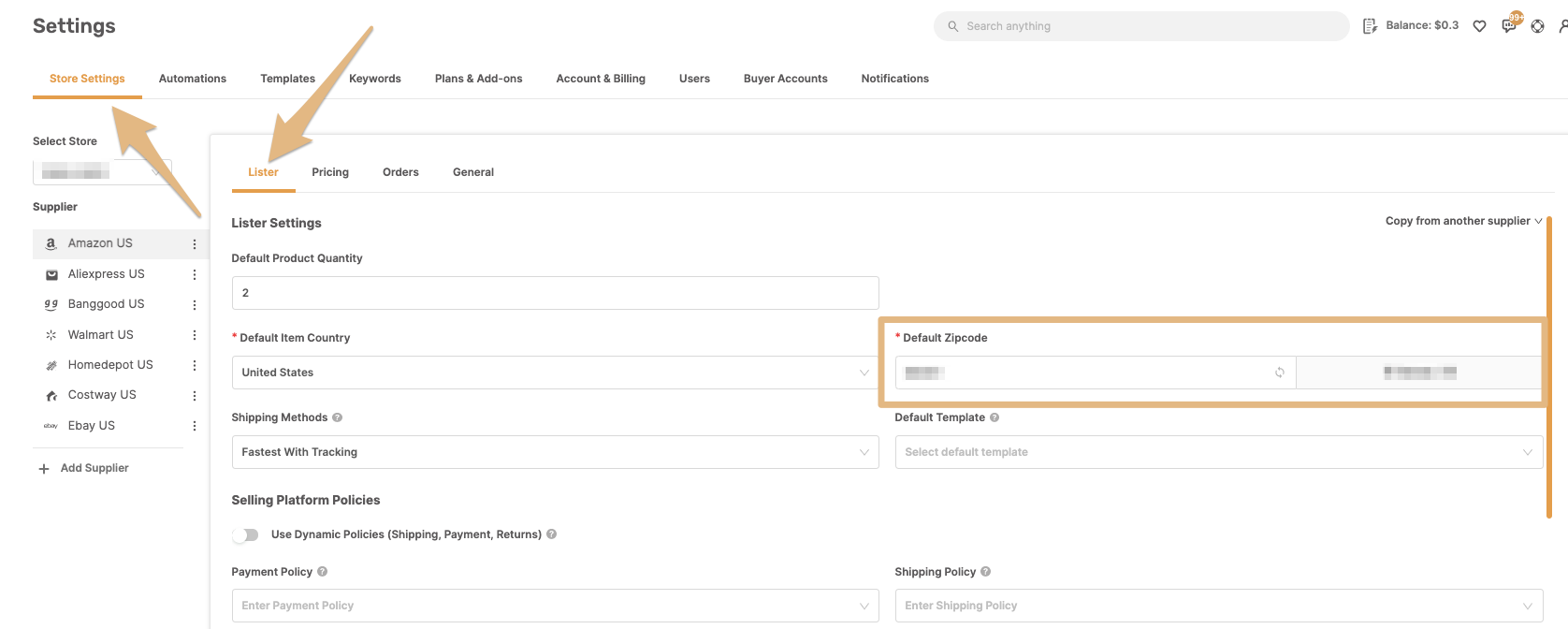 Then, Go to Settings → Store Settings → Orders and make sure to choose the Aquiline service option on the 'Tracking Conversion' field: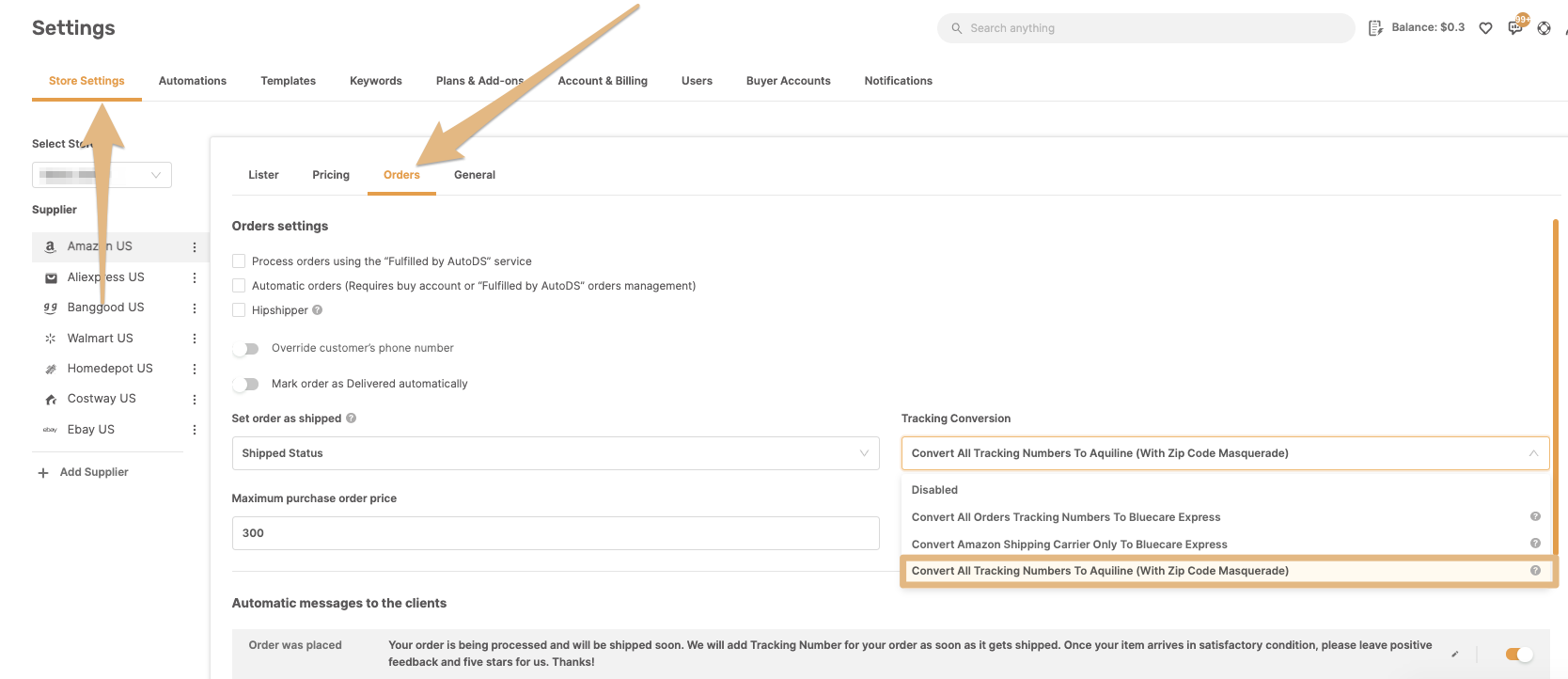 Pricing:
Tracking number conversion to Aquiline costs 0.5 auto order credit.
Meaning, if you are using auto orders, then 1.5 auto order credit will be deducted from your credits balance ( 1 credit for the order + 0.5 credit for the conversion).
If you place your orders manually, then you will be charged only 0.5 auto order credit.
IMPORTANT NOTES ❗️
Aqualine only works for eBay as a selling platform.
Once you choose this service, ALL tracking numbers will be converted to Aquiline (AMZL, USPS etc)

Conversion price is 0.5 auto order credit (you have to make sure you always have auto order credits balance)

Aquiline only works for Amazon.com, Amazon.de, Amazon.co.uk, and Amazon.fr.

Aquiline works both for manual and automatic orders.
---
If you have further questions about this topic, please do not hesitate to address us at the support chat - we will be more than happy to assist you.
---