Learn how you can convert your tracking numbers to Aquiline
You can watch this video to learn more about this feature or you can follow the manual instructions below the video.
What is Aquiline service?
AutoDS' integration with Aquiline will make sure to convert all your tracking numbers coming from the different shipping carriers to Aquiline tracking approved by eBay, according to the zip code you chose on the Settings page in AutoDS.
Converting to Aquiline is going to add your own zip code for the tracking numbers. So, eBay will consider all your items are being shipped from the same location.
Aquiline is an authorized and recognizable carrier on eBay. Meaning you can choose them from eBay's dropdown menu list of carriers, and your buyers will be updated on the transit process of their parcel.
As explained, AutoDS will use the default supplier setting zipcode you have inserted and update it for these tracking numbers. That means that the chance to be flagged by eBay for dropshipping will be drastically decreased as eBay will see you are shipping the items from the same zip code you publish them from!
Tip💡
To learn more about the advantages and disadvantages of each conversion service, you can read here.
You can also read our blog post comparing Aquiline Tracking vs Bluecare Express
Configuration
First, in order to enjoy this feature, you must enable our Orders Processor. This service is valid for all orders (Fulfilled by AutoDS, auto orders, and also manual orders).
Go to Settings → Plans & Add-Ons and make sure you have enabled the Order Processor: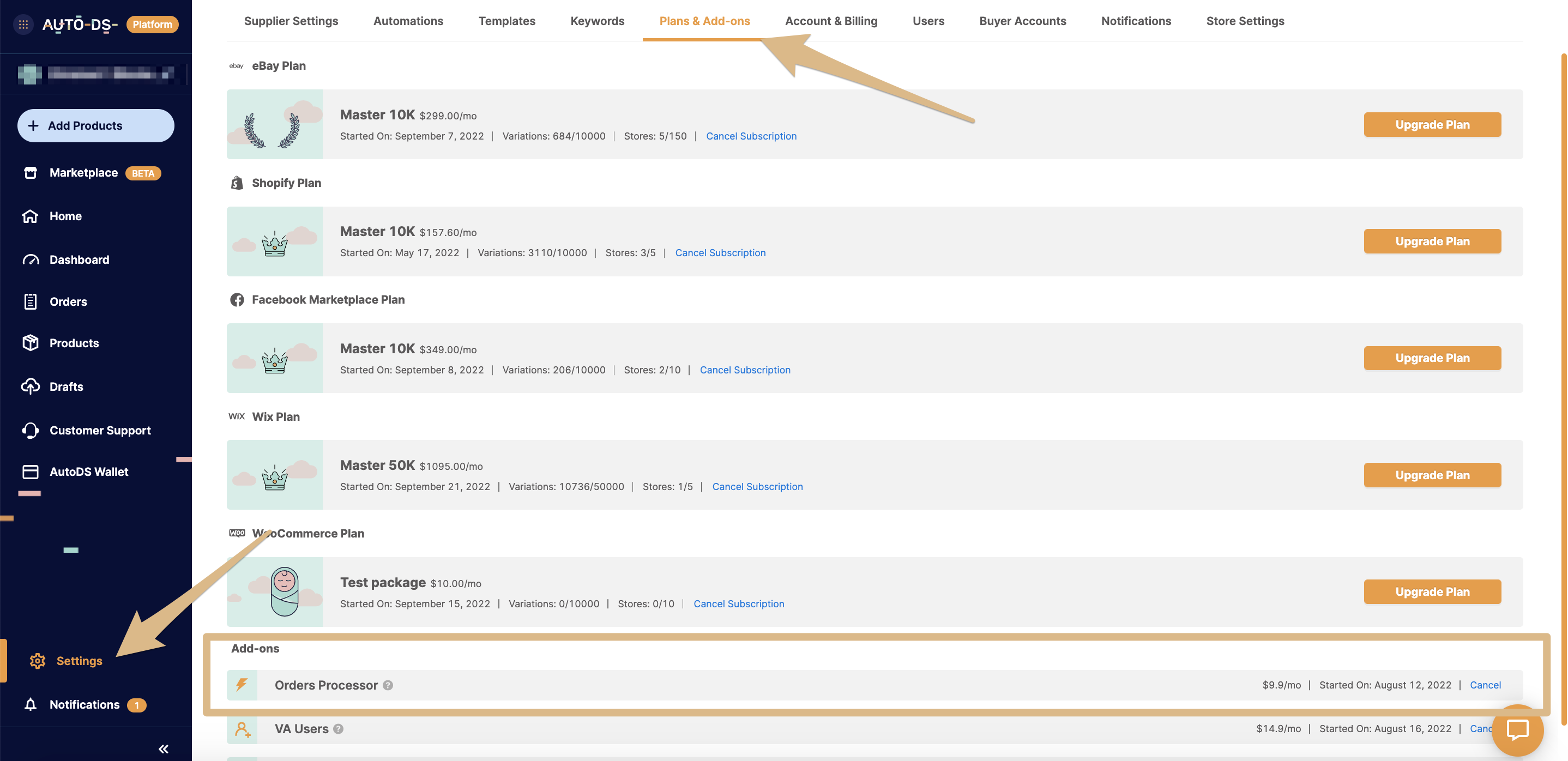 Then, make sure to set a zip code in your supplier settings, here is how:
Settings -> Store settings -> (Pick a supplier) -> Lister -> Default Zipcode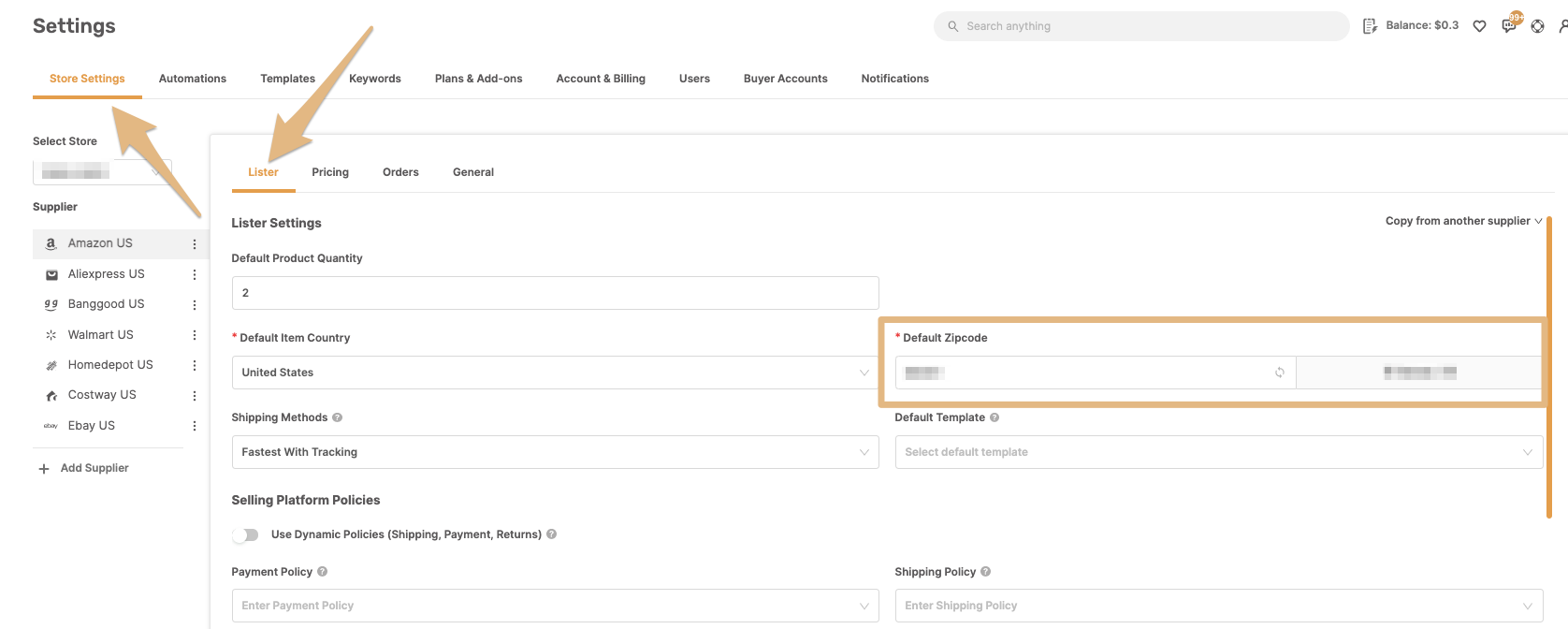 Then, Go to Settings → Store Settings → Orders and make sure to choose the Aquiline service option on the 'Tracking Conversion' field: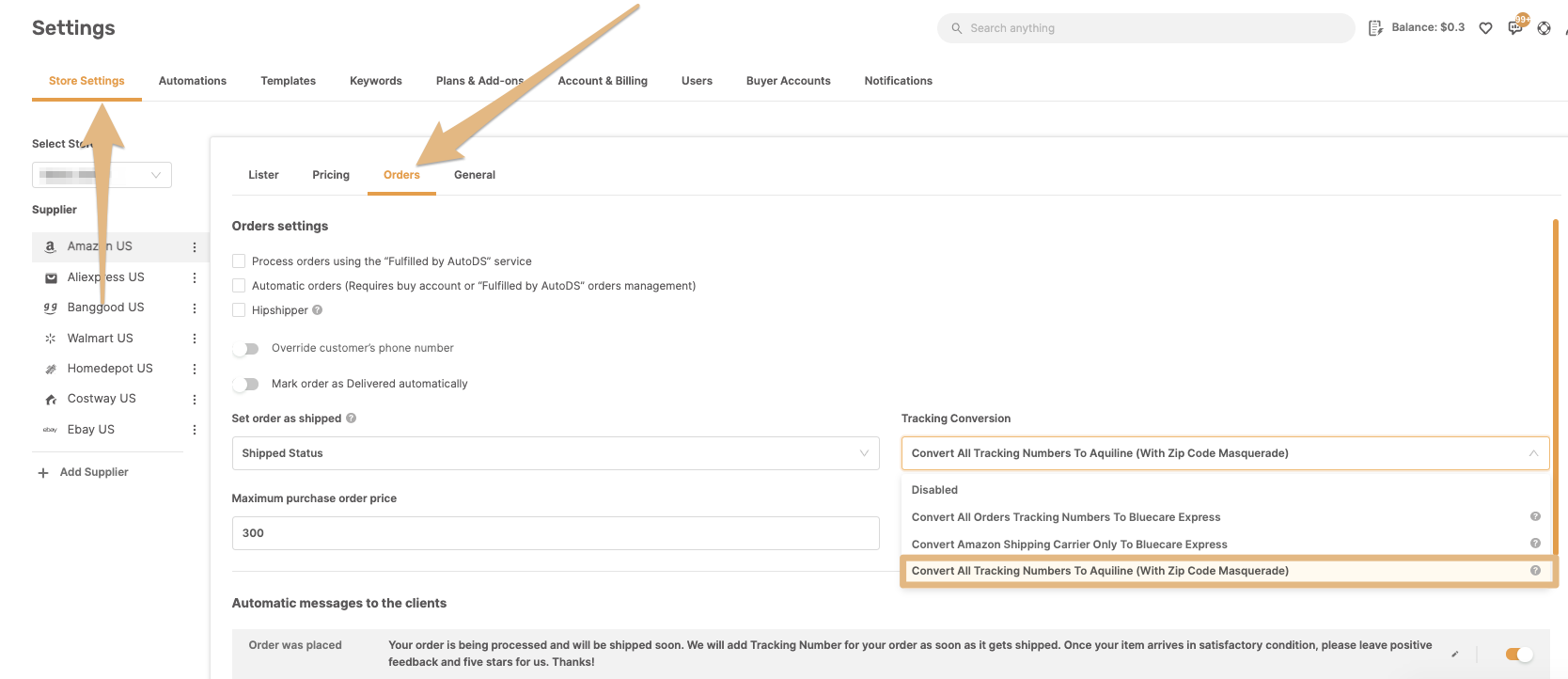 Pricing
Tracking number conversion to Aquiline costs 0.5 auto order credit.
Meaning, if you are using auto orders, then 1.5 auto order credits will be deducted from your credit balance ( 1 credit for the order + 0.5 credit for the conversion).
If you place your orders manually, then you will be charged only 0.5 auto order credit.
Important notes ❗️
Once you choose this service, ALL tracking numbers will be converted to Aquiline (AMZL, USPS etc)
Conversion price is 0.5 auto order credits (you have to make sure you always have auto order credits on your balance)

Aquiline only works for:

Amazon US/UK/FR/DE
Walmart
HomeDepot
Wayfair US
Costco US
Samsclub
Vidaxl US
Kmart
---
If you have further questions about this topic, please do not hesitate to address us at the support chat - we will be more than happy to assist you.
---