Bulk Uploads
AutoDS allows you to upload several listings at once - you can upload 1-2 or even thousands of products at once.
Go to Uploader➞ Bulk Upload
1 - You can paste the item source IDs each on its own line as shown in the image.
2- You can upload a list from a CSV file. The file can have one column with only source IDs or two columns: one for the source ID and the other for the title of the product. If you upload only source IDs, the listings will be uploaded with the original source ID titles.
Here's how the files should look like:
Source IDs only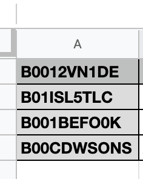 Source ID + Titles

3- Just like in the single item upload explained above, edit the price settings for his upload and choose the location and policies - they will be applied to all the products you are uploading in this bulk upload.
4- Choose the following to your upload:
Upload Variations - if checked, the system will upload all the variations to the product.
Enable Out Of Stock Items Upload - if checked, the items that are detected as OOS will be uploaded anyway.
Allow Vero
- if checked, products that are detected as a violation of eBay's VERO program and items in your black keywords list will be uploaded anyway. You can learn more about the vero feature
here
.
Allow Marketplace - that applies to Amazon and Walmart and means that you allow this listing to stay in stock even when the seller is not FBA or sold by Amazon on Amazon (meaning, a prime item) or not sold by Walmart.
First Upper Letters - The system will capitalize on each first letter of each word of the title.
Duplicate Main Picture To 12 - The main image will be duplicated to 12 to fill in all the image slots eBay suggests.
Make Collage - the system will make a 4 image collage as the main picture to all listings.
Set Watermark On All Pictures - your watermark will be set to all the images of each listing on this upload.
If you have further questions that were not answered in this article, please do not hesitate and turn to us at the support chat - we will be more than happy to assist you.
--
LUD: 21.7.20