Read through to learn how you can monitor products from the suppliers' table on Amazon
As a default, AutoDS monitors the item that is available on Amazon BuyBox (The wining seller presented first when you search the item).
If the item does not exist in the BuyBox (out of stock / not prime/ offered by a different seller from the table of suppliers), the scanner will check the suppliers' table and will monitor the seller according to your settings (Prime\ cheapest).
Only sellers with a minimum of 80% feedback and 500 ratings will be monitored and only from the first page of the suppliers' list.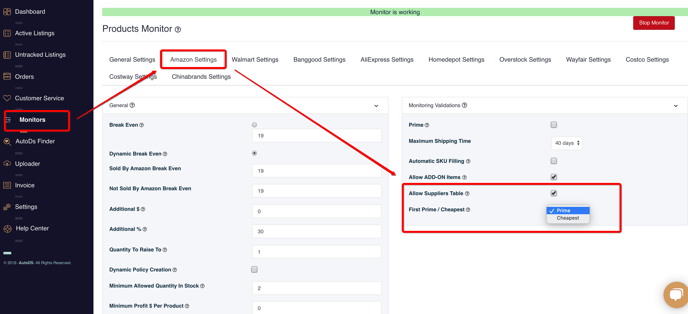 You can tell the system whether you wish for it to monitor the suppliers' table at all and if you do (check it) and choose if you wish the cheapest item to be monitored or the first prime.
If you have further questions that were not answered in this article, please do not hesitate and turn to us at the support chat - we will be more than happy to assist you.
____
LUD: 17.4.20