Learn how you can upload hundreds of hot selling items with a click of a button
This article explains AutoDS V1, our OLDER version.
It seems like you got left behind and still not upgraded to our newer V2 version if You still see this article! No worries, you can start the process NOW!
👇🏻Click on the link below to Start the Migration👇🏻
SAVE YOUR TIME - Go ahead and transfer to our New AutoDS V2 Version!
We have the same Tutorials & Features on our V2 section, don't worry about it!
___
The AutoDS Finder is a platform we've created to save you time having to find profitable products and doing market research. Instead, AutoDS Finder will ease your work routine by doing it for you!

AutoDS finder scans over 40,000 eBay sellers, every day, collecting their best products to our database.

With AutoDS Finder you can get up to 1,000 profitable products with a click of a button!
The listings will be uploaded with full item specifics, and you can choose to upload them with all the product's variations. AutoDS saves you time and money as you will no longer need to use market research programs!

You can access the AutoDS Finder by clicking on the "AutoDS Finder" link on the sidebar menu.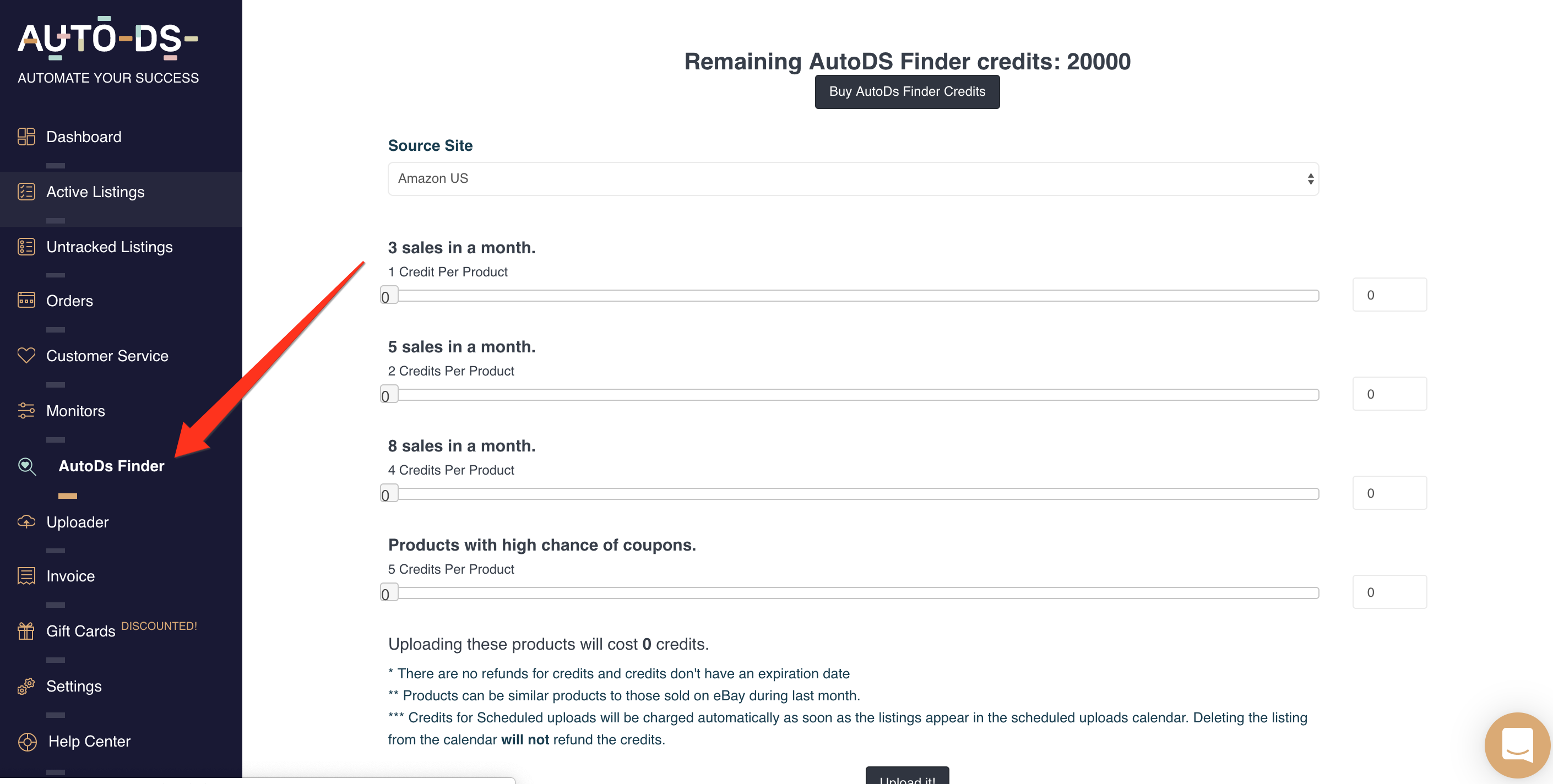 The Finder scans eBay products and matches the products to the suppliers' site. Finder works with - Amazon.com, Amazon.co.uk, Amazon.de, Amazon.FR Amazon.IT, Aliexpress, HomeDepot, and Walmart.
There are four types of categories in the AutoDs Finder: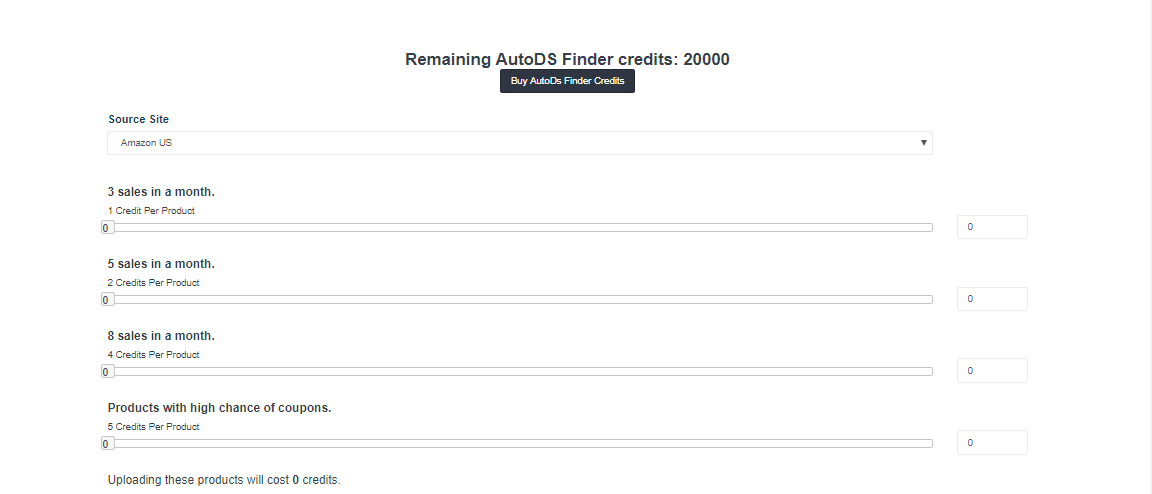 The categories are:
3 sales in a month.
In this category, you get items sold at least 3 times in the last month.
Each product from this category will cost you 1 credit.
5 sales in a month.
In this category, you get items sold at least 5 times in the last month.
Each product from this category will cost you 2 credits.
8 sales in a month.
In this category, you get items sold at least 8 times in the last month.
Each product from this category will cost you 4 credits.
Products with a high chance of coupons
In this category, you get items which have had coupons in the last 30 days and they are more likely to also have one again soon.
Each product from this category will cost you 5 credits.
What are these credits and how do I buy them?
Credits are calculated by the value of the product - the better the product is- the more credits it will cost.
You can buy credits by clicking the "Buy AutoDs Finder Credits" button on the top of the Finder page:

You can check your credits balance at the top of the AutoDs Finder page.

AutoDS Finder Packages:
The pricing for the AutoDS finder is 0.013$ per credit.
The bigger the package the less you pay per credit.
Move the bar to the right to choose a larger package:
AutoDs Finder credits are not refundable.
The upload page:
After you have chosen the categories you wish to upload from, you will be directed to the bulk uploading page. On this page, you can define your required break even, profits, template, quantity, and policies.
There are also additional features you can apply to your uploads, like uploads ALL the VARIATIONS of the product, duplicating the main picture to 12 photos and creating a collage.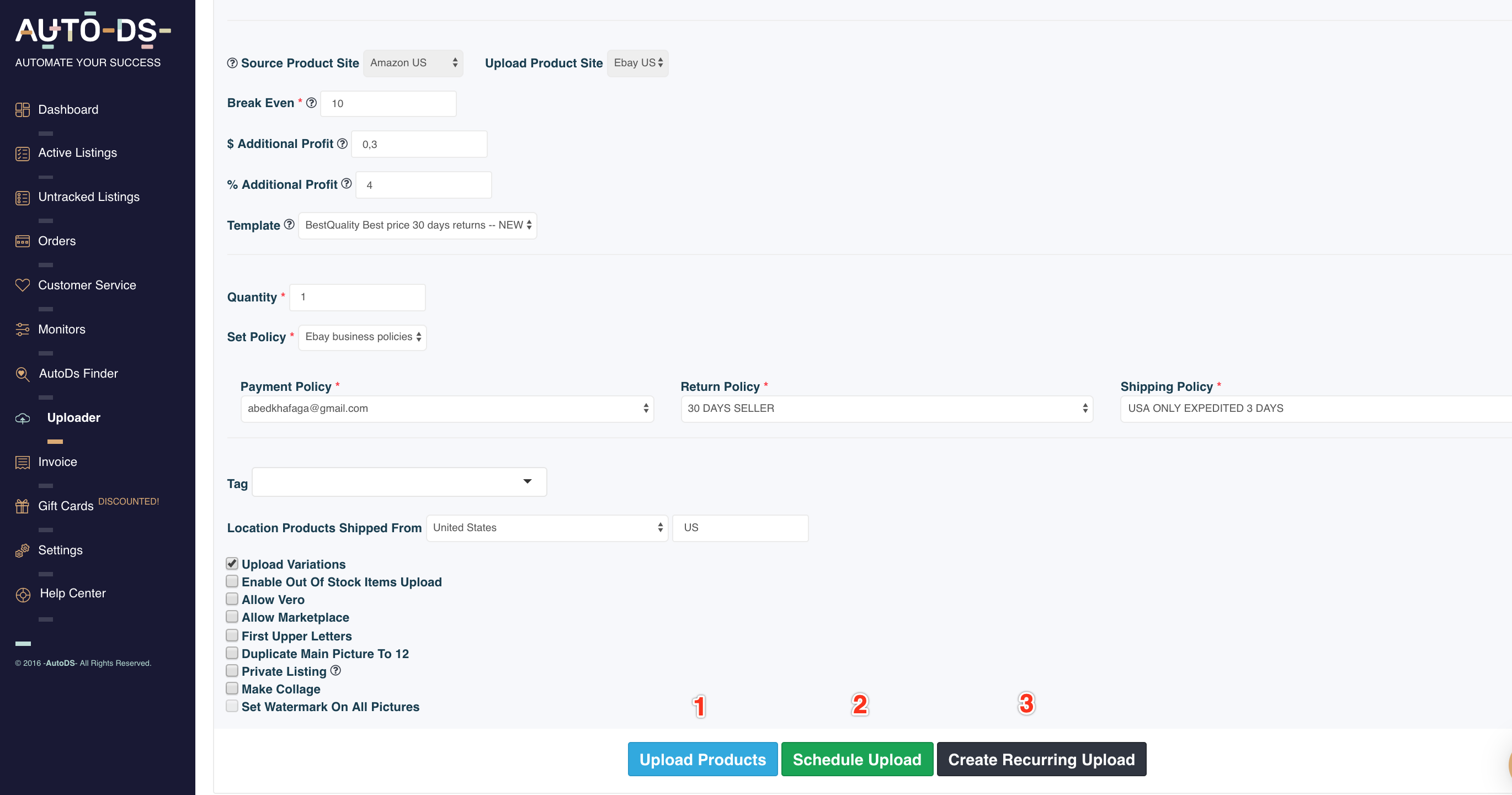 When you finish defining your settings, you can choose whether you wish to:
Upload Products - immediately upload your products
Schedule Upload - schedule the upload to a specific day and time
Create Recurring Upload - set a permanent upload of this number of items from the categories chosen on a daily basis on the hour of your choice.
FAQ:
Q: To which platforms does AutoDs Finder apply?
A: The AutoDS Finder currently supports:
eBay.com - Amazon.com & AliExpress & HomeDepot.com & Walmart.com & Costway.com & ChinaBrands.com & BangGood
eBay.co.uk- Amazon.co.uk & AliExpress & Costway.co.uk & ChinaBrands.co.uk
eBay.de- Amazon.de & AliExpress & Costway.de & ChinaBrands.de
eBay.FR - Amazon.rf & AliExpress & Costway.fr & ChinaBrands.fr
eBay.IT - Amazon.it & AliExpress & Costway.it & ChinaBrands.it

Q: Do all users get the same products?
A: No, each user gets unique products which were never uploaded before. However, the items will go out of the Finder's list only when they are uploaded successfully. It means that scheduled products will not be removed from the Finder's list until they are successfully uploaded.
Q: If a product fails to upload, what happens with the credits?
A: You are charged by the credit number and not the number of items uploaded. One item can be worth 1 to 5 credits depending on the Auto-Finder category you have selected.
You will not be charged when the failure was due to AutoDS settings like Prime, max shipping days, etc or due to eBay settings.
You will be charged when the uplaod was a scheduled one - but please keep in mind, despite the failure - you still get to have the items and re-upload them after correcting the issue of the error.
Q: Can I choose a price range for the items which will be uploaded by the Finder?
A: No, this option is not available with the bulk uploads from the Finder.
For more information about the Finder please check out this short tutorial:
You can learn more about recurring uploads from the Finder in this tutorial.
If you have further questions that were not answered in this article please do no hesitate and turn to us at the support chat - we will be more than happy to assist you.
_____
LUD: 14.7.19