Effortlessly upgrade your dropshipping experience. Discover, source, and import profitable dropshipping products all from within one system.
Click to watch our full step-by-step video tutorial or scroll down to continue with the article.
What is the "Product Research" feature?
The AutoDS Product Research Tool has been developed to significantly simplify product research, product finding, and product importing.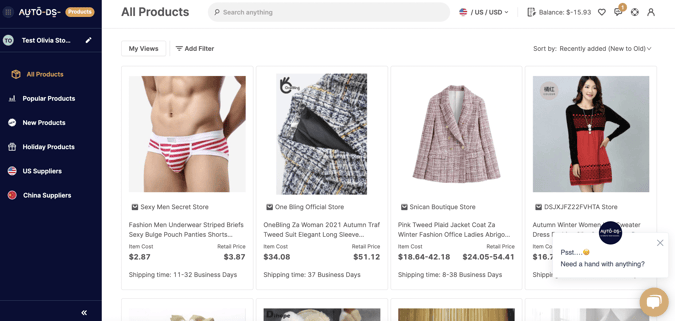 It is a separate system built into our AutoDS platform and can only be accessed through your AutoDS account.
This tool provides easy access to the trendiest and best-selling products from AliExpress and Amazon and saves you hours on product search and product testing.
Additionally, once you're ready to import, you can do so straight from within the AutoDS platform with just a click of a button.
Furthermore, you can pair this new tool with our AutoDS Product Finder as it does not replace it, since the features are quite different.
The main difference between the two is that, unlike the AutoDS Finder, the AutoDS Product Research Tool is not automatic.
The Finder feature chooses random hot products for you automatically. All you need to do is select your desired supported supplier, choose how many items you'd like it to find and import for you, and how many sales you'd like to get from each product.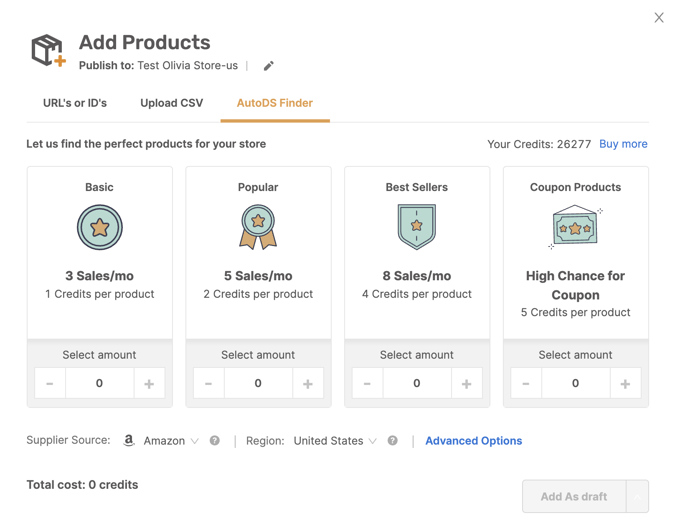 As for the Product Research tool, it is much more customizable due to its focus on research filters. By offering various product filter options such as price and category, it helps you dig deep into profitable products, niches, and more.
How to use the "Product Research" feature?
Here is how to get started.
Once you're logged in to your account, switch over to the Product Research Platform to start selecting new products to import to your store.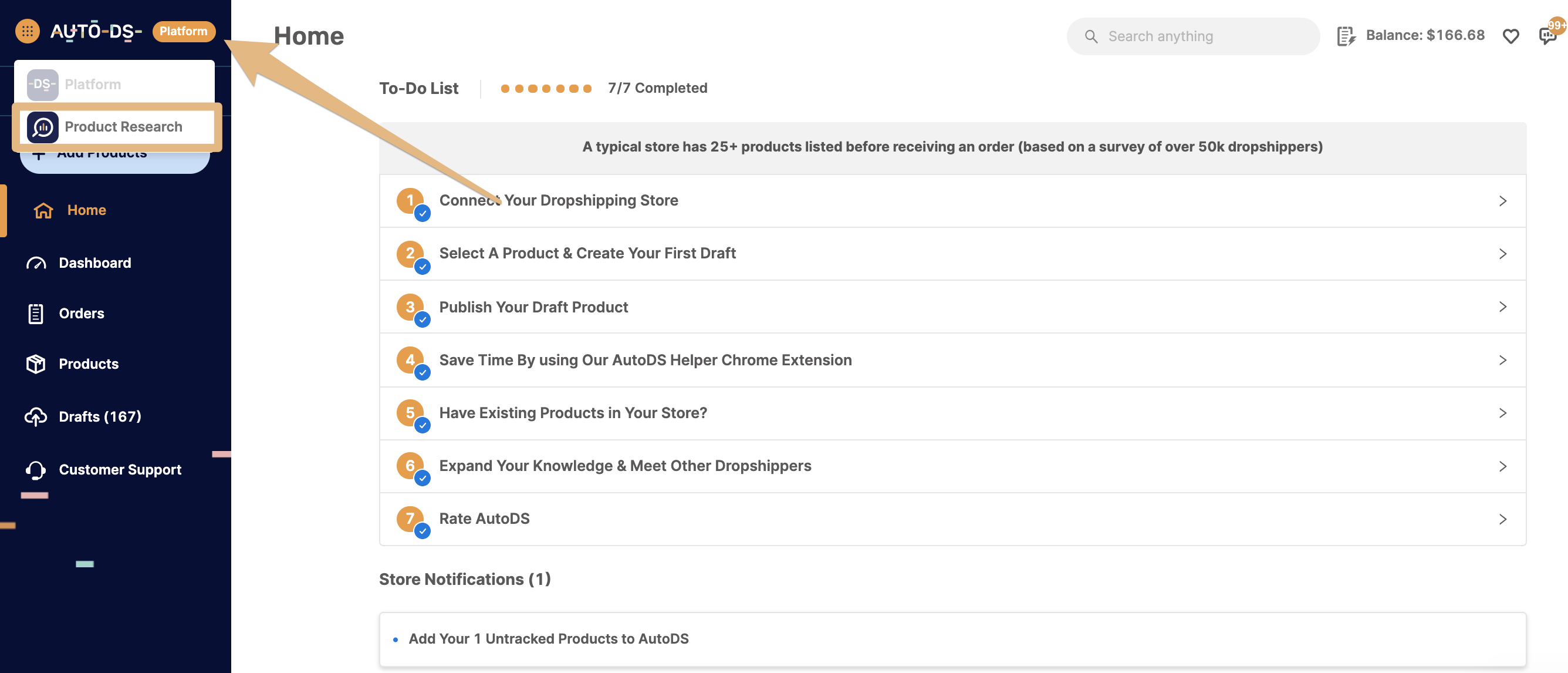 After you switched from the platform to the product research, you'll see this:
By default, you start on the 'All Products' page. This is where you can scroll through all existing product options from all categories shown below.
Additionally, you have a few ways of navigating and narrowing down your search.
Search Bar—Type to search for a specific niche or product using the search bar up top.
'Sort by:' Options
As mentioned, besides the 'All Products' search section, products are divided into a few general categories.
Popular Products
New Products
Holiday Products (Perfect for Q4 but can be used throughout the year)
US Suppliers
Chinese Suppliers
Popular Products
When searching for products from within 'Popular Products' the main filters automatically implemented are rating and amount of reviews.
You can also use the same filter options available on the 'All Products' page.
This way you know you're selecting products that have proven to sell and are quality products with a high customer satisfaction rate.
New Products
Under 'New Products', you will find the newest (most recently added) recommended products.
At the top of the page, a "Last Updated Date" will be shown, along with the filter options, and the "Sort by" option on the right hand side.
Holiday Products
Under 'Holiday' category you will find products that are related to holiday period such ad Christmas, Thanksgiving and more.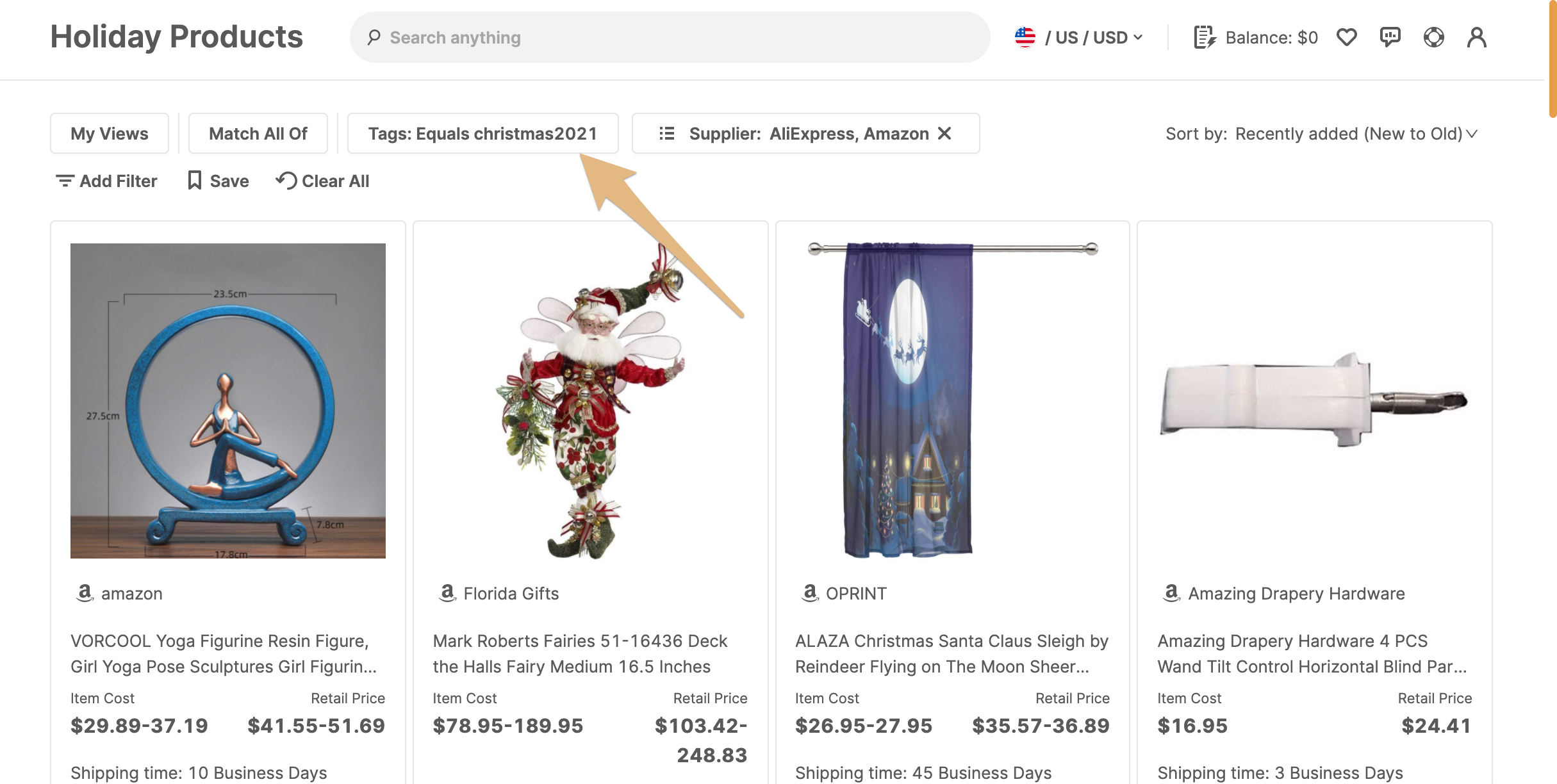 For a more general search approach, we have two categories based on supplier location. This section will include all products of said supplier:
US Suppliers
Select 'US Suppliers' to quickly find profitable products from Amazon. (more suppliers coming soon)
China Suppliers
Select 'China Suppliers' to quickly find profitable products from AliExpress. (more suppliers coming soon)
Additionally, in each product category, you can pair filters and search multiple filters simultaneously.
Click 'Add Filter' to select your desired filter option. It will save and appear above. By adding multiple filters, you can then use the 'Match All' or 'Many Any' feature.
To reset your search, simply click 'Clear All'.
For all displayed items from any category, the item info and specifications are as follow:
Product Title
Product Image
Item Cost
Retail Price
Estimated Shipping Time
Supplier/Marketplace
Supplier Name


How to import a product to your store?
Now to our favorite part. Once you find a product you'd like to import, click the 'Import Product' button found on the bottom of each product listed.
As soon as you click, AutoDS imports the product and creates a draft import that will be ready for you to edit and optimize on the 'Drafts' page.
To continue to the next step, head back to the AutoDS platform as shown below and go to the 'Drafts' page: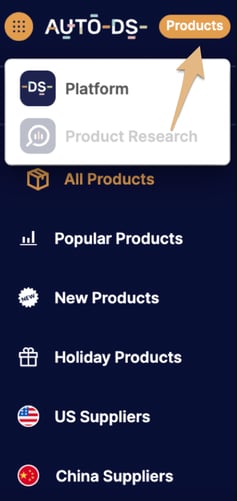 You should now see your selected item appear on the 'Drafts' page. Click here to learn how to edit a single draft.
FAQ 💡
Q: Which suppliers are supported by the Product Research Tool?
A: Amazon and AliExpress, and we working on adding more
Q:Which regions are supported?
A: US and Chine.
Q: Does this feature come at an additional cost?
A: No. All AutoDS members can enjoy using this feature
If you have further questions about this topic, please do not hesitate to address us at the support chat - we will be more than happy to assist you.