Learn how you can monitor specific items although they are not prime
If as a general rule you wish only prime products to be in stock on your account, you can still allow the monitoring of a single non-prime product from the quick edit mode of a product by clicking the notebook icon on the left side row on your active listing page.
When the edit page pops up, scroll down and mark "Allow marketplace"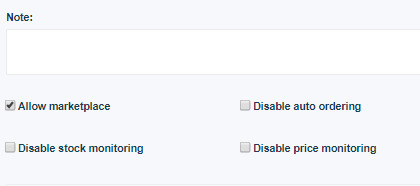 By settings this, you're telling the system: 'keep this item in stock on my account even though it is not a prime item'.
To enable all non-prime items to stay available on your account as a general rule you can do it on your Amazon settings on the products monitor.
Monitors → Products Monitor → Amazon Settings
Uncheck "Prime" as shown below:
This will remove the "prime" scan for all of your listings in this store.
If you have further questions that were not answered in this article, please do not hesitate and turn to us at the support chat - we will be more than happy to assist you.
________
Last updated Feb 22nd 2020