Learn how to work with our manual solution - AutoDS Non-API extension
The "Non-API extension" is a powerful tool that will save you a lot of time and make your non-API dropshipping store management much easier.
IMPORTANT: The extension will work only if your Chrome browser is on.

First, you need to download and configure the extension. Click here to download from the Google Extension store.

Here is a full explanation about the different features of the extension:
Video explanation (text explanation below):
Text explanation: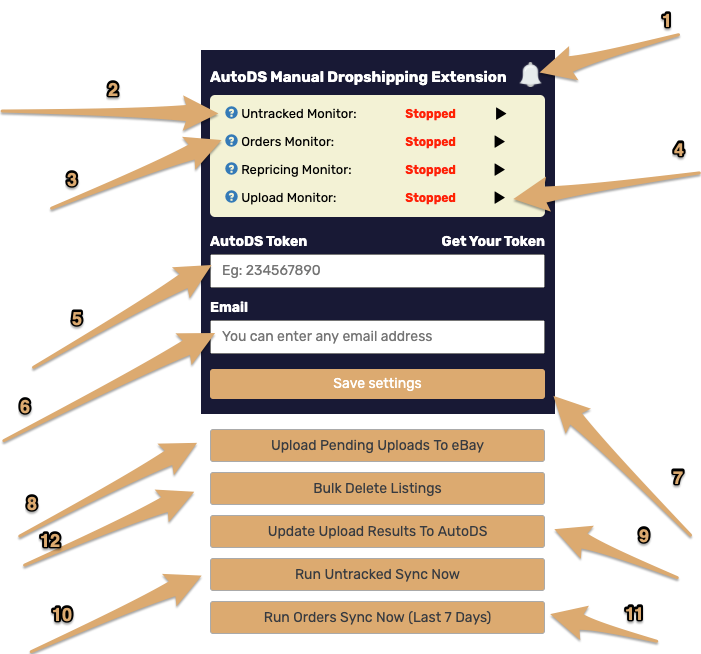 The notifications center button (the bell)- If something goes wrong with the extension, you will be notified on this page.
For example, if you are not logged in to eBay anymore, the system will display a notification asking you to log in. If something goes wrong, and you have any new notifications, you will see the number of new notifications at the top of the bell.
Untracked Monitor - this field is responsible for the untracked listings.
The untracked monitor is the monitor that shows you if you have any products that exist on eBay but do not appear in AutoDS, thus - they are untracked by the extension.
When this field is turned off, your untracked items will not be synced automatically to AutoDS.
Orders Monitor - The orders monitor is responsible for syncing your orders from eBay and AutoDS.
When the "Orders Monitor" is turned off - your orders will not be synced to AutoDS.
Repricing Monitor - This monitor is responsible for your price & stock monitoring. On top of that, any action that you apply on your active listings on AutoDS will be processed on your eBay account, only if this monitor is running.
AutoDS Token - To make sure everything is running, you should configure your store's token and add it to this field.
Get your token here (don't forget to first select the correct store) under the "Token" field.
For the full configuration guide click here.
Email - here can enter any valid email address - eBay will send the product reports to this email. However, it has no effect on the extension. (you just need to insert a valid email address in that field)
Save settings - Click this button to save your email and token configuration - your monitors will automatically start running after you click the SAVE button.
Upload pending uploads to eBay - After your products were added to the "Schedule Uploads Calendar" and appeared under the "pending" status, the system will automatically upload them to eBay as it runs every 10 minutes and scans for new upload.
Click this button if you had uploads that are still pending and they will be sent to eBay's "File Exchange" and the upload will start.
Click here for a full guide on how to upload with AutoDS "Non-API" solution.
Update upload results to AutoDS - After you clicked on the "Upload pending uploads to eBay" button - your products should be uploaded to eBay.
If you see that for some reason that the products were uploaded to eBay but weren't connected to AutoDS, you can click this button and the products will be synced and will then appear under the "Active Listings" page.
Click here for a full guide on how to upload with AutoDS "Non-API" solution.
Run untracked sync now - The untracked listings sync is running every 60 minutes, if you see that for some reason the untracked listings didn't appear within 60-90 minutes, you can click this button to speed-up the process and make the monitor run immediately.
Run Orders Sync Now (Last 7 Days) - the orders monitor is running every 15 minutes. If you see that for some reason it doesn't run, or you just turned on the browser, you can click this button to speed-up the process.
The monitor will always sync the orders from the past 7 days.
In case that your want to sync orders from more than the last 7 days, follow this guide.
Bulk Delete Listings - you can delete your listings in bulk. You first need to run the bulk change request for deletion on AutoDS (Click here to learn how) and then you need to click this button on the extension for it to apply.
After the configuration, all of the monitors will run and everything will be updated as long as your Chrome browser stays open with a stable internet connection.
If you have further questions that were not answered in this article, please do not hesitate and turn to us at the support chat - we will be more than happy to assist you.
---
LUD: Sep 7th 2020