This article explains AutoDS V1, our OLDER version.
It seems like you got left behind and still not upgraded to our newer V2 version if You still see this article! No worries, you can start the process NOW!
👇🏻Click on the link below to Start the Migration👇🏻
SAVE YOUR TIME - Go ahead and transfer to our New AutoDS V2 Version!
We have the same Tutorials & Features on our V2 section, don't worry about it!
___
Assuming your is set and on, tracking numbers should be updated every 4 hours. When a tracking number is not updated automatically to your manual or automatic order (AO) you need to check the following:

Firts, go to the edit of the order and check the error under Tracking number update failure reason: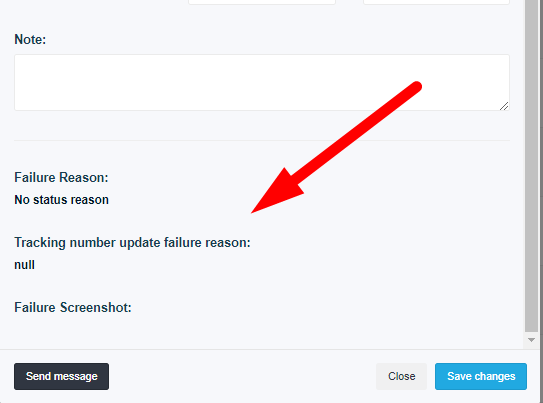 The most common error is:
Could not get verification email from connected email account 500
That means that our system cannot connect to your Gmail account and pull our the verifiction codes sent from Amazon. These codes allow our bot to sign in to your account.
If there's no visible error please check the following:
Check if you have any filters enabled by email which might be deleting the tracking numbers received from Amazon.
If the order was placed manually, please check that the order number was inserted correctly and with no mistakes.
Remove the Gmail account and add it again as our token to your Gmail might have been expired. Check again in 4 hours.

As a last step,
If your Gmail is linked, you do not have any filters, the manual number has been properly typed without profits, and you can find the e-mail from Amazon in your inbox, it's most likely that the email received has a different design for it which our system did not yet learn and thus, it can not retrieve the tracking number.

Please forward this email to: .
So that our programmers can examine the email and add it to our database. You can proceed with updating the tracking number manually.
If this happened with one or two orders, the new design will be processed and fixed within a few days.
However, if you have a large number of orders that have not been updated after you have removed and reconnected your gmail and waited for 4 more hours send us at the support you eBay account name and several eBay sell ID's that were not updated.
Please note not to updated them manually or else our developers will not be able to track the reason for the failure.
For further questions, we're available at the support chat during our working hours.