Why should you convert your tracking numbers to BCE? learn all about it in this help article
This article explains AutoDS V1, our OLDER version.
It seems like you got left behind and still not upgraded to our newer V2 version if You still see this article! No worries, you can start the process NOW!
👇🏻Click on the link below to Start the Migration👇🏻
SAVE YOUR TIME - Go ahead and transfer to our New AutoDS V2 Version!
We have the same Tutorials & Features on our V2 section, don't worry about it!
___
When dropshipping from Amazon mainly, sellers cannot reach the desired Top Rated Seller on eBay and are also at risk to their account and profits. The reasons are:
eBay does not view AMZL tracking numbers as an authorized carrier, thus, it damages the seller metrics.
When a buyer opens a 'Not received' case, and the tracking number which was added was an Amazon Logistic one, the seller will most probably lose the case and have to refund the buyer causing him a loss of course.
This is where BCE = BlueCareExpress comes to the rescue!
BCE will convert your Amazon tracking numbers to their own tracking which are accepted by eBay. BCE is an authorized and recognizable carrier on eBay. Meaning, you can choose them from eBay's dropdown menu list of carriers.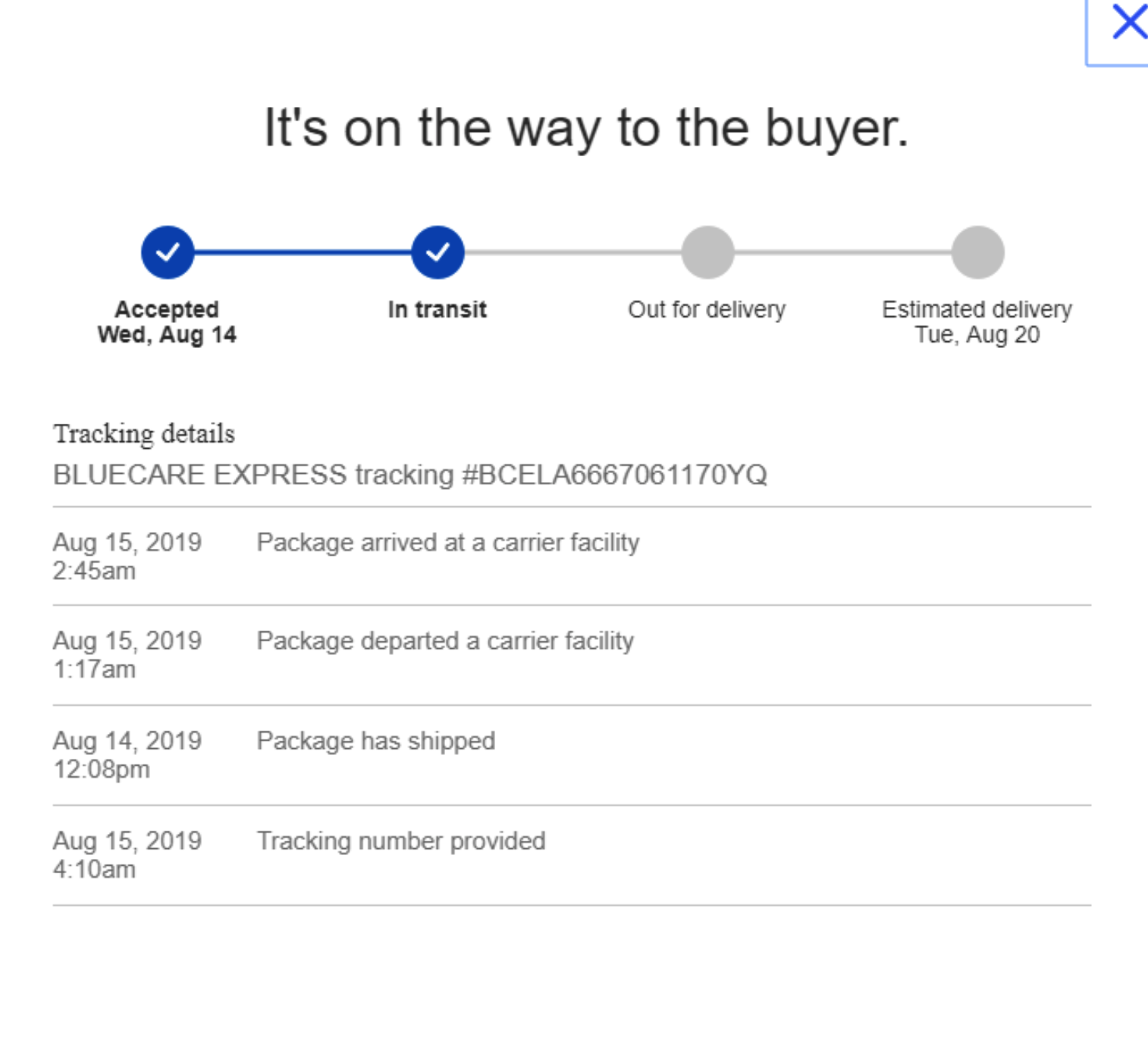 * This is what BCE will provide on eBay. AutoDS will just provide BCE tracking.
Many sellers reported using BCE on all their tracking numbers to avoid being flagged by eBay as drop shippers. It is claimed eBay marks sellers' accounts for working in the drop-shipping model when it realizes that the item location mentioned by the seller is not the same location the item was shipped from. Of course, as drop shippers, we have no control over the item's source location. When a tracking number of a carrier eBay has integration with like USPS, is being uploaded, eBay can notice the seller mentioned for example a shipping location as San Jose, CA while the item was actually shipped from Brooklyn, NY. Thus, accounts are supposedly flagged, and sales drop. When using BCE for all tracking numbers, the shipping location is not being revealed as this is not something BCE provides eBay as it has no integration with it showing the location.

To help our sellers, AutoDS' automation services joined with BCE to allow you to get their tracking numbers in return for the AMZL ones (or any others).
To enjoy this, you must work with our Orders' Processor, either in Auto or Manual orders. You have three ways of using it:
Setting up the Orders' Processor and checking 'Auto-Order'. Each automatic order (one that the system placed for your on Amazon) will receive a BCE one if it got an AMZL.
If you wish all your tracking numbers for all your orders to be converted to BCE one, you need to check 'Use BCE on All Tracking Numbers' on your Orders Processor.
If you are manually ordering, and have the Orders' Processor enabled, the only way to have your tracking updated to BCE, is to enable the 'Use BCE on All Tracking Numbers' on your Orders Processor. In this case, the system will change to BCE for all the orders in your account


Notice: turning on this feature will replace all tracking numbers for this store to BlueCareExpress both manual or automatic.
Each Tracking number will cost ~$0.33 (Auto-order Credits and will be deducted from your account at the time of the conversation.
In case of insufficient credits, the original carrier and its tracking number will be used and your account will not be charged.

FAQ:
Do I have to use AutoDS automation to enjoy the BCE tracking?
Yes - you must add the orders' processor to your monthly subscription and set it up.
What happens if an automatic order fails?
You need to check the failure reason, workaround it, and send it again. If the order is failing for a reason you cannot solve, placed the order manually (you can do it faster with our AutoDS Helper). Once the order was placed, address us at the support chat with the Sell Order ID, and we will convert it for you to BCE. Notice, we will only convert manual orders which the failure reason was one you could not solve. Conversion will only be successful when the item was not yet delivered to the buyer.
Read more on the different reasons an auto order will fail and how to solve it here:
My order was placed automatically and yet a BCE tracking was not updated. Why?
If you interfered with the order's process, for example, you changed the status of the order, placed the AMZL tracking yourself, and more - the BCE will not be updated as the system will no longer recognize the order as AO (automatic order). Make sure not to do it again for future orders and address the chat support with a request to convert this order to BCE (possible as long as it was not yet delivered to the buyer).
Please note: there will be cases where we will not be able to convert your tracking numbers to BCE as a result of an issue on Blucare's end.
Why do you charge 1.33 credit for a conversion to BCE?
When the auto-order bot is used, the charge for auto-order is 1 credit.
That price includes converting Amazon orders that use AMZL for shipping.
The cost for converting any other tracking to BCE is $0.33 (or 1/3) of a credit.
If you are using the automation of the order and also converting for anything that is not the included AMZL shipping, then an additional $0.33 will be charged:
1 credit for the automation+ 0.33 credits for the conversion of non-AMZL = 1.33 credits.
My tracking number was not converted to BCE and the buyer opened a case on eBay, what can I do?
AutoDS does not guarantee this service will work in 100% of the cases. This is an outsourced service we offer with integration to Blue Care Express. There are occasions when the conversion will not work for different reasons. AutoDS assumes no responsibility for it and is not to blame for cases you lost for orders that did not get the BCE tracking.
If you have further questions that were not answered in this article please do not hesitate and turn to us at the support chat - we will be more than happy to assist you.
_______
LUD: Jan 4th, 2020