Enjoy a more stable monitoring and uploading experience when adding eBay's FileExchange token - no need to have your computer on for 24/7!
This article explains AutoDS V1, our OLDER version.
It seems like you got left behind and still not upgraded to our newer V2 version if You still see this article! No worries, you can start the process NOW!
👇🏻Click on the link below to Start the Migration👇🏻
SAVE YOUR TIME - Go ahead and transfer to our New AutoDS V2 Version!
We have the same Tutorials & Features on our V2 section, don't worry about it!
-----

Had enough with getting orders with high prices or items that are out of stock on your non-API store?
Add your eBay FileExchange token to AutoDS non-API extension to have monitoring and product uploading at all times. You no longer need to keep your computer on 24/7!
Watch this video to learn how to add the FileExchange token to AutoDS non-API manual extension for better performance! More explanations will follow the video section.
If you are new to the non-API solution, when you add a new non-API store you will have the option to choose to have it with or without the token. Choose to add the token, click on 'Get Token'. You will be directed this page on eBay, log in and copy the FileExchange token. Click here to see how it looks like on eBay.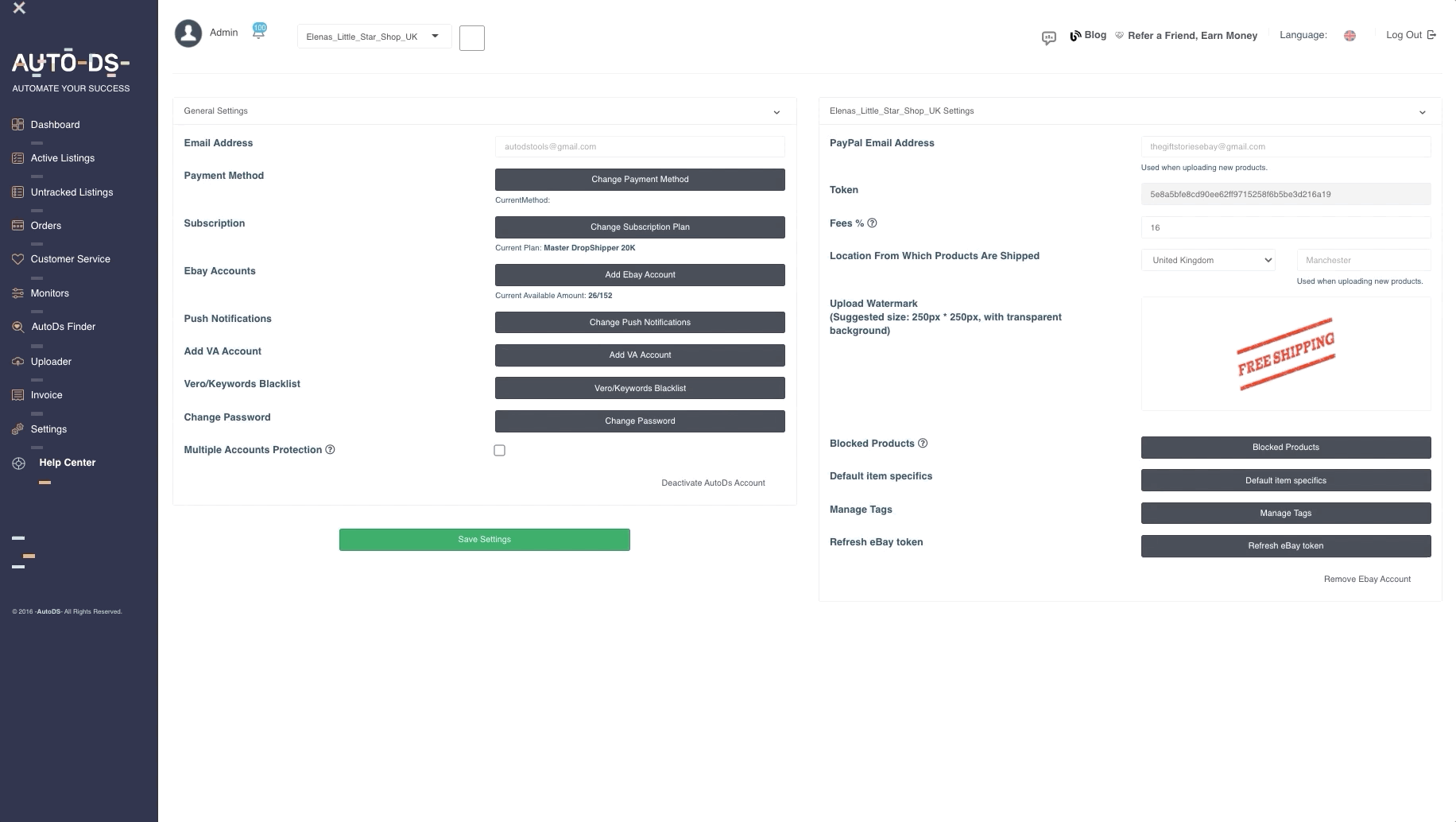 You will be directed to eBay to grant application access:

IMPORTANT: Giving AutoDS the eBay fileExchange token does not flag your account - these are not API permissions. If you want to be sure you can check:
My eBay -> Account -> Account Settings -> Site Preferences -> Third-party Authorisations
Click here to go to the direct page on eBay.
You will see that AutoDS is not in this list after you updated the FileExchange token- and that's because it does not require 3rd party approval from eBay. It is not API.
This is how the fileExchange token looks like on your account - copy it and paste when adding the store or directly in the extension.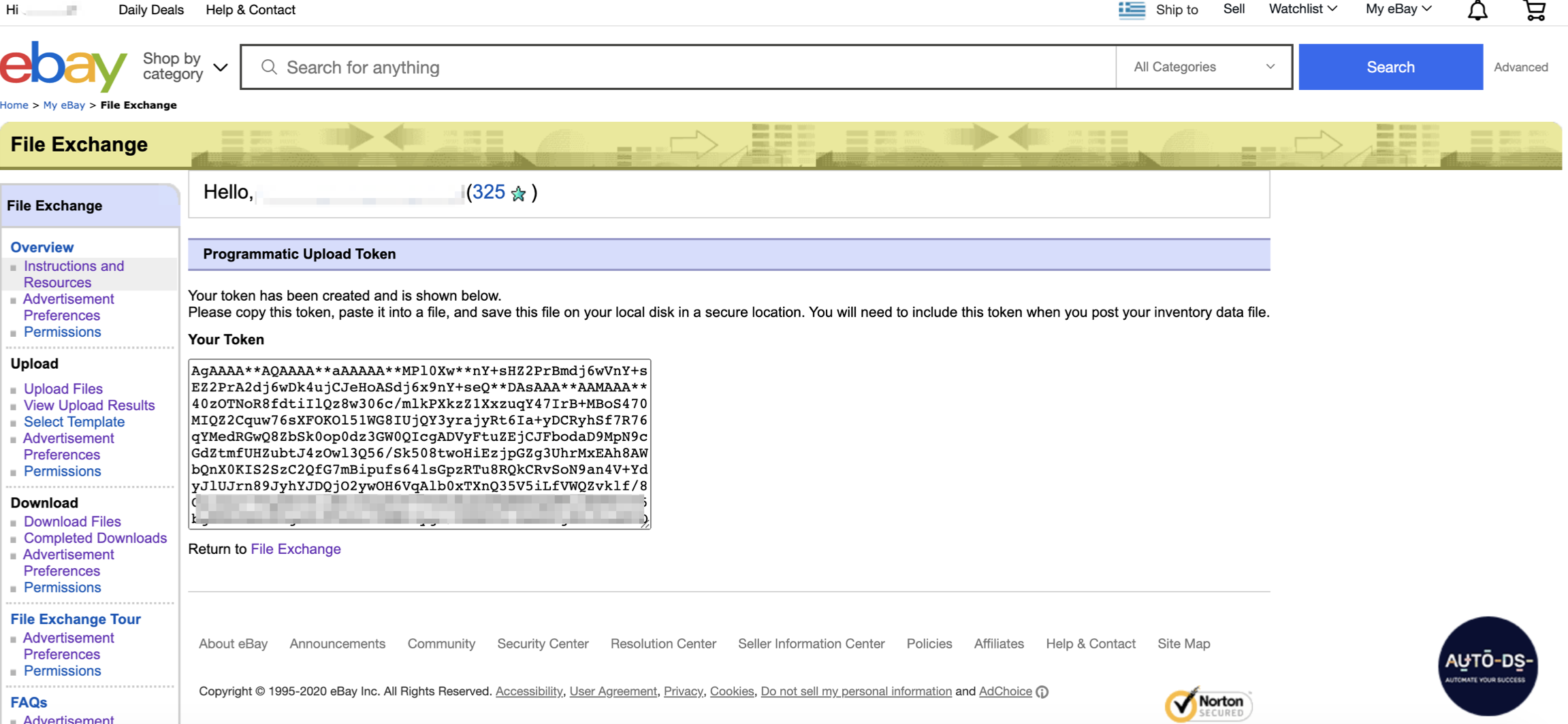 All that is left is to do is to download the
extension
from the Chrome extension store, and to update your AutoDS token, and you are done 😉.
You can find the AutoDS token on your Settings page, and for the email - you can type in any email address you have.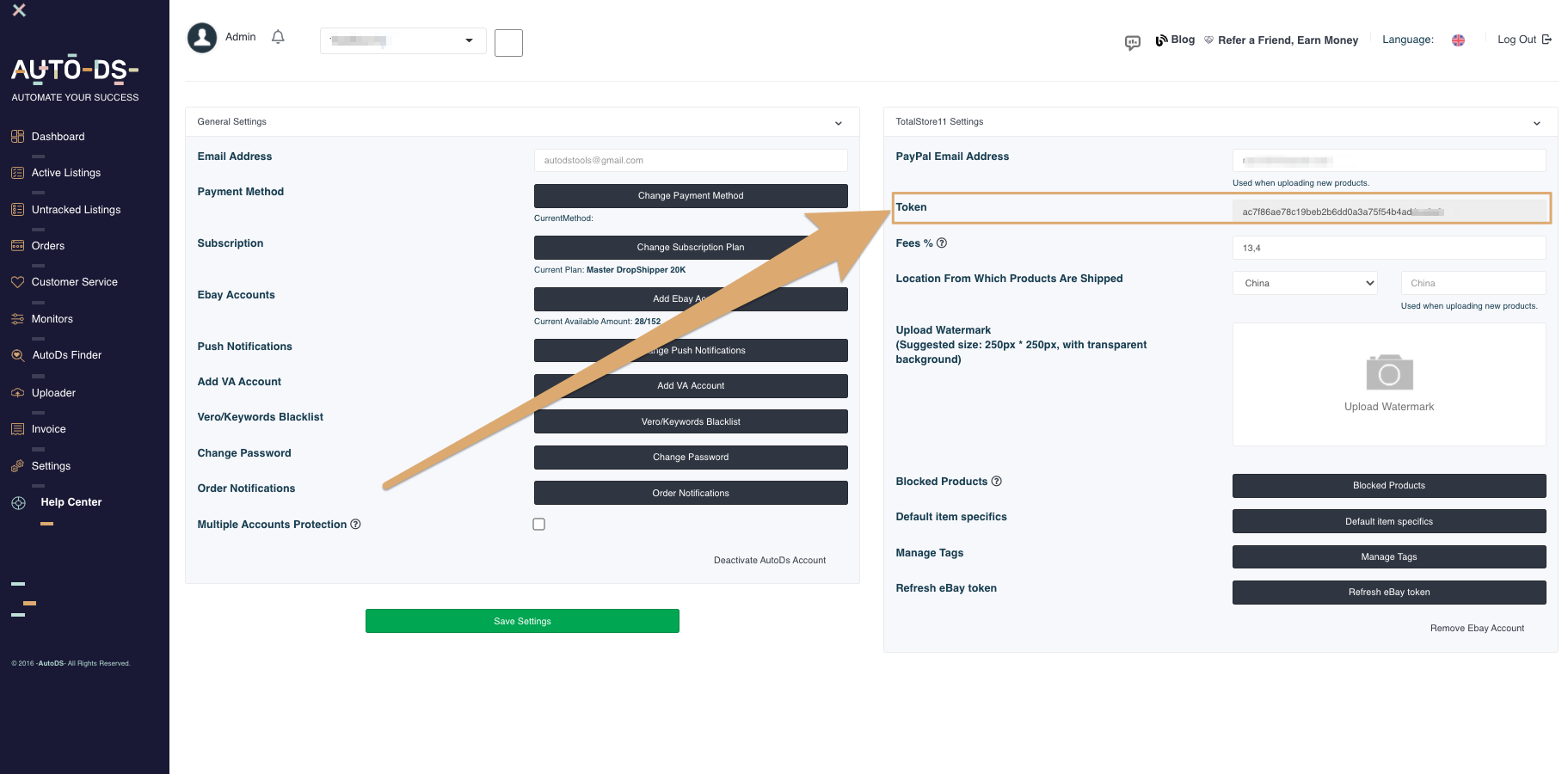 If you are already a non-API user and you have the extension installed and you wish to have the more stable solution with the token, simply click on the settings icon: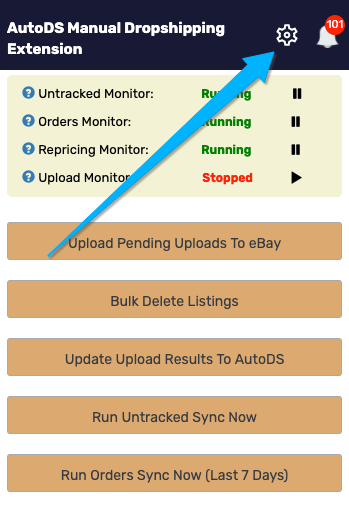 Paste in your token here: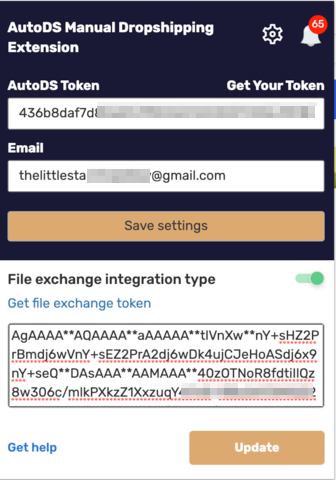 And click update.
You will see that your extension will change and you will see less monitors (upload and repricing monitors will be removed) and less buttons (first three will be removed)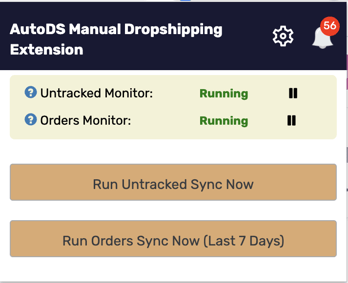 That's it! You are now using the new version of our non-API solution -enjoy a more stable monitoring and uploading experience!
*********
FAQ:
Q: Do I need to keep my computer on with a stable internet connection to have the repricing and uploading monitor to work with the FileExchange token solution?
A: No. That's the greatest part of it! However, new orders or untracked listings will not be monitored if the computer is not on. As soon as you log in to your AutoDS account while the extension is on they will populate in a matter for few minutes.
Q: If I want to enjoy auto ordering in my store, should I have my computer open to allow this?
A: Yes. That is if you wish AutoDS to fulfil the order on the source site as soon as possible. You can also have them fulfilled automatically when you open your computer and connected to the internet again.
Here are some related article which might help you:
If you have further questions that were not answered in this article, please do not hesitate and turn to us at the support chat - we will be more than happy to assist you.
---
LUD: Oct 12th, 2020