Learn how you can configure AutoDS to automatically remove non-selling items from your account, saving you time and money!
This article explains AutoDS V1, our OLDER version.
It seems like you got left behind and still not upgraded to our newer V2 version if You still see this article! No worries, you can start the process NOW!
👇🏻Click on the link below to Start the Migration👇🏻
SAVE YOUR TIME - Go ahead and transfer to our New AutoDS V2 Version!
We have the same Tutorials & Features on our V2 section, don't worry about it!
This article explains AutoDS V1, our current version supporting dropshipping to eBay only. If the images you see do not match the ones on your account, it means you are using the newer version (V2) which will soon be offered to all our users. Check out this link for the article relevant to you.
-----

This system allows you to optimize your account by automatically ending listings that didn't sell - saving you time and money on eBay and AutoDS fees.
The profitability monitor has three parameters; all of which need to be set in order for the system to end the listing.
You will find it under Monitors→ Profitability Monitor: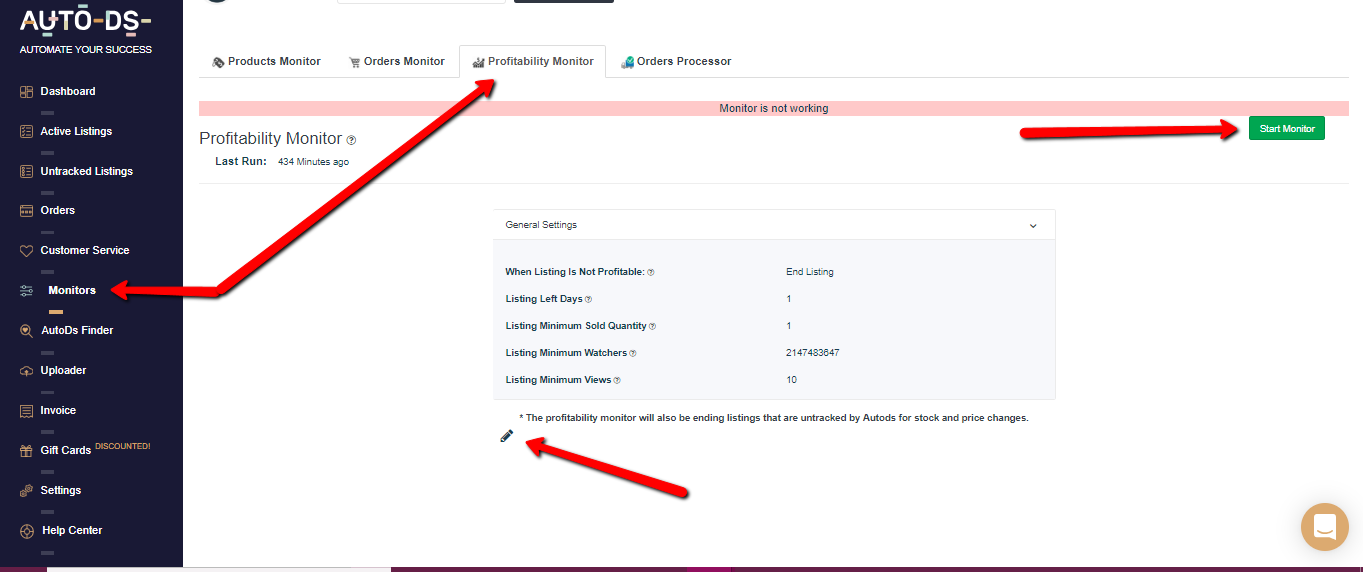 Click on the pencil icon to enter the edit mode, and then choose the following:
When a listing is not profitable - You can choose if you want to be alerted or if you want to end the listing on eBay.
Listings left days - The number of remaining days until the item's renewal that the profitability monitor will alert you/end your non-profitable listings. You can see the remaining time in the Active Listings page on the right side of each listing:

Listing minimum sold quantity - The minimum number of sales your item should have.
Listing minimum watchers - The minimum number of watchers your item should have.
Listing minimum views - The minimum number of views your item should have.
(If it will have less than the defined value, it will be equal to true)
If you want to ignore a parameter, you can set a high value for it.

Here's an example to automatically remove listings with one day left, that haven't been sold (less than one sales), and have any value of views and watchers (because the defined benefit is unreachable):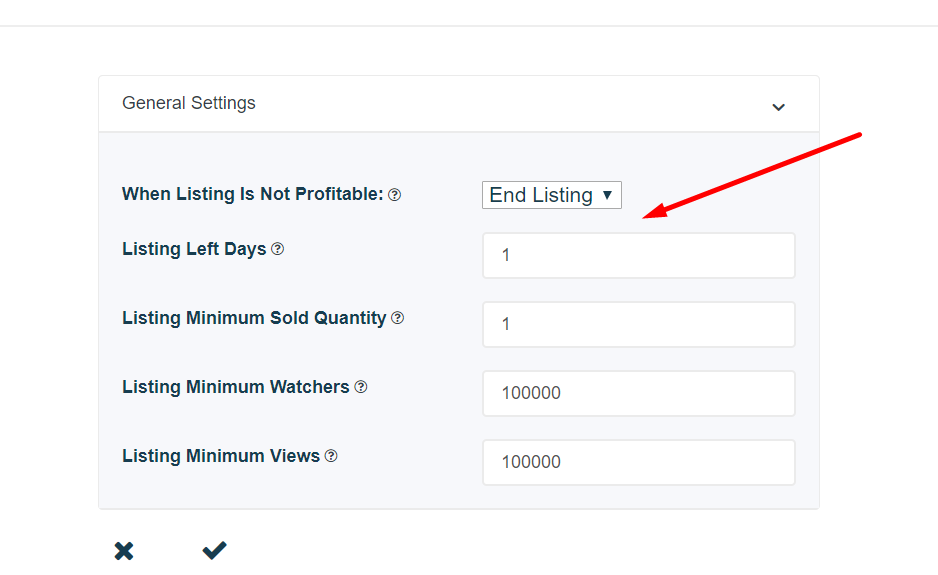 After you've defined all parameters as you wish, click the ✔ button to save, and start the monitor: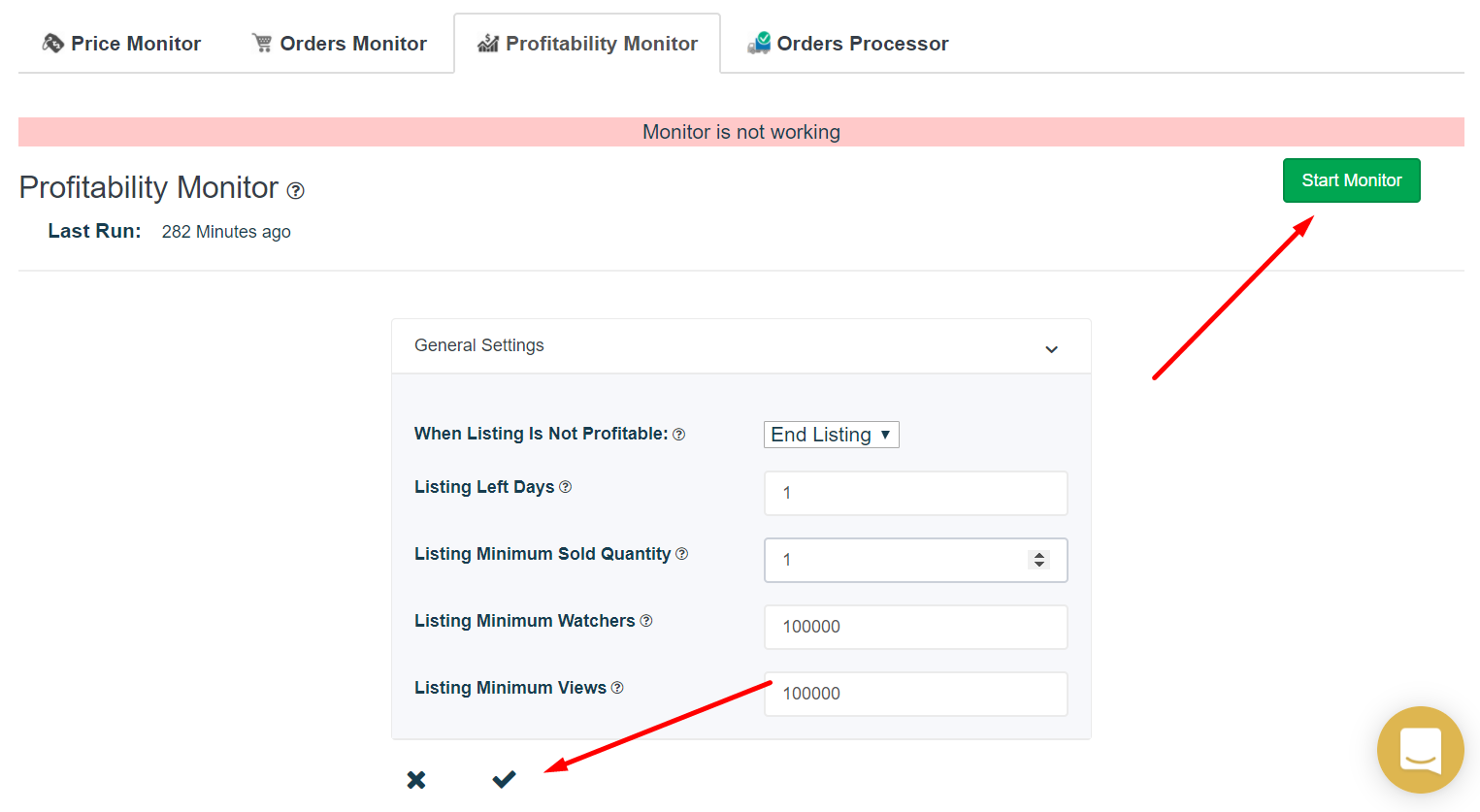 IMPORTANT: The profitability monitor actions will be applied to all your active listings on eBay including the ones that ARE NOT monitored by AutoDS!
For any further questions, we invite you to contact us through the support :)
Please rate the article below and let us know what you think!
Enrich your knowledge with these related articles:
How the Suppliers' Table Monitoring Works
How to Set Up the Products Monitor
How the Dynamic Break-Even Feature Works
_____
Last Updated: July 28th 2020