Learn how to fully automate your orders on AutoDS! Read through for instructions on how to set up your orders' processor to get the best of AutoDS
This article explains AutoDS V1, our OLDER version.
It seems like you got left behind and still not upgraded to our newer V2 version if You still see this article! No worries, you can start the process NOW!
👇🏻Click on the link below to Start the Migration👇🏻
SAVE YOUR TIME - Go ahead and transfer to our New AutoDS V2 Version!
We have the same Tutorials & Features on our V2 section, don't worry about it!
-----
The Orders' Processor is responsible for the automation of your orders. Please read the following guide to learn how to set it up correctly.
Go to Monitors➞Orders Processor
If the tab is not accessible, it means that you need to add it to your subscription plan. You can learn how to do it here.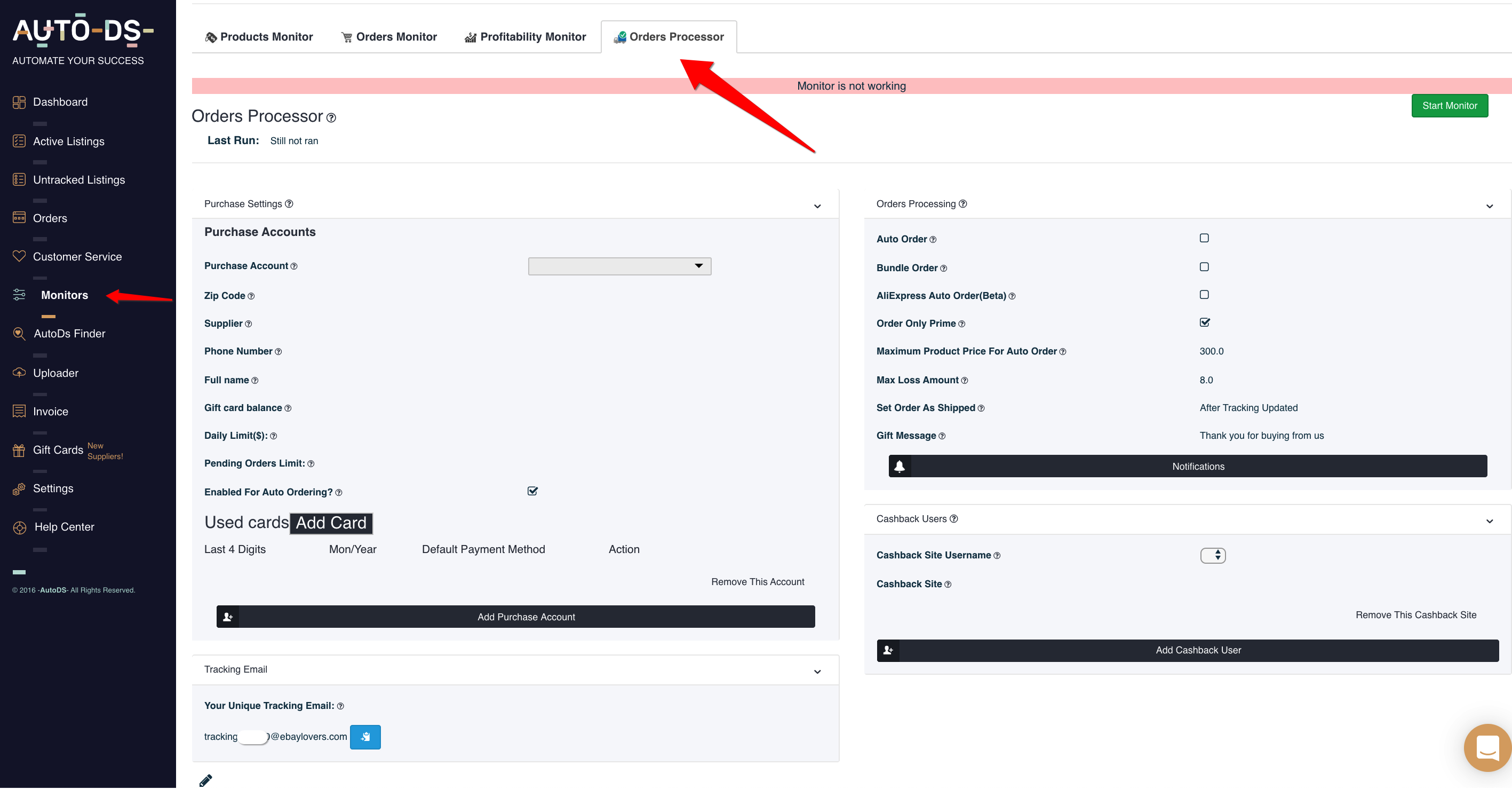 As a first step, you need to set up your purchase account.
Click the button Add Purchase Account

The following window will pop-up: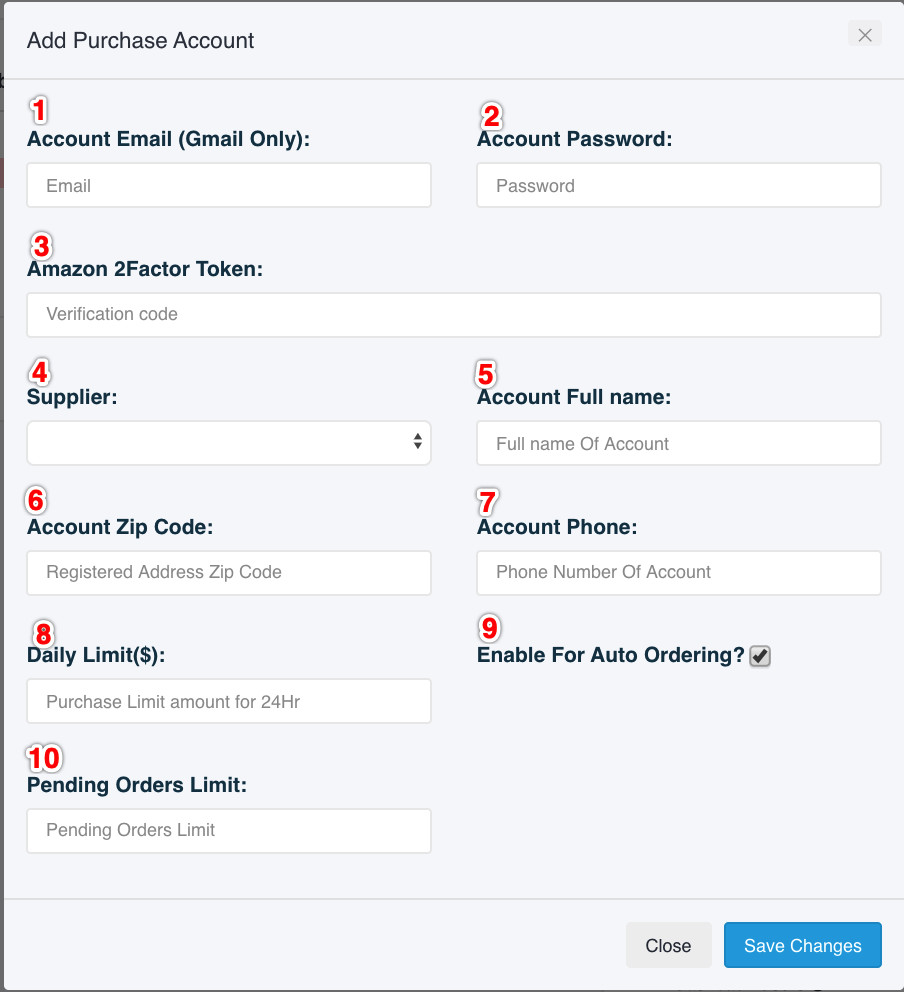 1 - Please insert your Amazon/AliExpress Gmail address (make sure it's Gmail or else the automation cannot work).
2- Then type your Amazon/AliExpress password and double-check it is correct.
3- For your Amazon account, you must set up AutoDS' 2-step authentication. You can learn how to do it here: https://youtu.be/NOhVOCm1Uq8. Important after you watch it: you must also cancel any 2-step verification to your devices - you cannot have the Amazon account installed or else the verification process will fail.
4- Choose the correct supplier. AutoDS supports auto- ordering for the following source sites:
Amazon.com
Amazon.co.uk
Amazon.de
Amazon.fr
Aliexpress (beta)
5 - Add the account name. For Amazon, it appears under 'Your Account' → 'Login & Security'. For Aliexpress it's under 'My Aliexpress' → 'Account Settings'.
6- For Amazon only - add the first 5 digits of your billing address zip code. You might have a longer one on Amazon, however, only add the first 5 to your AutoDS' settings,.
7- For Amazon only - add the entire phone number just how it appears on your Amazon billing address.
8 - For Amazon only - set up a daily limit for the use of your gift card balance for this Amazon account. For example, let's say you wish only $100 to be used on this account daily, just insert the number 100. The system will not place more orders after it reached the $100 limit. It will then disable the account for auto-ordering and will reactivate it the next day (24 hours cycle by UTC+0/ GMT+3).
9- Enable for Auto Ordering - check this box if you wish that this account will be used for auto ordering (leaving it unchecked will mean no auto orders will be placed from it). Notice, when too many errors occur in one account the system will automatically disable it for auto ordering until you fix it and enable it manually.
10 - Pending Orders Limit - How many orders that are on 'Ordered' status on your orders page on AutoDS do you wish to have before the system can place more. 'Ordered' means they were placed on the buy sire but still did not get a tracking number. This setting was issued mainly to protect your Amazon account from being locked for having too many pending orders.

Next, add your credit card information. Click Add Card:

If you added an AliExpress account, make sure to add the full number of the credit card, expiry date, CVV, last name, first name, and check 'Default Payment Method'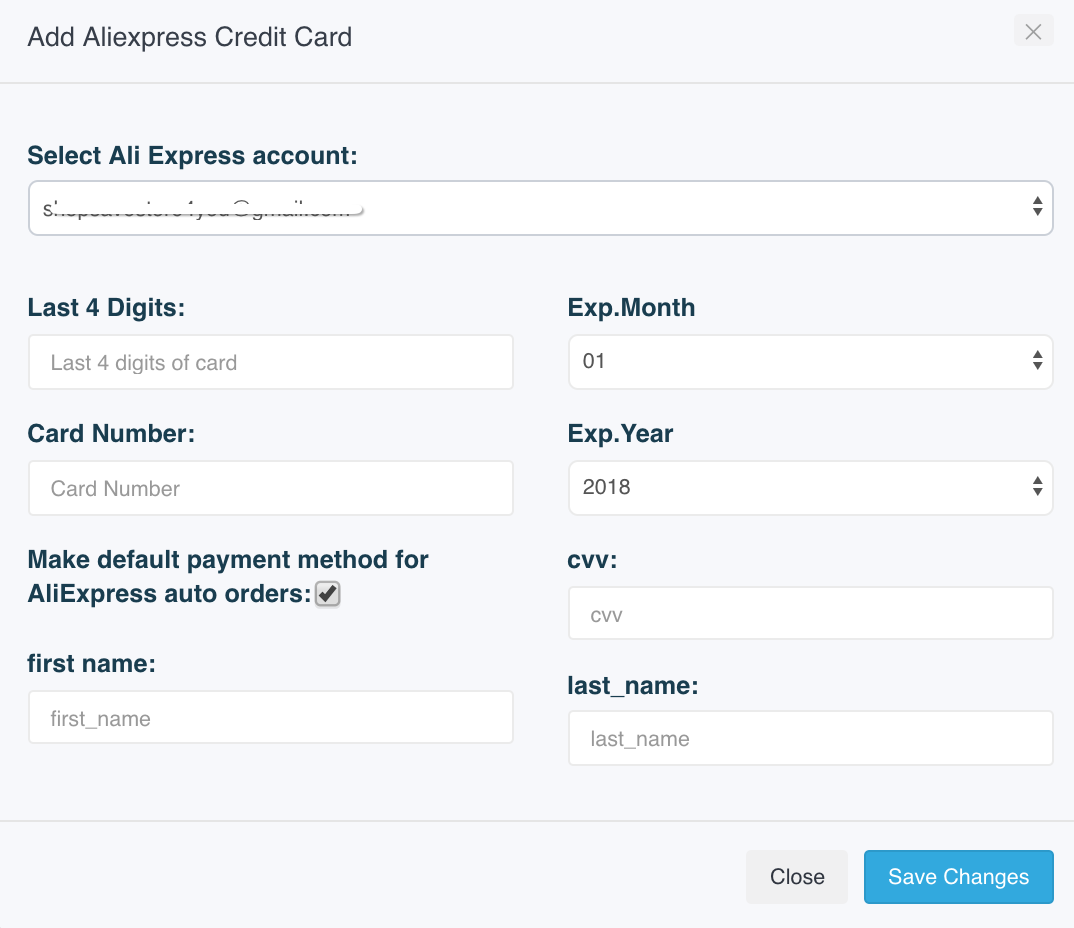 If you're adding a card you wish the system to use to charge for your Amazon account, add the entire credit card number, expiry date, and check 'Default Payment Method' and then the system will use you CC only for auto ordering payment.
If you work with gift cards, add only the 4 last digits of the card, expiry date and do not check 'Default Payment Method'.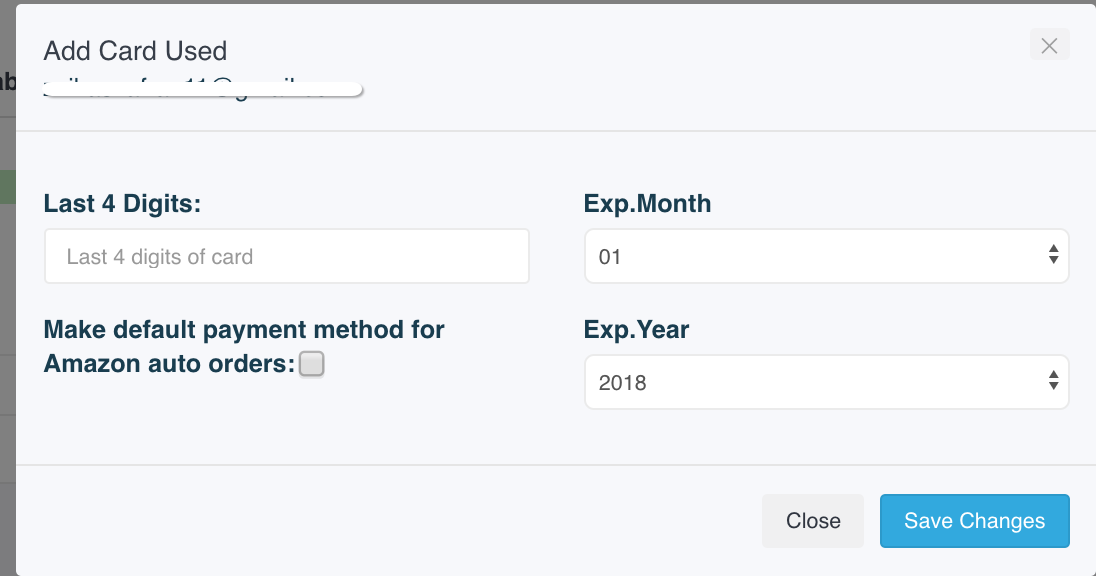 In case you have more than one credit card updated on your billing address on Amazon, make sure to add them all as Amazon might ask about them at login. Enter 4 last digits and expiry date for verification purposes only.


Tracking Email
In the bottom-left corner of the page, you will see your unique tracking email. To set it up you will need to forward your emails from your Gmail to this email to have your orders updated with tracking. Please check this guide to learn how it's done: http://help.autods.com/en/articles/3581576-how-to-configure-the-automatic-tracking-numbers-updates-system

We will proceed with configuring the right side of the page - these are settings per eBay account: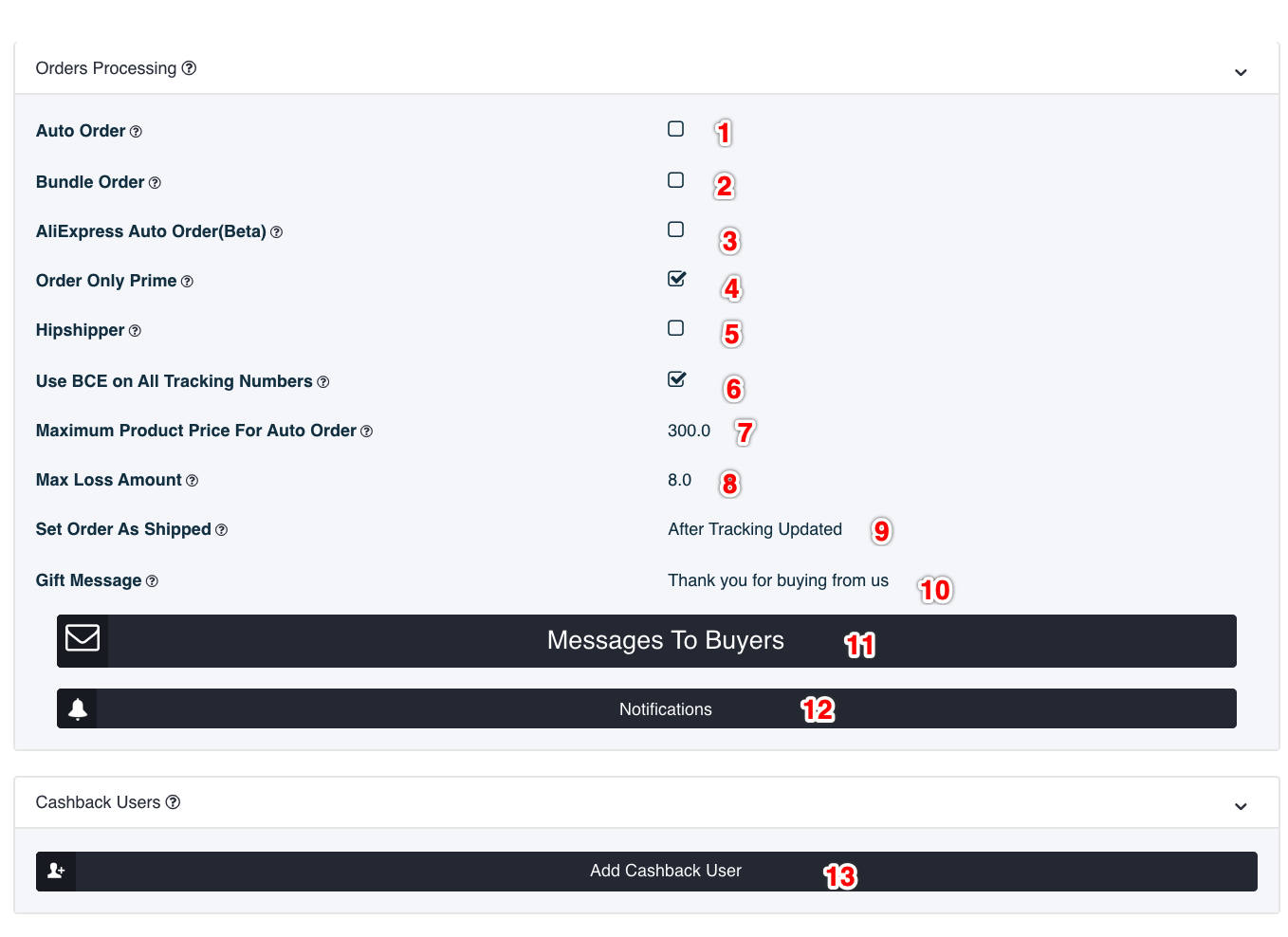 Auto Order - checking this will be telling the system to immediately send the order to process once detected from eBay (= full-automation).
If you choose not to check it, the sold item will appear in your orders page with the 'Standby' status, and it will wait for you to either manually purchase it, or to send it to process by clicking on the "Stand By" button (= semi-automation).
Bundle Order - by checking this you tell the auto-order system to combine orders on Amazon to one basket/cart and then splitting them to the different addresses of the buyers. We recommend checking this box- it will speed up your ordering process. Note it will bundle up to 5 orders at once.
Aliexpress Auto Order (Beta)- this option will set the system to place orders automatically when an item from Aliexpress is sold. Note it is still in beta and as long as it is beta you are not charged for Auto Order credits for it.
Order Only Prime - Applies to Amazon only - if checked, the auto-order system will automatically order only Prime items when you check this box. If an item is sold by a 3rd party seller - the order will fail for that reason.
Hipshipper - if you work with Hipshipper together with automatic orders, you should check this box so that orders will be automatically sent to Hipshipper's logistic center in Brooklyn, NY. Also, the international tracking number of an order will be updated instead of the domestic one. For more info about our integration with Hipshipper check out this help article.
Use BCE on All Tracking Numbers - checking this will convert all the tracking numbers to BCE ones. To learn more about AutoDS' integration with BCE read this help article.
Maximum Product Price For Auto Order -the amount placed here will define what will be the maximum amount you allow AutoDS to automatically order the item for you. For example like in the picture above, if the price of a product will be more than 300$, the auto-order will fail and not orders it - allowing you to place it manually.
Max Loss Amount - the amount placed here will define what will be the maximum loss you accept to take on yourself with auto orders. For example, if there was a sale with a loss of 3$ (since the seller changed the sale price after the scan) and the defined maximum loss amount was 1$ then the order will fail. To read more about sales with loss, check out this help article.
Set Order As Shipped - choose when you want the order to be marked as shipped on eBay: after the order was ordered, or after the tracking number has been updated.
Gift Message - here you can define the gift message that will be written on the Amazon order slip sent to your buyer.
Messages To Buyers - this setting will allow you to define the automated messages that will be sent to your buyers and edit them.
If you do not wish to use one of the messages or any of them, you can just delete the text in the title and body of the message, and then click once on the "space" bar in your keyboard, and that will cancel the auto-messages. You can read more about how to set up these messages here.
Notifications - you can change your automation notification preferences, and choose the notification you'd like to receive, and to which email. There are notifications for auto-orders that succeed or failed and successful tracking uploads.
Cahsback- here you can add a cashback account, and earn cashback for your automatic orders. You can read more about it here.
If you have further questions that were not answered in this article, please do not hesitate and turn to us at the support chat - we will be more than happy to assist you.
____
LUD 25.12.19