Learn the role of each monitor and how it can help you manage your account more efficiently.
This article explains AutoDS V1, our OLDER version.
It seems like you got left behind and still not upgraded to our newer V2 version if You still see this article! No worries, you can start the process NOW!
👇🏻Click on the link below to Start the Migration👇🏻
SAVE YOUR TIME - Go ahead and transfer to our New AutoDS V2 Version!
We have the same Tutorials & Features on our V2 section, don't worry about it!
-----

AutoDS has 4 monitors. Here's what each is responsible for:
Products Monitor - Responsible for monitoring your listings. You can set your break-even and profit settings for each supplier and decide when the system should protect you and set your items as unavailable (OOS= Out of Stock) on eBay.
Learn more about the Products Monitor here.
Profitability Monitor - Responsible for ending listings that do not sell by the criteria you set. This monitor allows you to save money on eBay's insertion fees and AutoDS monitoring plan.
Learn more about the Profitability Monitor here.
Orders Monitor - Responsible for optimizing your sales. You can decrease or increase the profit of the item according to its sales.
Learn more about the Orders Monitor here.
Orders Processor - Responsible for the automation of your orders including automatic messages sent to buyers, leaving feedback to the buyer, and updating tracking numbers.
Learn more about the Orders' Probability here.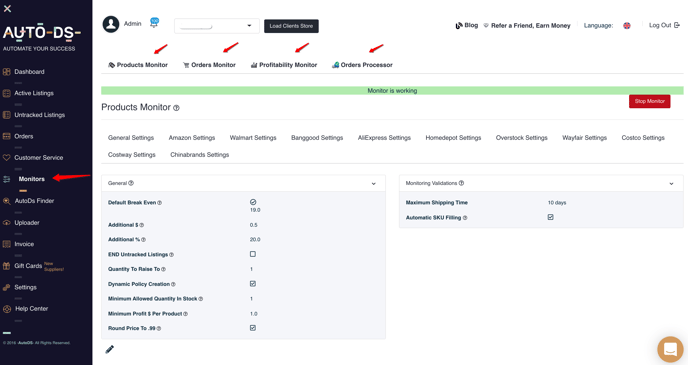 If you have further questions that were not answered in this article, please do not hesitate to turn to us at the support chat - we will be more than happy to assist you.
Learn more from these related articles:
____
Last updated: July 16 2020