This article explains AutoDS V1, our OLDER version.
It seems like you got left behind and still not upgraded to our newer V2 version if You still see this article! No worries, you can start the process NOW!
👇🏻Click on the link below to Start the Migration👇🏻
SAVE YOUR TIME - Go ahead and transfer to our New AutoDS V2 Version!
We have the same Tutorials & Features on our V2 section, don't worry about it!
-----
The Break-even % (Monitor's page ---- Price Monitor) : A percentage which consists of your Fees (eBay+PayPal) + Possible Taxes (applicable for US sellers mostly) + 0,30$ (the amount that PayPal charges for each sale).
Tip : It's recommended to add the 0,30$ PayPal fee in the Additional Profit $ field instead of calculating it as percentage, so that you will know that it will be abstracted from the order.
This sums up to the final % you should add to the price of the listing from the source site (Amazon, Walmart etc.) and the result will be your selling price on eBay for which your profit will be 0 (zero). It's where you break-even - you do not lose or profit.

On top of the break-even we will of-course add the profit of our choosing.
You can define your Break Even in your General Settings, Amazon Settings, and from the Other suppliers settings tabs.
General settings


Amazon Settings
The Break-even in the Amazon's Settings Tab will be set according to what you place under the following sections:
Default break-even - place the break-even of your choice which will remain stable and at the same value for all listings.

Dynamic break-even -This feature checks the seller on eBay and changes your listings break-even accordingly every scan:
Sold by Amazon break even Not sold by Amazon break even
For Amazon as a seller - a higher break-even is needed because they usually charge tax.
For FBA (Fulfilled by Amazon)- a lower break-even can be chosen (in 80% of the cases there will be no tax charge).
Keep in mind that when you first list a product, the listing will take the default break even, and after a scan it will change accordingly.
Other Suppliers Settings
Here you set it up like in the General Settings .If you choose to keep the General Settings Break even, you don't need to set it u separately here.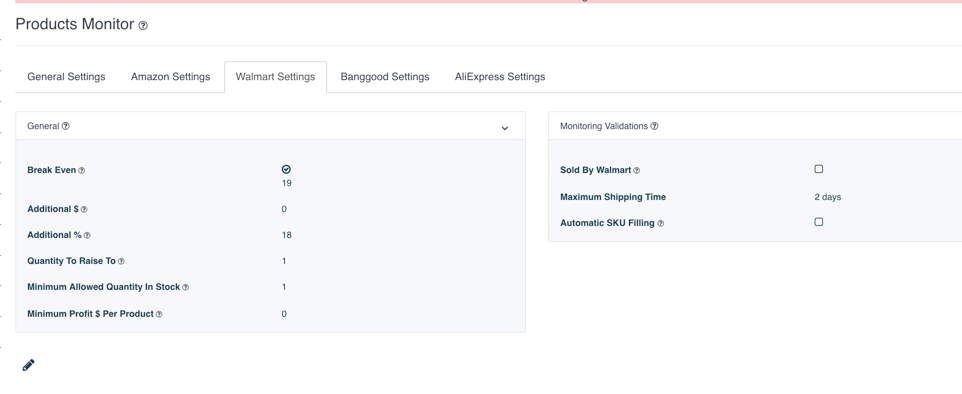 Fees (Settings Page)
The Fees are a percentage that consists of your eBay and your PayPal fees.
This percentage is usually lower than the break even % since it's a percentage of eBay Fees + PayPal fees only.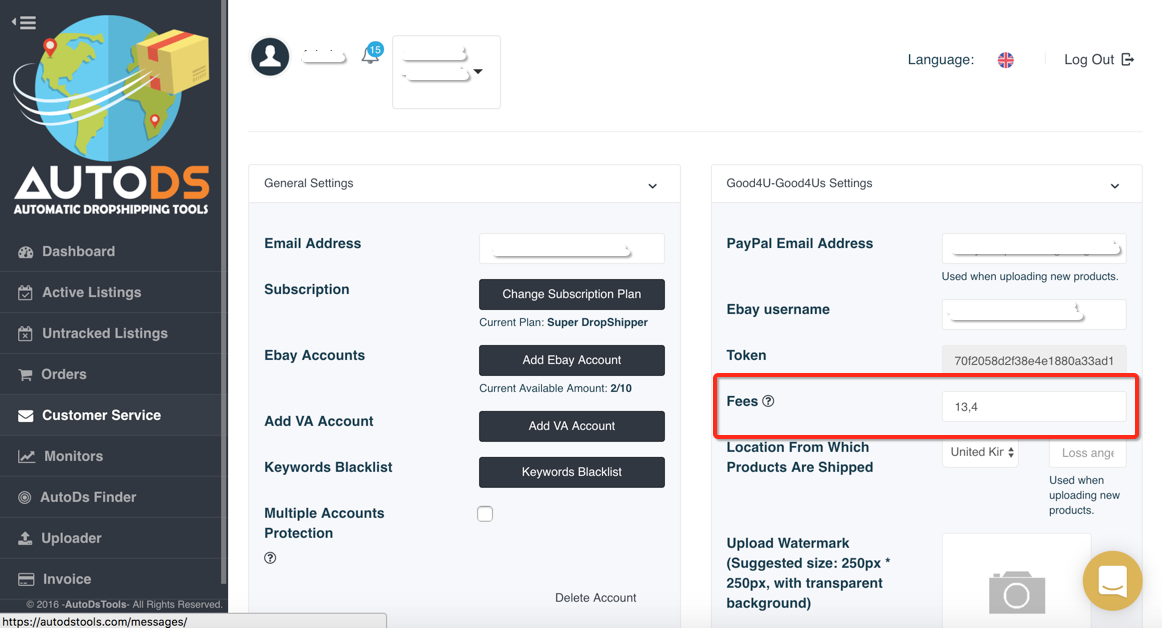 Depending on your Break even and fees, the profits are calculated differently in the Active Listings and the Orders Page.
Please follow the following link to see how these calculations are made.

For more questions, feel free to contact us in our Customer Support chat.